October 5, 2013
Elizabeth finally got her bed with a slide. She loves it so much that sometimes she'd rather "play in bed" rather than take the school bus.
The first couple of days she insisted on showing me how she could stretch way out and lo and behold her feet didn't fall off the end! I guess it was past time for a larger mattress. This means that she's on a different floor from Mommy and Daddy. I was more anxious about that than her taking the school bus all by herself as I was concerned about half asleep adults needing to stumble down stairs to help her in the middle of the night. But even though she immediately tested this by coming down with a rotten cold, it seems to be working out okay so far.
Elizabeth is pretty good at enforcing our "bunk bed rules". I told her we'd take away her ladder if we catch her or anyone else breaking them.
1) No jumping on the bed.
2) Up the ladder, down the slide. Down the ladder is okay. Up the slide is not.
3) Stay safe.
We seem to have a knack for choosing fast slides. Elizabeth is just now comfortable on the big slide in the garden - it's got a bump that tends to catapult the unsuspecting into the air. The bed slide may or may not have nearly slammed more than one overenthusiastic kid into the wall. We've added some padding but recommend that small kids be supervised.
For those wondering, it's a maxtrix bed ordered via Simply Wood here in Ottawa. We recommend them both highly!
You might also like
- Roommates
(0.389788)
- Marathon swim
(0.376842)
- Three Months
(0.375)
- Frosty Blades
(0.374876)
- Matthew's first skating class
(0.374093)
All
October 4, 2013
Look out world...
He goes UP and then he tries to slide back down - head first.
You might also like
- Lookout point
(0.255172)
- Head first
(0.253275)
- Orange Stripe
(0.243902)
- Elizabeth gets to hold Xander
(0.230769)
- Happy birthday Uncle Dave
(0.214286)
All
October 3, 2013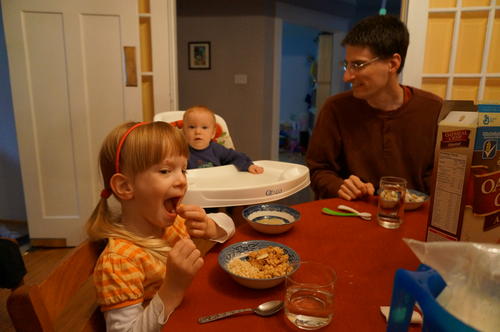 A few things about Elizabeth that should be recorded for posterity.
Why has moved to a whole different level. For instance: "If I got squished by a car, surely you wouldn't leave me in the middle of the road? What would you do with my BODY???"
She usually has two or three different kinds of cereal for breakfast. In the same bowl, carefully subdivided. She'd have more, but Mommy won't pour more than three.
When she's coveting her brother's food, she usually approaches the subject indirectly. "Well Mom, I found one of Matthew's Mum Mums (baby crackers) and he doesn't seem to be eating it right now. I could put it away but... hmmm.." If I don't immediately suggest that she eat it, she'll try again. "I could put it away OR I could just eat it you know. We can always buy more at the shopping store..."
There's a lot of "No MATTHEW, that's NOT a good baby toy. Sorry but I'm four and a half and you are just too little." but she can play with him very sweetly.
You might also like
- Smiley Face Pancakes
(0.369276)
- One!
(0.3625)
- 2 weeks old
(0.362146)
- Amelia is 2
(0.351804)
- One month
(0.351563)
All
October 2, 2013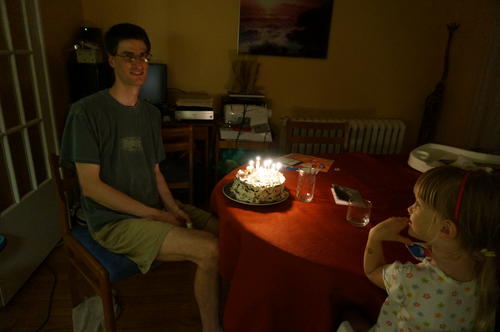 Daddy cleverly scheduled his birthday party on the weekend, so that he could have "double lasagna and double birthday cake".
You might also like
- Party Time
(0.289157)
- Elizabeth is nine! (again)
(0.24359)
- Uncle Dave's birthday party
(0.24183)
- Grandma's birthday
(0.228856)
- Theo is Three
(0.221698)
All
September 29, 2013
We took Matthew swimming in a swimming pool for the first time today. He was initially a little freaked out but gradually loosened up enough to start splashing Mommy with a certain amount of glee. He doesn't get as chilly as baby Elizabeth did so had lots of time to relax. When we were ready to get out of the water he wasn't a beautiful shade of blue and thus would have continued to play in the water quite happily for a while longer!
Elizabeth was put out that we forgot her life jacket but quickly started paddling around with "just" a noodle. Erika gets more comfortable in the water every time I see her. Her dad has now declared her a swimmer (I concur!) And Maria took a big step too, swimming with a noodle from one parent to the other! (She usually just clings to Mommy) The girls are growing up so quickly!
You might also like
- Maria's first swim
(0.405455)
- Water baby in the pool
(0.370766)
- Music Recital
(0.351613)
- Running
(0.349206)
- Tulips
(0.342857)
All