October 11, 2013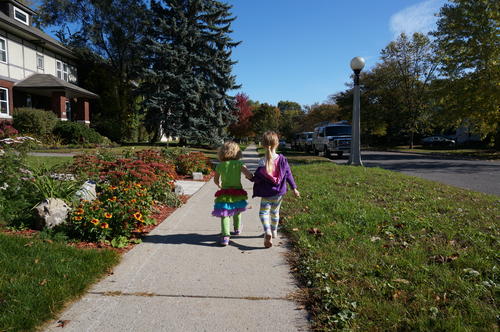 Nora came to visit today - with new baby brother Simon (well, okay - he's 11 months already!)
Nora introduced Elizabeth to the world of cool spinning board games and Disney themed video games. Elizabeth introduced Nora to the world of pedal bikes (popular) and fast bed slides (scary). They harvested some of what must be the Glebe's largest carrots. They ran. They jumped in leaves.
As is now almost tradition the kids partied at the park in the most adorable manner while their increasingly elderly parental units sat around in awe of all the cuteness and generally well behaved offspring.
The day went by far too fast and we're looking forward to our next visit.
You might also like:
-
Geoboard
-
Spiderman shoes
-
Angie 2015
-
Siblings
-
Dovercourt
October 10, 2013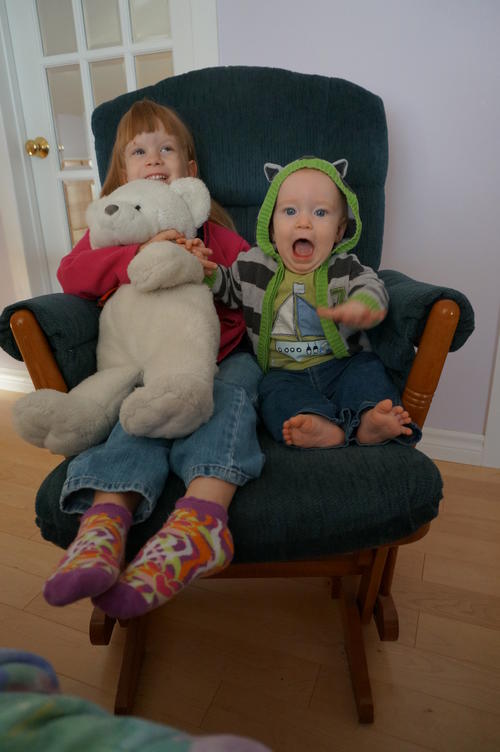 Matthew is eight months old and very, very, very busy. Did we mention that he is busy? If not it is probably because we are too tired from chasing him around and trying to prevent him from doing himself injury as he attempts to explore the entire world. All at once. Right now. He is getting very fast and has developed distinct ideas of what he would like to do. Sometimes when thwarted at the last second he will throw quite the impressive tantrum in protest of being kept alive. He still loves to watch what his sister does and you can see his little mind trying to figure out how to do the same things. He is cruising around furniture upright and crawling on all fours (as opposed to army crawling). He has started to move from one piece of furniture to another and has developed some semblance of a sense of balance such that he can now occasionally catch himself if he starts to fall over. He eats like it is in danger of going out of style. He plays very hard and is skipping naps left, right and center. He is generally quite delightful most of the day and giggles and laughs at almost anything.
Oh and he fits in a sweater with ears. Daddy is very pleased.
You might also like:
-
Ten Months
-
Picture with a bear - Six months
-
Nine months
-
10 Months
-
3 months
October 6, 2013
Daddy had his second party today. There were many people, lots of lasagna and an adorable multi-layer cupcake cake held up with blu-tack.
You might also like:
-
Daddy loves lasagna
-
Spring thaw
-
40
-
Second stripe
-
Grandma has a birthday
October 5, 2013
Elizabeth finally got her bed with a slide. She loves it so much that sometimes she'd rather "play in bed" rather than take the school bus.
The first couple of days she insisted on showing me how she could stretch way out and lo and behold her feet didn't fall off the end! I guess it was past time for a larger mattress. This means that she's on a different floor from Mommy and Daddy. I was more anxious about that than her taking the school bus all by herself as I was concerned about half asleep adults needing to stumble down stairs to help her in the middle of the night. But even though she immediately tested this by coming down with a rotten cold, it seems to be working out okay so far.
Elizabeth is pretty good at enforcing our "bunk bed rules". I told her we'd take away her ladder if we catch her or anyone else breaking them.
1) No jumping on the bed.
2) Up the ladder, down the slide. Down the ladder is okay. Up the slide is not.
3) Stay safe.
We seem to have a knack for choosing fast slides. Elizabeth is just now comfortable on the big slide in the garden - it's got a bump that tends to catapult the unsuspecting into the air. The bed slide may or may not have nearly slammed more than one overenthusiastic kid into the wall. We've added some padding but recommend that small kids be supervised.
For those wondering, it's a maxtrix bed ordered via Simply Wood here in Ottawa. We recommend them both highly!
You might also like:
-
Roommates
-
Marathon swim
-
Three Months
-
Frosty Blades
-
Matthew's first skating class
October 4, 2013
Look out world...
He goes UP and then he tries to slide back down - head first.
You might also like:
-
Lookout point
-
Head first
-
Orange Stripe
-
Elizabeth gets to hold Xander
-
Happy birthday Uncle Dave