October 13, 2013
Auntie Janice gave me tickets to the Star Wars exhibit for my birthday and I finally managed to get organized enough to go!
Janice played with the kids at the museum while Brendan and I went on a date! (I know!) The exhibit was really interesting - I thought the concept sounded a bit gimmicky but the artifacts were cool and I actually quite enjoyed the use of technology. You wore headphones that automatically played sound as you moved into the relevant part of the exhibit. Every section of the exhibit asked you different parts of what was essentially a personality quiz and you made your choices by scanning your armband.
I was rather surprised to learn that Yoda (Frank Oz) is also Miss Piggy and the Cookie Monster. Really?!?
And of course I'm a sucker for personality quizzes, even if the result was rather teen magazine.
PS Mom & Dad - I'm leaving home at a young age to follow my dreams - what do you say?
A. Oh no you're not. Now go finish your chores.
B. That's a nice idea, Maybe when you're older.
C. Sure, Whatever. Whatever you want.
D. Good for you! We've packed you a lunch.
Brendan was fascinated by all the artwork showing the progression of characters. Chewbacca started out as a dog, apparently.
You might also like:
-
Canada Day Part 1: Aviation Museum
-
Elizabeth's 9th birthday party
-
Pudding and singing
-
Virtual Piano Recital
-
Mother's day karate, spring fling and recital
October 12, 2013
For thanksgiving we had the whole crew over for a small bite to eat. Before stuffing ourselves silly we took advantage of the gorgeous weather and went for a walk in the arboretum. Somewhere in there we managed to take a few not so surreptitious photos of the kids in an attempt to get some calendar photos for next year's calendar.
You might also like:
-
Dow's lake
-
Calendar Pictures
-
Thanksgiving
-
Cottage Days: Arrival
-
Cherry Picking
October 11, 2013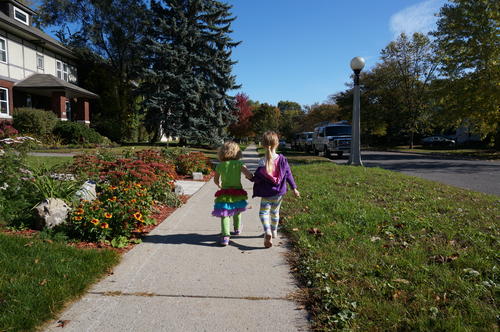 Nora came to visit today - with new baby brother Simon (well, okay - he's 11 months already!)
Nora introduced Elizabeth to the world of cool spinning board games and Disney themed video games. Elizabeth introduced Nora to the world of pedal bikes (popular) and fast bed slides (scary). They harvested some of what must be the Glebe's largest carrots. They ran. They jumped in leaves.
As is now almost tradition the kids partied at the park in the most adorable manner while their increasingly elderly parental units sat around in awe of all the cuteness and generally well behaved offspring.
The day went by far too fast and we're looking forward to our next visit.
You might also like:
-
Geoboard
-
Spiderman shoes
-
Angie 2015
-
Siblings
-
Dovercourt
October 10, 2013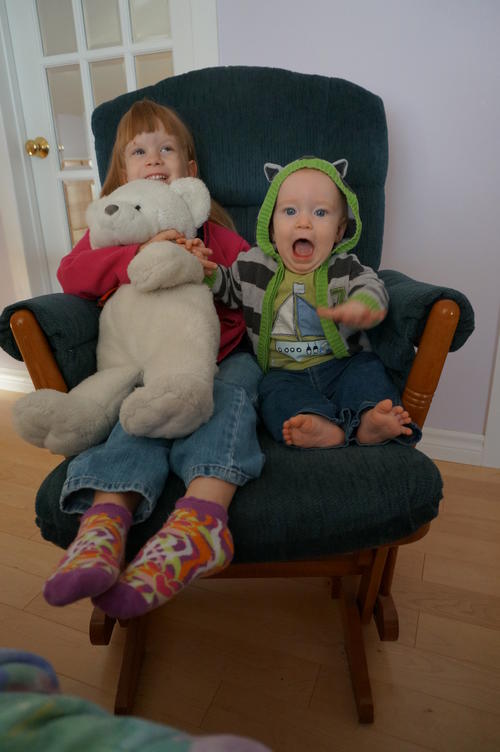 Matthew is eight months old and very, very, very busy. Did we mention that he is busy? If not it is probably because we are too tired from chasing him around and trying to prevent him from doing himself injury as he attempts to explore the entire world. All at once. Right now. He is getting very fast and has developed distinct ideas of what he would like to do. Sometimes when thwarted at the last second he will throw quite the impressive tantrum in protest of being kept alive. He still loves to watch what his sister does and you can see his little mind trying to figure out how to do the same things. He is cruising around furniture upright and crawling on all fours (as opposed to army crawling). He has started to move from one piece of furniture to another and has developed some semblance of a sense of balance such that he can now occasionally catch himself if he starts to fall over. He eats like it is in danger of going out of style. He plays very hard and is skipping naps left, right and center. He is generally quite delightful most of the day and giggles and laughs at almost anything.
Oh and he fits in a sweater with ears. Daddy is very pleased.
You might also like:
-
Ten Months
-
Picture with a bear - Six months
-
Nine months
-
10 Months
-
3 months
October 6, 2013
Daddy had his second party today. There were many people, lots of lasagna and an adorable multi-layer cupcake cake held up with blu-tack.
You might also like:
-
Daddy loves lasagna
-
Spring thaw
-
40
-
Second stripe
-
Grandma has a birthday