November 17, 2013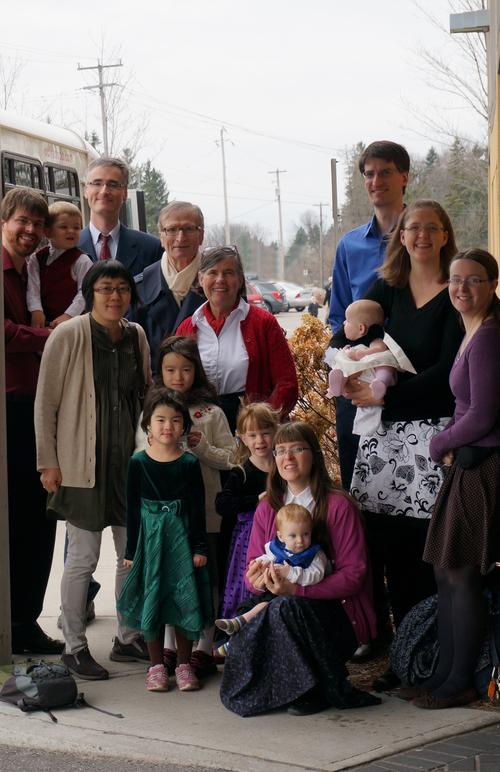 Isabelle was dedicated today. Auntie Heather came too, but vanished at the end of the service before we could take a picture of everyone in all their finery.
Auntie Karen's dad kindly took our photo - and then I felt badly because we promised to take a picture of him with his grandkids back at Dave and Karen's house but between naps and other commotion it never happened. So next time he gets the first picture!
You might also like:
-
Big Day
-
Xander
-
Election 41
-
Home again
-
Ready, Set, Pack!
November 16, 2013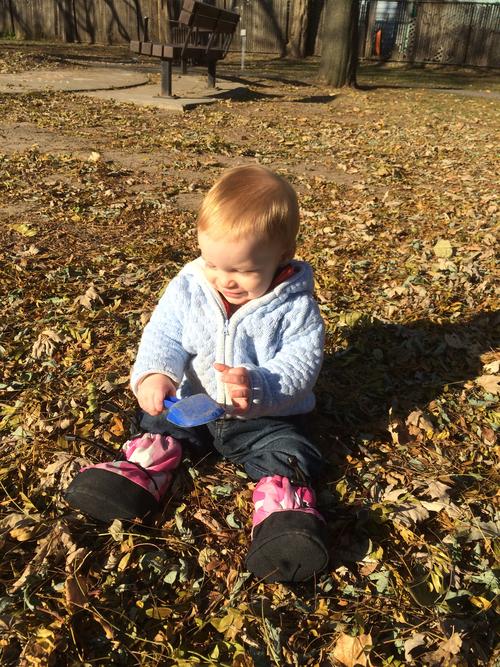 We went to the park after Saturday skating / French class. Matthew rocked his boots while playing in the leaves.
Elizabeth struck up a conversation with a random little girl playing in the park and they played hard together. We can't quite pinpoint when this happened, but suddenly we've gone from super shy and won't make eye contact with strangers to confident kid who tries to interact with practically everyone she meets.
For instance, Daddy is shopping for skates. "Excuse me. Is your hair dyed?" pipes up our child, who has been gazing intently at our sales person. Her colleagues nearly choke laughing. Luckily the salesperson was a good sport. "Yes", she replied. "Oh" said Elizabeth. There was a pause. "What's that thing in your nose?" "A nose ring" "What? Why? Why do you got a ring in your nose?" said Elizabeth rather incredulously, prompting fresh giggles from the coworkers. "I think it looks pretty." said the salesperson. "But it would be OUCHY" said Elizabeth in outrage. "Yes" agreed the salesperson, "but I like it." I hastily explained that it wasn't currently painful, to Elizabeth's visible relief.
You might also like:
-
Skating
-
Ottawa Maker Faire 2013
-
Skating
-
Amelia is 2
-
Messiah rehearsal, Santa parade
November 15, 2013
At nine months, Matthew loves to walk around and around and around the furniture. At least when he isn't motor-crawling across the floor in a quest to get into all the things Daddy has told him he mustn't touch. There might be a bit of mischief in this one... He also has definitely started the temper tantrum stage. Luckily he is usually pretty smiley and cute. Plus he is quite capable of amusing himself, which is helpful. He especially enjoys playing with Elizabeth's toy tea set. This is only allowed while she is at school since he isn't old enough to rat us out yet (let's just say that Elizabeth doesn't necessarily want to share all her baby-appropriate toys).
Matthew is a definite flirt who loves to play peek-a-boo. He particularly likes to make other people do things such as clapping or pressing the keys on the piano during Elizabeth's nightly piano practice. He is very talkative and while we aren't quite ready to say he talks, he does have a credible "da da da" and "muuuuummmm" sound when looking at Mom and Dad, and an "Ah duh" when signing all done.
After such a promising start, I am sad to report that Matthew has started rejecting food, depending on his mood. We're guessing part of the increased pickiness is due to a very stubborn cold that Elizabeth has shared with her brother. Poor Matthew has spent weeks coughing and gagging on his nasal excretions. It probably also doesn't help that he is continuously teething. He's up to four teeth! In any case, Matthew is pretty definite about what he wants to eat signing done as soon as a food he doesn't want makes an appearance. Cheerios are rarely appreciated - he's like our own personal pez dispenser. Insert dry cheerio, and out pops slimy cheerio. Despite some food rejection, he still eats exponentially more than Elizabeth ever did. He very much likes grapes and cucumbers. Rice is popular, as is sucking out the insides of a tomato. Matthew is an extraordinarily messy eater but when he's hungry he literally shovels the food in, two hands at a time. He can do unspeakable things to a muffin and the floor under the highchair is often crunchy after meals.
You might also like:
-
Seven
-
11 months
-
10 Months
-
Matthew is eleven months
-
21 Months
November 14, 2013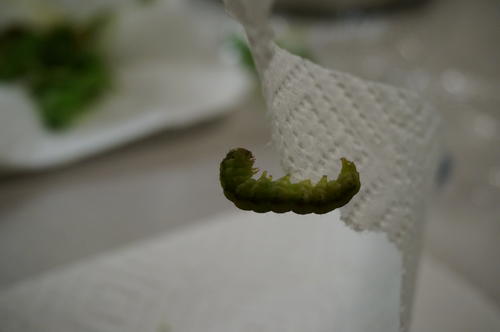 I was so happy that our previous caterpillar finally turned into a moth that I let Elizabeth talk me into another one, despite my skepticism as to their suitability as pets.
We found it in a corncob at the end of corn season. The caterpillar had friends, but they were shy and met traumatic ends. Or should I say pieces? Except for the one that I cooked by accident. So I felt somewhat responsible for the remaining grub.
Elizabeth promptly dubbed it "Emma". She names most things Emma right now. We are not sure why.
We learned with the first caterpillar that it is essential to feed the caterpillar the "right" food. I may have actually purchased expensive, non local and out of season corn in a quest to keep the thing alive.
Emma pupated on 2013-11-02. We totally got to watch. It was the coolest thing ever.
She hatched about a week later. I noticed she'd become a corn moth on the 10th. It warmed up enough to let her go on November the 14th. Elizabeth wanted to keep her *aaallll* winter. Or forever. Whichever is longer. So I think we promised to let her get another caterpillar in the spring. This time she wants a butterfly...
You might also like:
-
Elizabeth end of year concert
-
Baby Summit 2015
-
Fall Science
-
Seed spitting
-
Decision making study
November 9, 2013
We had our first snowfall today. A mere dusting that was gone by morning but we managed to go out and play for an hour after school. Elizabeth spent ages standing under the tree and hitting it to knock snow into her face, giggling wildly. Matthew is not sure what to think.
You might also like:
-
Pink Eye
-
Snow play
-
Grading and birthday party
-
The boys get haircuts
-
First Swing