December 7, 2013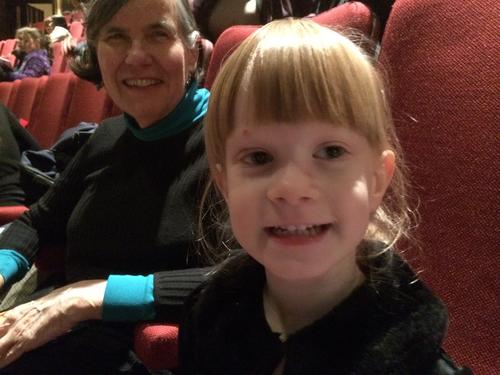 Grandpa and Grandma treated the girls to a night out to see the nutcracker at the NAC. To say that Elizabeth was excited would be an understatement. Her review: Grandpa promised that there would be a bear and there was! The bear was the best part.
You might also like:
-
Nutcracker
-
Man with a pointy hat
-
Beach party
-
First haircut
-
Nutcracker
December 6, 2013
Elizabeth and Matthew received matching pjs. It was pyjama day at school and she REALLY wanted to change into her new "footies" (but we convinced her to wear the two piece instead).
Matthew immediately took a chomp out of his orange. Then he tried eating his grapes. Then he smashed his chocolate St Nicholas into bite sized pieces which he stuffed into his mouth, small bits of foil and all.
Mommy and Daddy were big meanies and took everything away.
Auntie Janice made gluten free Speculaas. It was super yummy. Mommy made almond free mock marzipan, which was not bad, except that adding the colouring changed the texture and it wouldn't hold its shape anymore. I guess we'll have to try again next year.
In the evening Mommy went to Come Sing Messiah and had a lovely time.
You might also like:
-
Andrew Haydon Park
-
St Nicholas Day
-
Epiphany
-
CHEO Anniversary
-
23 Months
December 5, 2013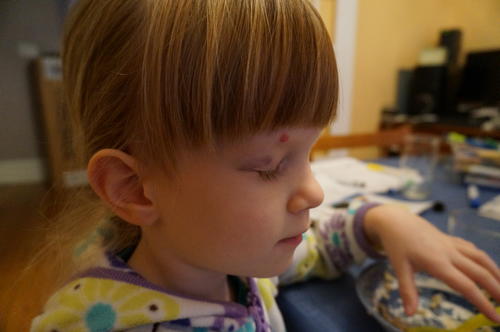 Elizabeth came home from school today with a black eye! Apparently her good friend Adrienne accidentally whacked her with a puzzle piece. I didn't think to take a picture in the evening but it was already fading by the next morning after some ice. We were a little surprised that none of the teachers even noticed; usually Elizabeth demands ice and/or band aids for the most minor of injuries.
You might also like:
-
Decorating
-
O Christmas Tree
-
Say Ah!
-
Curly hair
-
Erika is seven
December 3, 2013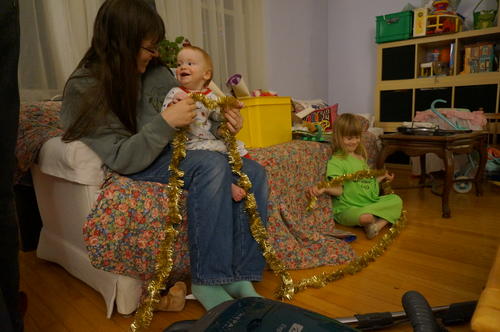 The most notable part of our annual Christmas tree decorating this year was that Elizabeth read the instructions to us all by herself. She just had to read which colours to put into which slots, but YAY for reading!
Matthew hasn't knocked over the tree yet but we did not put most of the fragile ornaments on this year. Just in case...
You might also like:
-
O Christmas Tree
-
Snow
-
Bubbles
-
Un oeil poché
-
First smile
December 1, 2013
We made Christmas cones for dessert to start off Advent. Technically, this is an idea that I saw on Pinterest that doesn't work in real life nearly as well as advertised. But Elizabeth thinks it's a "keeper" of a recipe and they are tasty so we'll keep making them...
You might also like:
-
Snow
-
Curly hair
-
Decorating
-
Un oeil poché
-
First smile