January 16, 2014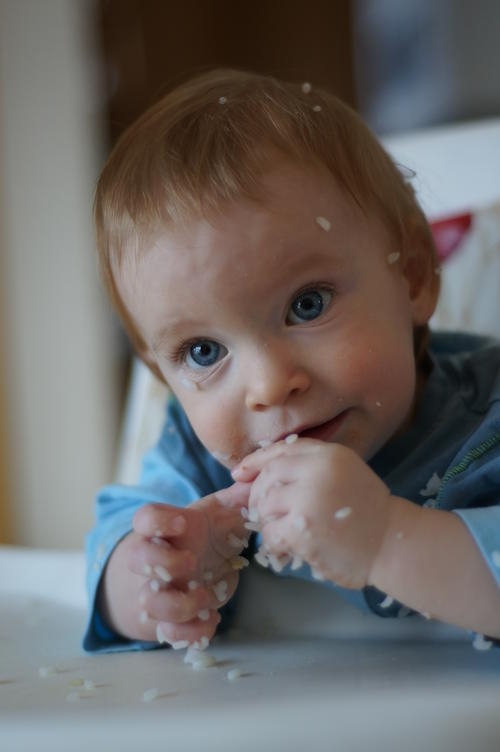 Matthew likes eating rice; Daddy does not like the aftermath... Matthew also likes to help in the kitchen now. Mommy has let him crack an egg, wash potatoes and add spices.
You might also like
- MaTims
(0.273684)
- You scream, I scream, We all scream for ice cream
(0.246835)
- Grading
(0.233871)
- Tomato seedlings
(0.226923)
- Elizabeth's foot
(0.22439)
All
January 15, 2014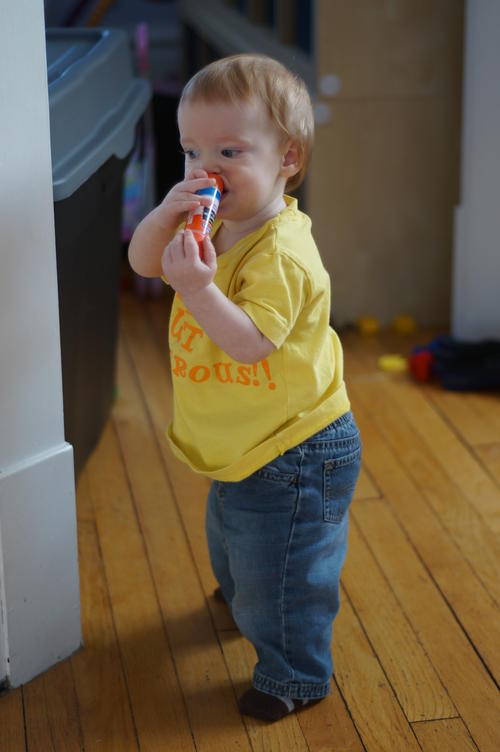 Photographic evidence: Matthew can stand up all by himself!
You might also like
- Michael is sitting
(0.234043)
- Standing Unassisted
(0.21374)
- First smile
(0.193878)
- November Food
(0.184783)
- Matthew
(0.170543)
All
January 14, 2014
Elizabeth was complaining that her boots were a bit tight in October, so we bought her a second pair. And then when we got home we discovered that new boots were the same size as old boots! We thought about returning them but it seemed like more trouble than it was worth.
Now we are so glad to have two pairs of boots (and two pairs of snowpants!) Even when we aren't experiencing a quasi spring melt she comes home soaked. I gather there are sleds to play with at school and a favourite occupation is rolling down the snow hill.
I took these photos on the way home from school. Elizabeth jumped from puddle to puddle. "Look Mom!" she said "I'm walking on the trees!"
You might also like
- Snow Day
(0.328482)
- Helping Hands
(0.321101)
- Camping, CHRI
(0.317512)
- Rachel
(0.316814)
- Kid Math
(0.316413)
All
January 10, 2014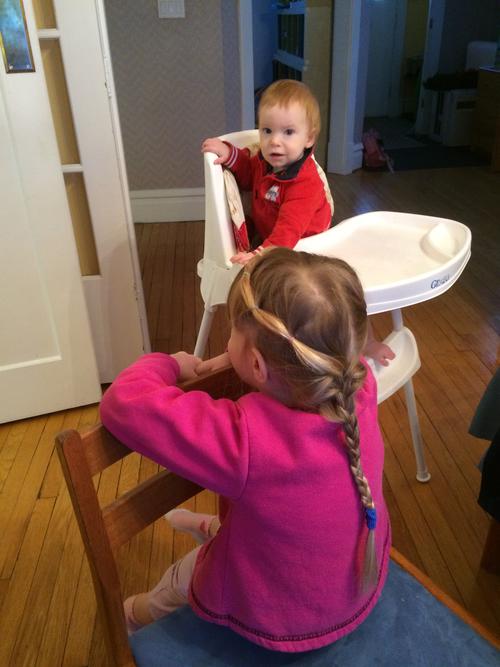 I don't look forward to Fridays because Daddy has an early breakfast meeting and that means I must wrangle the two kids all by myself!
Elizabeth is NOT a morning person; not only does she need to be woken up on school days, but frequently I need to help her out of her pjs and into her clothes. This is more challenging when Matthew is trying to climb into her "castle" bed and play with her...
We were running frantically through our morning routine when all of a sudden Elizabeth reminded me that it was crazy hair day and I had promised to make her rainbow hair. I was grateful for the fresh snow that had not yet been plowed as I was able to plunk both kids into the sled and pull them to the bus stop just as the bus was arriving.
You might also like
- School Concert
(0.328859)
- Antibiotics
(0.326923)
- Christmas Day 2: PJ Day
(0.325949)
- October Food Diary
(0.325383)
- Smiley Face Pancakes
(0.324159)
All
January 9, 2014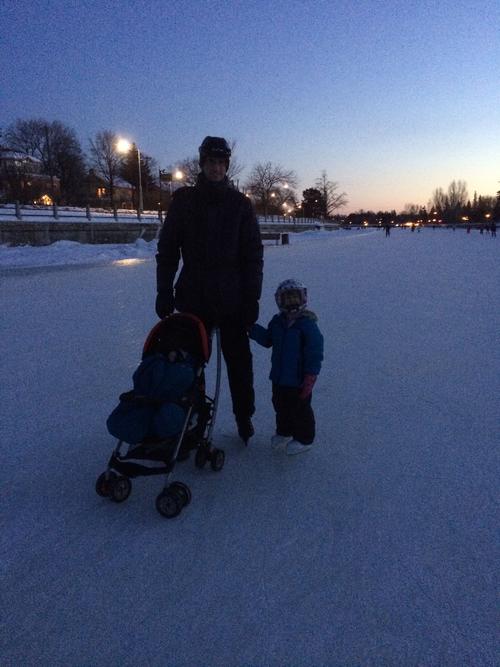 It warmed up a little so we met Elizabeth's school bus with a car load of essential skating gear and headed straight for the canal.
It was Matthew's first time and he seemed to enjoy the experience (well, actually he mostly napped!) We brought the sled in case Elizabeth got tired and she enjoyed chasing it. It was a good incentive to get her to skate fast. She skated from Patterson to Concord, which we reckon is about a kilometer, but after her hot chocolate and Beaver Tail she just wanted to be pulled in the sled all the way home. It was pretty dark by then!
You might also like
- End of the canal
(0.367816)
- Late night skate
(0.358268)
- Commuting by skates
(0.347222)
- Easter Sunday
(0.341503)
- Grandma H
(0.339768)
All