March 9, 2014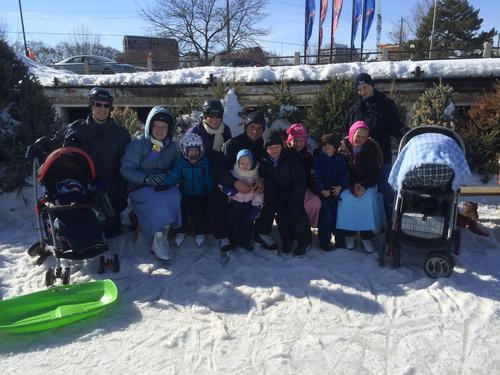 I've been trying to convince my second cousin Sara and her husband Tom to come and visit us ever since we both got married way back in 2001. They have a farm so it's pretty tricky to get time off, though it is easier in the winter.
So I was thrilled when they came and brought their six kids with them. Elizabeth was over the moon happy to have so many visitors, even if she did have to give up her room temporarily!
I had warned them that the canal couldn't possibly still be open - but it was! We went on the very last day of the season for a marvellous skate!
Hopefully it doesn't take them another dozen years to come back for the next visit ;)
You might also like
- Fish
(0.367596)
- Aunts and Uncles come to visit
(0.348754)
- Family time
(0.346087)
- Chicken Chicken
(0.3456)
- Dentist
(0.342657)
All
March 8, 2014
Dianne called us to see if we were interested in going skating (of course!) so we grabbed our skates and headed to the canal. When they got tired of skating, the kids all took turns riding in the sled and chariot.
You might also like
- Snowy Winter
(0.27027)
- Remembrance day cake
(0.262712)
- Skate to church
(0.240385)
- Photos in the snow
(0.238227)
- Canal part deux
(0.229236)
All
March 7, 2014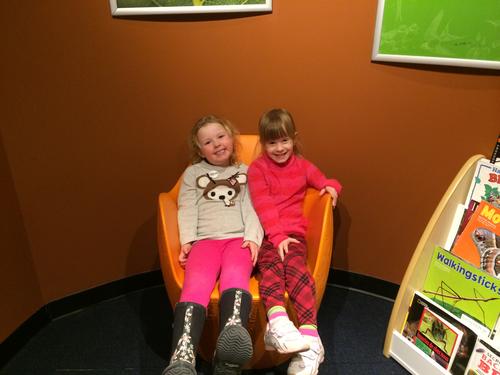 Elizabeth and her best friend Adi are pretty inseparable. So when faced with a day off school, naturally they begged for a play date. We went to the museum of Nature where they spent most of their time racing from one thing to the next. They weren't done by the time we were supposed to be finished, so we headed back to Adi's house. There was a lot of playing and a lot of spinning around and around and around and around.
You might also like
- Museum and Birthday
(0.323353)
- Le Patinoire
(0.32)
- Last week of Summer 2018
(0.317757)
- Dentist
(0.3125)
- Paint night
(0.310185)
All
March 6, 2014
Matthew's started to walk! He uses Elizabeth's pink stroller as a walking aid. He pushes it tentatively in front of him but when he wants to go another direction, he simply picks it up and turns around with it in the air. So he *could* be walking all by himself any day now...
You might also like
- New favourite way to get home from the bus stop
(0.324528)
- Matthew
(0.313846)
- Grading and birthday party
(0.30566)
- Strawberry picking
(0.302115)
- Graduation Day
(0.295522)
All
March 5, 2014
We pulled Elizabeth out of school for Ash Wednesday. Grandma H was coming to visit so we all went to the Children's museum to play. Auntie Janice got there first and was able to spend a few minutes watching and participating in a dance / puppet show.
The babies mostly looked a little overwhelmed, but Elizabeth and Xander had a great time. Xander especially enjoyed pretending he was doing "construction". Then we went to the snow and ice exhibit which was quite amazing - especially the heated sleigh that was used for transporting a family to their school TWO hours away! That's quite the commute!!!
After we spent some time prettying up Elizabeth's snow fort with coloured ice blocks.
You might also like
- Crachel
(0.347432)
- Matthew on the canal
(0.339768)
- Toronto birthday
(0.33719)
- Christmas Day 6: Sleepover day
(0.336879)
- Maria is 6, Tante Elfi and Sheep Shearing
(0.334454)
All