March 14, 2014
We get to look after our neighbour Noemie's pet bunny "Black Beauty" during March Break.
Elizabeth was thrilled to get the chance to feed him his daily hay and vegetables. He was allowed some apple and carrot "if he was good" and according to Elizabeth he was very, very good (but for the record I didn't let her overdo the treats!)
By the end of the week he was significantly less skittish around the kids and even let Elizabeth pet him. Matthew was fascinated but mainly wanted to look and not touch. Except when it came to the hay, which he strewed pretty much everywhere.
You might also like
- End of the canal
(0.328947)
- Lead line lesson in the barn
(0.305155)
- Spring!
(0.305112)
- Summer school jul 13-17 Circus week
(0.30373)
- Gatineau Park Ski
(0.302469)
All
March 13, 2014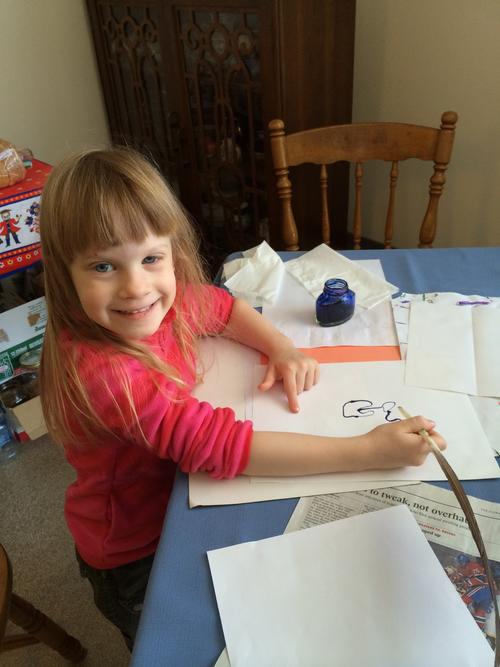 Elizabeth was sick with an ear infection so couldn't go swimming at Grandma's with her cousins as planned. I needed a distraction to occupy her while everyone else was in the pool.
Getting to write with a feather was the perfect distraction - she was so proud of being able to use the ink by herself.
You might also like
- First steps
(0.290541)
- Hashi
(0.279539)
- Daddy date
(0.278912)
- Cottage Days: Trampoline
(0.277108)
- Swimming
(0.27027)
All
March 12, 2014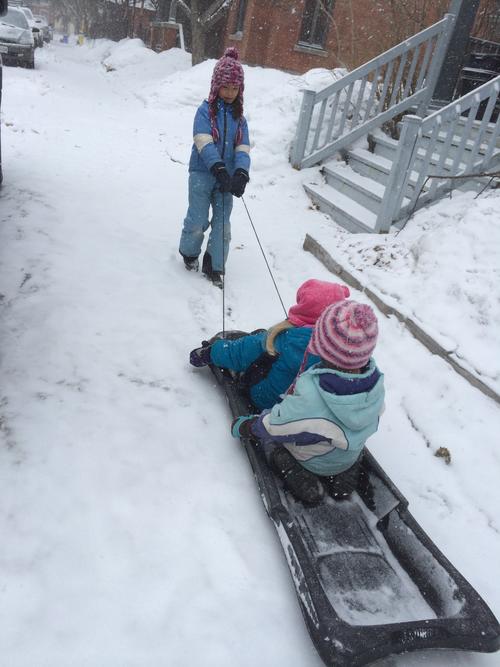 There was a magic show at the library for March Break, so we went to Auntie Yukiko's for lunch and then walked over. The magician was really fun. I didn't see the whole show as I was busy occupying Matthew but the girls enjoyed it very much. He did a lot of neat tricks with ropes - knotting them together and then sliding the knots off so it was one continuous piece. Definitely quite a talented guy! The best part was apparently when he regurgitated a whistle. It was so gross (and that is why they liked it so much!)
There was a sudden snow storm on the way back - we were glad we brought the sled. Erika pulled the other girls by herself! I'm sure that combined they must weigh a least as much as Erika does!
Later in the day Brendan and I went to the NAC (a date!) while the kids stayed with Uncle Chris and Auntie Yukiko.
You might also like
- Vera, Astra and Magnus
(0.349835)
- Ski
(0.342814)
- Acro viewing week
(0.337037)
- Cherry Picking
(0.335185)
- Fun with Kaitlyn and Lily
(0.330893)
All
March 11, 2014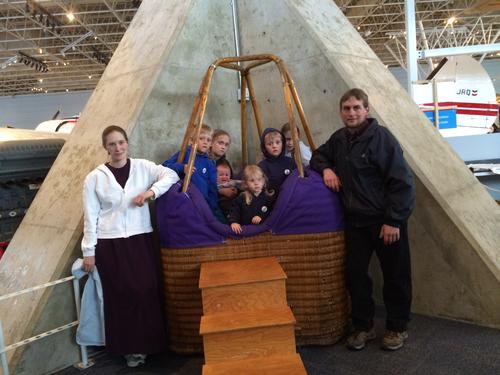 We went to the Aviation museum to see the Ottawa police tactical team rappel from the ceiling in a cool exercise that Auntie Janice told us about.
Apparently if they are coming down a building they need to come upside down to peer in through the windows, so they practiced that too. Sometimes they jump out of helicopters. I think they have a fun job (at least that part!)
Afterwards we met up with my cousin Sara again and hung out a bit.
You might also like
- Sand Delivery
(0.29065)
- Museum of Nature
(0.279383)
- Let's go fly a kite
(0.276144)
- Cousin Camp: Beach day
(0.27037)
- Skating on the Canal
(0.269373)
All
March 10, 2014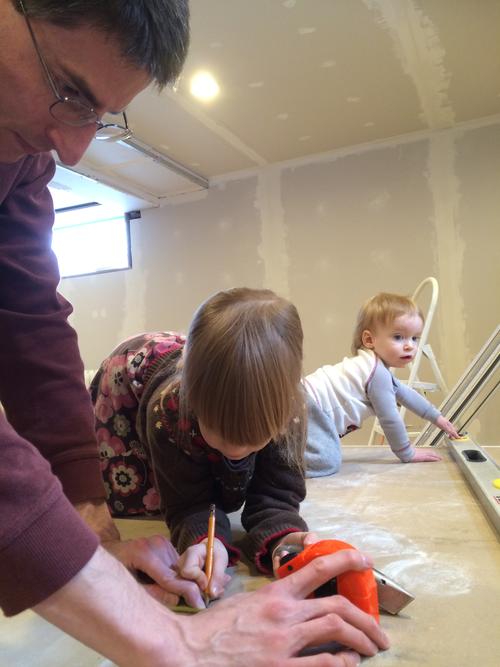 The kids are learning some valuable life skills in our basement these days, and we've found a new distraction for when the bathtub / playpen has lost its appeal. The only problem is that Matthew can get out of a laundry basket on his own, but it is good for a few minutes anyway.
He can't get out of the sling though and although he protests for a while eventually he will even nap. But I've discovered that I can't do any final plaster coats with a baby on my back. Actually it's about all I can do to make sure that Elizabeth isn't getting too excited with the mud. At least this way I can blame the toddler for any excessive sanding requirements...
Elizabeth is thrilled to be at a point where she can actually help more regularly. She especially likes to put her pencil behind her ear "like Daddy".
You might also like
- Rainy day
(0.360305)
- Christmas
(0.358612)
- Cooking Class
(0.355685)
- Summer bucket list: Survival Day
(0.353323)
- Mountain Orchard
(0.349462)
All