April 2, 2014
Matthew and Elizabeth walking the "pets" is a common sight around here these days. He prefers to hold someone's hand. Elizabeth patiently walks with him around and around and around and around the table, squawking chicken in tow.
I remember playing with the same toys at my Grandma's when I was little.
You might also like
- First steps
(0.280822)
- Strawberry picking
(0.275758)
- Art for Mary
(0.273006)
- New favourite way to get home from the bus stop
(0.267658)
- Matthew
(0.263636)
All
April 1, 2014
Elizabeth greatly enjoys winter, but she is pretty excited to see bare pavement because it means she gets to ride her plasma car again!
You might also like
- Green Belt, one stripe
(0.285714)
- Home Depot four kids
(0.263941)
- Green Belt
(0.255814)
- Karate Book Club: Aru Shah
(0.25)
- New favourite way to get home from the bus stop
(0.243243)
All
March 31, 2014
Here are some pictures of Saturday's playdate with Adi consisting of much playing, epic dishwashing and cookie decorating. There may have been some cookie eating too!
Sent Adi home with a whole pile of things that Elizabeth insisted on giving her. I let her because Elizabeth tends to be somewhat possessive of her "stuff"!
The girls were overheard planning out their next play date already...
You might also like
- Spectacle de musique
(0.308989)
- PJ party
(0.305747)
- PD Day
(0.301994)
- Douvris Christmas Potluck
(0.297968)
- Last day at the cottage
(0.29771)
All
March 30, 2014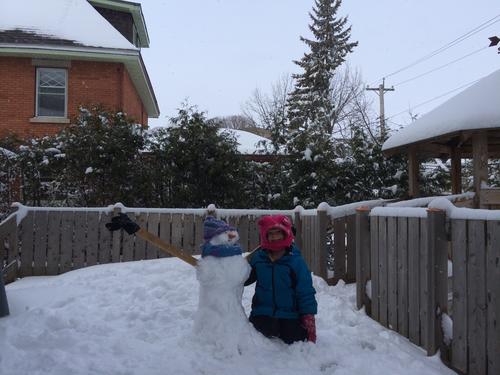 I've been wanting to make "snow cream" all winter, so when we received an unexpected storm we decided to take advantage.
Elizabeth was especially thrilled because it was perfect packing snow and she could make a snowman. Sadly the snow cream was not quite all I had hoped - I think packing snow must not be the right sort of snow as it was very grainy! We'll have to try again next year...
You might also like
- Heidi and Tante Elfi
(0.3386)
- Packing Snow
(0.329843)
- Winter came back, the very next day
(0.310924)
- Canal part trois
(0.300254)
- Snow play
(0.293333)
All
March 29, 2014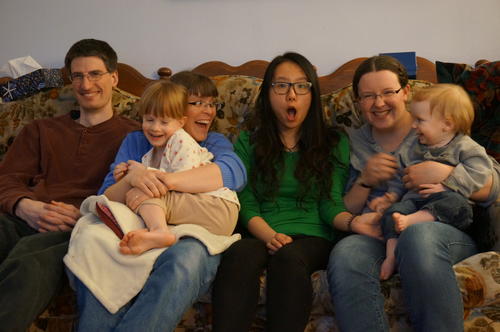 Our tenant Laura is moving out. Elizabeth is sad to be losing her "second floor buddy".
We will miss her!
You might also like
- Peek-a-boo
(0.261745)
- Play structure
(0.256944)
- Lookout point
(0.242236)
- Spelling
(0.238994)
- Elizabeth second stripe on brown belt
(0.238938)
All