April 21, 2014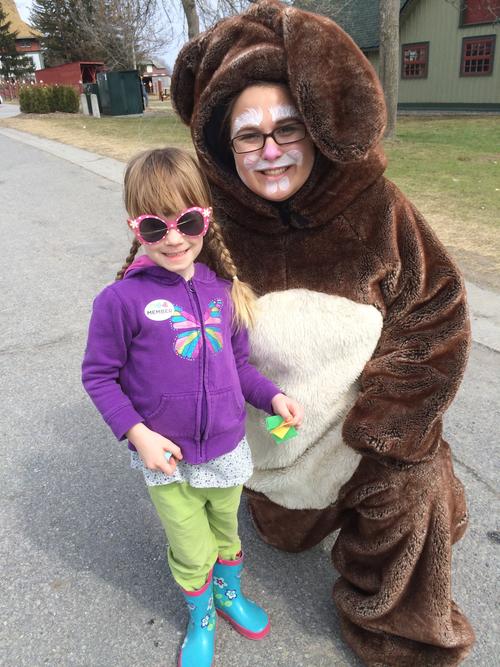 We went to the Agriculture farm for the annual Easter egg hunt. Matthew was not very excited about the large creepy bunny costume, but Elizabeth was thrilled to find all her camp counsellors from farm camp. Both kids were pretty happy about the chocolate prizes from finding all the egg clues.
We kept bumping into people I knew. Elizabeth uncharacteristically turned shy when we bumped into two good friends from her French playgroup and refused to take a picture (grr). But at least she didn't mind playing with Simon and Paul - I guess because she's a big play structure fan!
You might also like
- Apple Picking Reprise
(0.321526)
- First day of Maternelle
(0.3168)
- Farm Camp and On the Water Camp
(0.314094)
- GNAG Halloween Party
(0.313814)
- First day of Holidays
(0.31283)
All
April 20, 2014
Easter Morning! Alleluia! He is Risen!
Matthew was nearly overcome to be allowed to eat chocolate for breakfast...
After church, Elizabeth was thrilled to be invited back to Godmother Rachel's Easter Egg hunt in the woods. She remembered hunting for eggs in the snow last year and was super excited for Easter to come so that she could do it again! The best part, she sighed happily, was looking for eggs with Rachel. Well, after actually getting to eat the chocolate...
Matthew was able to find a few eggs himself, though he was obviously a bit unsure about all the commotion. But he did approve of the chocolate (More, more, more, more, he said / signed)
Elizabeth offered Daddy all the candy that she didn't like (jelly beans, apparently - because they get stuck in her teeth). Mommy and Daddy may have indulged in some contraband when she wasn't looking.
Afterwards we headed to Uncle Chris and Auntie Yukiko's house for Easter dinner. The whole family was there, aside from the "flat" grandparents. But we made up for that by including Heather's boyfriend Mark and a friend of Yukiko's visiting from Japan ;) I made the trifle for the very first time!
You might also like
- Easter egg hunt
(0.387704)
- Happy Easter
(0.382567)
- Ottawa Race Weekend
(0.377717)
- St. Nicholas
(0.377232)
- Wedding prep
(0.372497)
All
April 19, 2014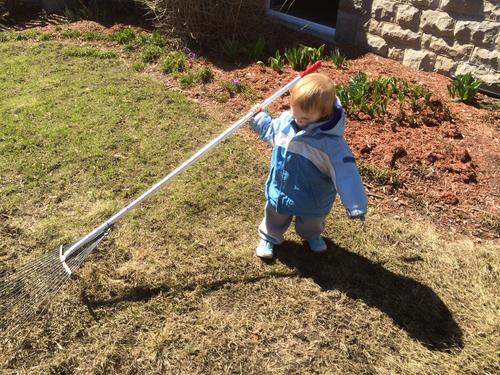 I'm slowly getting the garden ready to plant. Matthew was fascinated by the rake and wanted to help. Eventually we compromised. I let him "rake" for a few minutes and then Mommy had a turn. I am amazed by how strong this little person is!
Today we went to the park for the first time in a while and it was warm enough that I let Elizabeth take her shoes off. She's decided she's ready to let winter go and have some summer. Apparently the idea of not needing a coat or boots is very exciting.
You might also like
- Waterskiing, fish and clams
(0.341414)
- Xander
(0.340265)
- First Swing
(0.339378)
- First meal outside of the season!
(0.335526)
- First snow 2015
(0.334043)
All
April 18, 2014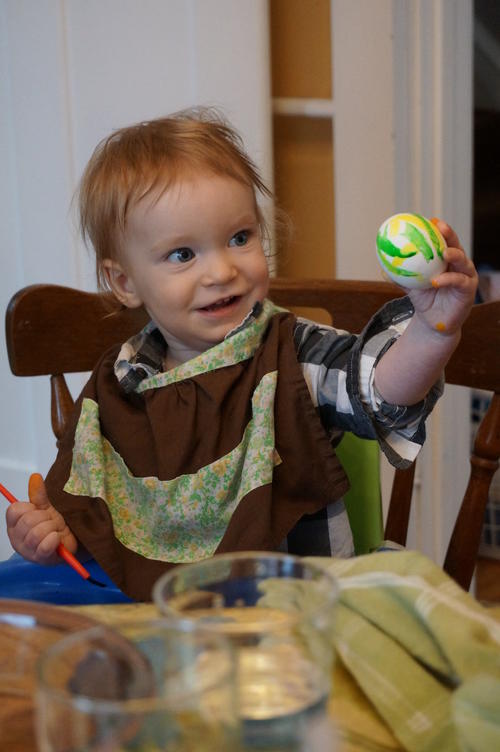 Church in the morning followed by epic egg decorating with one kindergartener (Elizabeth), one preschooler (Xander) and two babies. I've described our Easter traditions before; I kept things simple since Elizabeth was still recovering from scarlet fever.

Matthew helped me make gluten free hot cross buns. He's VERY enthusiastic about crushing... I mean cracking... eggs (eggshell everywhere)!
Matthew was not too sure about his first Resurrection rolls (he'd just woken up to find his house full of people!) but painting is an activity he can always get into. The challenge was preventing him from cracking the eggs instead of painting. It was particularly confusing because just as soon as he'd figured out that Mommy didn't want these eggs crushed for some reason, then she asked everyone to crack the shells with a spoon! The babies were quite good at this part... Elizabeth promptly declared her tea eggs "too cute to eat". Sigh.
You might also like
- Auntie Karen's birthday
(0.369018)
- Baby Summit 2015
(0.365764)
- Good Friday
(0.359862)
- Good Friday
(0.359574)
- Good Friday
(0.359534)
All
April 15, 2014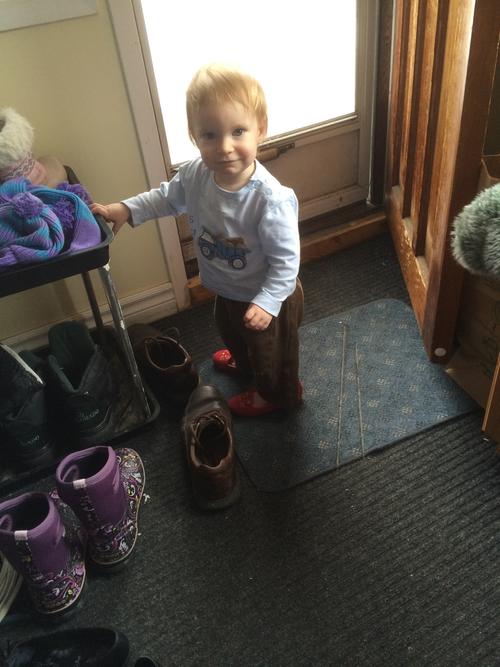 Someone likes to wear other people's shoes. Especially Elizabeth's Sunday Best ones
You might also like
- Pentecost
(0.257353)
- Grandma and Grandpa H
(0.241573)
- Play structure
(0.216418)
- Erika gets her brown belt
(0.206452)
- Daddy date
(0.204651)
All