May 8, 2014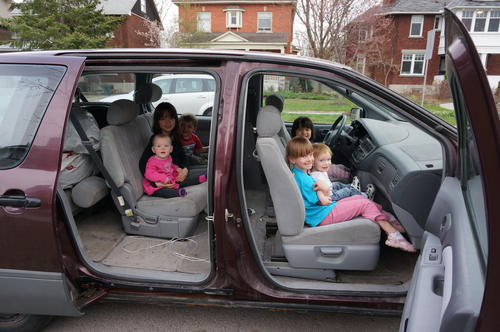 Auntie Janice has been driving Auntie Heather's old van for the last few months, but after more than half a million kilometers it was finally declared scrap metal.
Auntie Karen and Uncle Dave brought Xander and Isabelle and we had a mini photo shoot with the kids and the van. Isabelle showed out her new moves standing unassisted!

You might also like
- Auntie Karen's Garden
(0.288401)
- Uncle Dave's birthday
(0.286058)
- Breakfast at Mary's
(0.273333)
- Van party, photos at park
(0.268817)
- Happy Birthday Uncle Dave
(0.268293)
All
May 5, 2014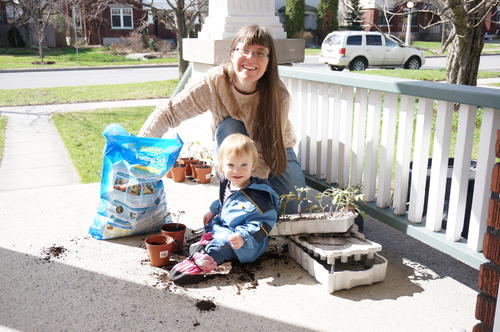 I transplanted the tomato seedlings today. As usual I have many more tomato babies than I have space in the garden. Matthew was very happy to "help" put dirt into the pots. I'm not sure if all of my babies survived said help. It all ended in tears when I wouldn't let him yank them all out of the pots and start over.
You might also like
- Red stripe Matthew orange green
(0.29572)
- A garden story
(0.293447)
- First Swing
(0.277439)
- First day of Maternelle
(0.256604)
- First steps
(0.255663)
All
May 1, 2014
I took Maria and Matthew to the Museum of Nature while the other girls were at school. There's a new exhibit coming about bioluminescence and we got to play with glowing graffiti.
You might also like
- Xander and Matthew
(0.339844)
- Last week of Summer 2018
(0.268657)
- Backwards day
(0.255034)
- Nature Museum (Pterodactyls)
(0.25)
- Greek Night
(0.23053)
All
April 30, 2014
Maria and Erika are staying with us for a couple of weeks (well - eleven days to be precise).
We were a little nervous about the prospect of doubling the number of children in the house and all the extra logistics. Turned out we didn't need to worry at all - the kids got along well and our visitors were a credit to their parents. Even a bout of illness causing Erika to throw up for a couple of days - pretty much our worst nightmare - wasn't too bad. She's one pretty independent eight year old capable of climbing out of her bunk in the middle of the night to throw up in the toilet without even needing to wake anyone up. She mainly didn't need looking after - though of course we tried! - just wanted space to sleep and read her book. Most importantly: No one else got sick! I am very much looking forward to my children becoming more independent when they are ill...
Here's what our school day schedule looked like:
6:45 am Played Raffi's Rise and Shine through our phone system / baby monitor. I can't believe it took me all year to think of using an alarm, as not only did the girls get up and get dressed ALL BY THEMSELVES every single morning but Elizabeth has continued to do this ever since her cousins went home! Then they ate breakfast and we did our morning routine. The girls were so efficient they even had time to play a bit in the morning. Towards the end they started doing piano practise in the morning so as to have more time to play in the evening.
8:10 am Everyone out the door to wave Elizabeth off at the bus stop
8:30 am Bundled remaining kids into the van and drop to their school
11:30 am Picked Maria back up from school
3:30 pm Picked Erika up from school
4:10 pm Parked the van and herded the kids out to pick up Elizabeth from the bus stop
4:30 - 5:00 pm Supper!
Then some time for piano practice, reading practice / homework and play! When it stopped raining the kids had a chance to play with the next door neighbour kids
7:00 pm Bedtime. We read a chapter of Mary Poppins every night before bed. In retrospect I would choose a shorter book next time - turns out that although it only has twelve chapters (which seemed quite doable) some of the chapters are MUCH longer than others.
You might also like
- Grading for a brown belt
(0.417896)
- Broken Toe
(0.417502)
- Summer Week 1 - Visiting
(0.417329)
- Butterfly Adventure
(0.417029)
- Pandemic ER
(0.416739)
All
April 29, 2014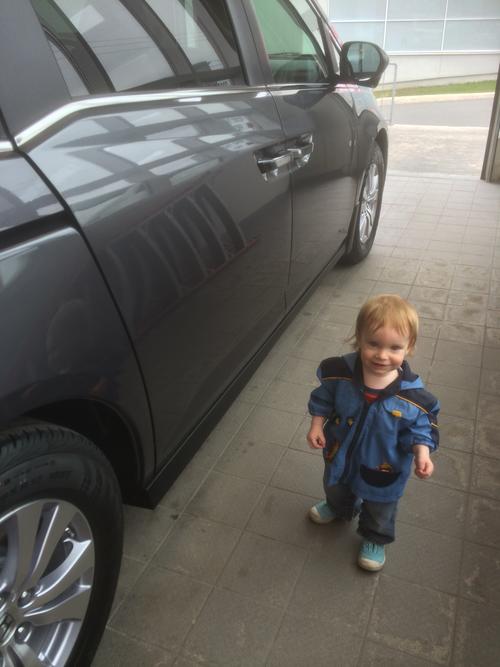 We subscribe to the theory that a car is an expense (not an asset!) and therefore we always lease our vehicles. Every three or four years that means a new car with a low risk of breaking down and new safety features. Sometimes I'm more than ready for a new vehicle. This time I had mixed feelings, because although I have spent the last four years being annoyed by the Golf's entertainment system - it turns out it was WAY better than anything currently on the market.
I was seriously tempted by the Ford Flex because its entertainment system was not as objectionable as any of the others but eventually Honda's minivan won us over with the ability to transport a 10' piece of lumber with the trunk closed. This might not be a crucial feature for most people, but I guess that tells you something about our lives at the moment!
The new car also has eight seats and a decent sized trunk. Apparently it can even handle up to five car seats. So clearly we need to take all of the cousins for a ride somewhere soon! The day we picked up the car Erika and Maria came to visit us for nearly two weeks and it was super handy not having to make multiple trips or borrow a second car.
Although getting a van was Brendan's idea - he was tired of not being able to sit in the passenger seat comfortably due to the positioning of the various car seats - there was a lot of angst about being practical instead of cool. He decided he liked the van on the way home from the dealership. Might have had something to do with his wife insisting we stop first at Home Depot to pick up a few supplies (10 bags of mulch, some plants, some lumber...) followed by Costco and Bulk Barn...
Elizabeth's favourite part is the automatic open/close of the door as it means she can now unclip and get out of the car all by herself (she can get in too!) She is so proud! My favourite part might be that you do not need to take your keys out of your pocket to open, start or lock the car. I've asked Brendan to look into figuring out how to make that work for our house.

You might also like
- How many weeks?
(0.423561)
- 121212
(0.409975)
- Child Labour
(0.407436)
- Hawaii
(0.406435)
- At Mary's
(0.404362)
All