May 22, 2014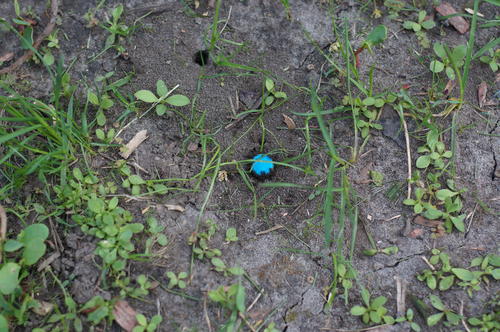 Elizabeth saw me looking at a picture of an M&M covered in ants the other day. She immediately wanted details. I explained it was Ali and Noah's science experiment. "Can I do that 'speriment Mom?" she immediately demanded. Then she amended the demand. "Can I eat some M&Ms if I give some to the ants?"
The neighbour kids were fascinated by the idea and came to check on our experiment every day before school. It was interesting - the candies placed on the ground attracted the tiny ants which are abundant in the Glebe. The candy we placed high up on our porch attracted only carpenter ants (also sadly abundant in the Glebe and currently parading one at a time through our house at an alarming rate - they don't like all the construction around here!)

I am quite certain that either the squirrels, chipmunks or dogs ate two of the "experiments". The third got ringed satisfactorily by the ants, who then pulled the whole thing into the ground. And then the colony disappeared. Just like in Ali and Noah's experiment! Porch candy was delicately nibbled on for days by what appeared to be a single carpenter ant. It ate the entire coating and then left the chocolate alone. After the chocolate languished uneaten for a few days - it suddenly disappeared (squirrel, I suspect).
Bonus side effect? Elizabeth is getting better at correctly using the word "hypothesis"...
Science Experiment 1: Do Ants like Chocolate?
Method: 4 M&Ms
Ants (note the z on her version - still a side effect from teachers accidentally spelling her name with an 's' last June)

Put M&Ms on ant hill
Check every day
Hypothesis: Ants will eat them
Conclusions: Ants don't like it. But squirrels (Sowoz) Do :)

You might also like
- Hike in the woods
(0.397317)
- FIVE
(0.378353)
- Broken nose
(0.377799)
- Plasma Car
(0.369781)
- 16 Months
(0.369526)
All
May 18, 2014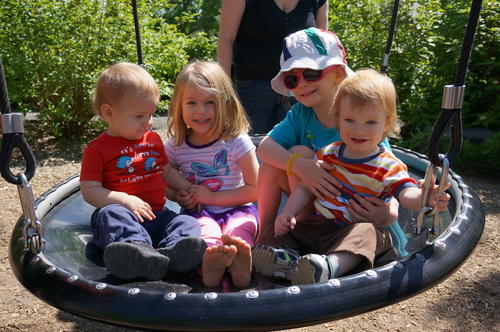 Brendan's version:
"It was nice to just chill and watch the kids play."

Elizabeth's version:
"We went to Boston and we watched Frozen and I got to play with Nora and she let me write in her book! I liked the zipline and all the playgrounds were my favourites."
Matthew's version (when asked if he wanted to go back to Boston):
"Uh uh. (pause) Eeeeeeessee (with emphatic signing for please)"
My version: "The kids are still better travellers than their parents, though Elizabeth did wonder out loud whether we were there yet well before Montreal. It was supposed to rain the whole weekend but the weather was beautiful.
It's still adorable watching the kids interact. Elizabeth got to "sleepover" in Nora's room. By the last night they moved their beds together so they could be closer. We went to the science museum again (and got in free thanks to reciprocal rights with our own museum membership!) We got to check out some of Nora and Simon's favourite parks - Ottawa might need to step up its game... The kids were well behaved enough that we braved multiple restaurants and a gluten-free bakery. Elizabeth missed Nora badly the first few days until she had a 'great idea'. Now she's planning our next trip."
You might also like
- Fireworks
(0.373692)
- Angie 2015
(0.369973)
- Spartan Mud Race
(0.367261)
- End of an Era
(0.362894)
- Matthew's first skating class
(0.36078)
All
May 13, 2014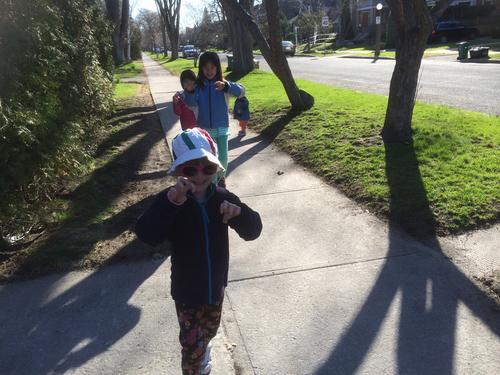 I found a few more pictures from when Erika and Maria were staying with us - lurking on my phone...
In no particular order... More spring garden pictures; Matthew sampling the dirt to check that it is ready for the vegetables (I swear that kid tastes *everything*); Bug pasta - the kids got a kick out of telling their friends they were eating bugs for lunch; Music practice with Auntie Janice; Fun at the bus stop; A visit to the library with Maria and Matthew while the others were at school...
You might also like
- Vera, Astra and Magnus
(0.296296)
- Camping, CHRI
(0.295533)
- Great Aunt Joanne
(0.290698)
- The end of September
(0.288973)
- Happy New Year
(0.284926)
All
May 12, 2014
My spring garden (best toy ever is the watering can). Matthew is easily as hard on the flowers as the cats. That is saying a lot!
You might also like
- Spring Garden
(0.251366)
- Spring
(0.246154)
- 1st Stripe Brown Erika
(0.234177)
- Spa day, three stripes
(0.227778)
- Spring thaw
(0.226519)
All
May 11, 2014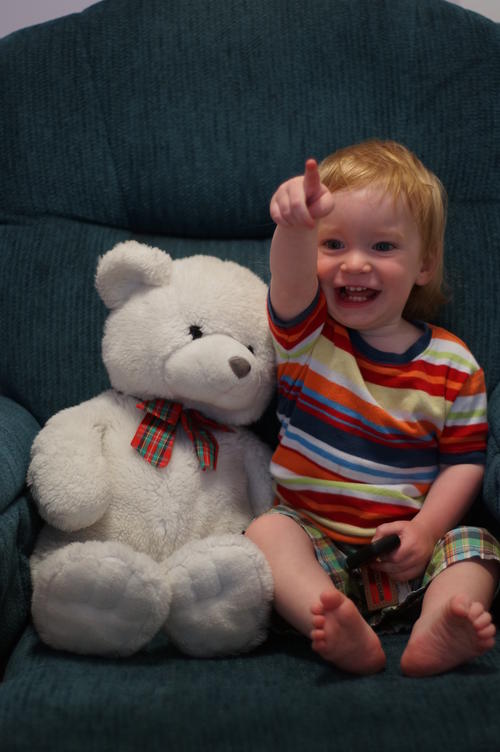 At fifteen months, Matthew weighs just over 18 pounds.
He's not nearly as articulate as Elizabeth at the same age, but is becoming more understandable every day: "Peeese", "Yum", "Ah done" (all done), "Hi", "Uh huh". He's picked up a new sign "where?" (both palms facing up and out) that he likes to use when joking around - he's developing quite the sense of humour. As in "where did Mom's keys go?" This would be when we discovered that a small child CAN use the key fob to open the rear doors and lower all the windows remotely from the third floor of our house. Of course we discovered this during a torrential downpour. Mommy thought it was quite funny but she wasn't the one who had to mop up the puddles in the new car...
His favourite sign may well be "Please" (patting at his shirt), although "Milk" (which he uses for nurse) is a close second. He's pretty good at thank you and bye-bye too.
He's a very determined little boy. At mealtimes he has started to object to the booster seat, preferring to sit at the big table like a big boy. Sometimes we humour him, but since part of the attraction is not being strapped in this is not always in the cards. The main problem is that he's quite capable of shrieking for over an hour if he is restrained against his will which is not anyone's favourite dinner music. We hope he is getting all of his two year old temper tantrums out of the way!
Matthew still loves colouring, playing with his big sister, messing up her stuff and reading books. He likes to pretend just about everything is a telephone.
Still not potty trained in the least, but flickers of hope as he occasionally walks over to the toilet and if helped up will do his business quite professionally. His favourite part is waving bye-bye to the water as it flushes. We are extremely nervous that he will attempt to wave bye bye to something inappropriate - he hasn't managed yet but the other day tried to flush Mommy's sock. If you visit unexpectedly you might notice the garbage cans on the counter and the toilet paper rolls up high.
Matthew is very busy. Actually that is a massive understatement. Perhaps we are just getting seriously old and can't keep up, but our little boy sure goes fast and has a tendency to find and want to play with the one object in a room that he is not supposed to touch. When not keeping his parents physically fit he practices being cute and adorable so as to ensure that his parents forget all about how exhausted they are and think loving thoughts towards him.

You might also like
- Seventeen Months
(0.466548)
- About the boy
(0.451932)
- 18 Months
(0.451713)
- Matthew is 3
(0.449429)
- Amelia 21 months
(0.447566)
All