June 2, 2014
Aren't we cute? There are a few of us who have clearly aged in the last thirteen years, but in my head at least most of us look about the same. Except for Auntie Janice who I DIDN'T EVEN RECOGNIZE at first. Apparently Janice isn't a kid anymore, even in my head. I, on the other hand, will always look like I just got out of high school.
Thirteen is supposed to be lace or textile furs, but we went with drywall and tile... Isn't that every girl's dream? This is what we do in our copious (ha ha) free time. Despite what seems like having done endless plastering there is still a lot more work to be done.
But to celebrate thirteen years of marriage we asked Uncle Chris and Auntie Yukiko to watch our kids and went out for the evening (Greek, of course...)
You might also like
- Grade 1
(0.349854)
- Cousins move in
(0.348348)
- Junior Black Belt
(0.345992)
- Flattening Grandma and Grandpa
(0.331325)
- Butterfly Show
(0.331279)
All
June 1, 2014
When we arrive at Chris & Yukiko's house these days, it takes about five seconds before the girls disappear to play. Usually they head to Maria's room in order to systematically take it apart. Erika plays with the girls for a bit before settling down with her Harry Potter book (she's not as interested in other books but has devoured the HP series multiple times). Matthew follows along and is tolerated if he isn't too destructive.
Elizabeth loves playing with Maria, but at the same time doesn't quite understand why her eight year old friends are suddenly more interested in reading and other more sedate activities when they could be playing in the sandbox or playing house. Strangely Erika (and neighbours Noemie and Meg) don't want to spend all their time on all fours pretending to be cats anymore. I point out to Elizabeth that she can try other games and the big kids are actually more patient with her than she is with Matthew. I point out to Erika that she should put the book down while she has visitors (while mentally apologizing to my third grade self who HATED doing the same). We take Matthew downstairs to play with Grandma and Grandpa.
This visit the girls spent a bit more time hanging out downstairs than usual - it's Maria's FIFTH birthday and she requested sushi as an appetiser! Maria has taken to putting her hands over her ears whenever anyone sings these days. But while she didn't seem to appreciate our rendition of happy birthday, she liked blowing out the candles and eating her cake! And she loved opening her presents!
Most of us pooled together to give her a week at camp with Erika and Maria. Elizabeth was not impressed with the idea that she would therefore have nothing physical to open. So she decided to give Maria her OWN present that she could unwrap (sidewalk chalk).

You might also like
- Amelia is 4
(0.394366)
- FIVE
(0.385915)
- Christmas
(0.385361)
- 23 Months
(0.384545)
- Grading for a brown belt
(0.382114)
All
May 31, 2014
Yeah - so remember how I was excited to get tulip pictures with the cousins?
Would you believe that they yanked those tulips out of the ground in the less than 24 hours it took us to return?!? I AM STILL NOT OVER IT! Darn NCC.
They did at least leave a few tulips standing in the perennial bed, so we made do. Then we walked around the lake to the Arboretum and practiced our tree climbing skills.
Kind of a busy day - Auntie Janice and Auntie Heather had a van party at our house in the evening. For once Elizabeth did not request to go to bed before Matthew - instead she stayed up and played homemade van themed Taboo and pin the license plate on the van. The van has now been taken for scrap metal.
You might also like
- Sheep Shearing
(0.339763)
- Angie 2015
(0.333841)
- Winterlude
(0.329609)
- Happy Birthday Janice!
(0.329412)
- Science by Night
(0.328986)
All
May 30, 2014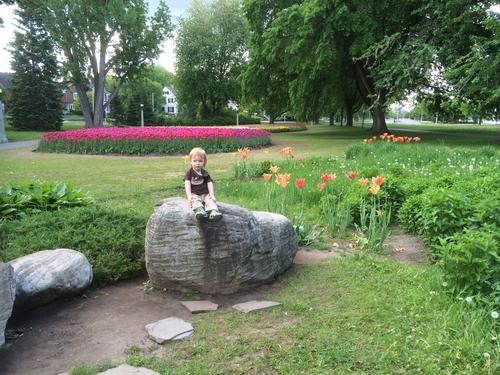 This is how you know it's been a late cold spring: it's the end of May and there are still tulips.
I immediately emailed my sister-in-laws:
"I was a little sad we missed getting a tulip shot with the kids but when I went to Dow's lake today I realized that there are STILL tulips! Most are finished, but actually enough to get a photo."
They agreed to meet us at Dow's lake for a tulip photo the very next day. Because it just isn't spring in Ottawa without a tulip picture, right?
You might also like
- Beach
(0.344498)
- Introducing Evelyn
(0.335498)
- Misty Moisty Morning
(0.331731)
- Triathlon
(0.322742)
- A week in review
(0.32199)
All
May 29, 2014
Elizabeth was pretty excited to drag her bicycle out of the garage shortly after plasma car made its first appearance this spring. I noted last September that she was able to ride her bike by herself and shortly thereafter she was even convinced to give Xander her dearly beloved balance bike.
She was devastated to discover that she had FORGOTTEN how to ride it over the winter. Mommy and Daddy were very surprised!
It wasn't just that she forgot how to get on and off - she seemed to completely lose her balance. Total panic. She decided she needed her balance bike back and refused to ride poor pedal bike. We did not go out and get a new balance bike, but we also didn't push too hard to try again because she was so anti-bike (heartbreaking given how much she loved it in the fall). Maybe some time would help, we thought. But when she decided she was going to sell her bike at the Great Glebe Garage sale we decided enough was enough. So we made her bike to church. (Well, okay, we drove part of the way - just in case we needed a plan B) There were tears and temper but by the time we got to church she had remembered how to ride and how to stop. A few more sessions and she remembered how to start again as well.
You might also like
- Water Baby
(0.394737)
- Balance Bike
(0.3794)
- Pregnancy Announcement
(0.375804)
- First time skating on the canal
(0.373806)
- Capital of extremes
(0.373708)
All