June 27, 2014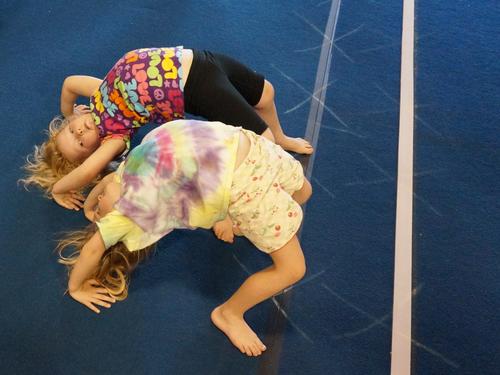 Adi asked whether Elizabeth might like to do Olympics-themed gymnastics camp with her this week. It sounded like fun, so we signed her up.
I was a little surprised to hear that her camp counsellor was named "Gargle" - even for a camp name that seemed unusual (I think it was actually Galaga). We were not surprised that Elizabeth loved the camp - Adi was there after all and there was a trampoline. Every day she came home and insisted on demonstrating a new skill. Her favourite move was called the "teddy bear", though it looked more like a pretzel to the untrained eye ;) There were at least five kids from maternelle level at her school, most of whom she knew quite well.
We appreciated that it wasn't just confined to the gym. They weren't able to go swimming at the RA centre due to bad weather (outdoor pool) but they went to the park / splash pad later in the week where they tie-dyed shirts. Elizabeth used all the colours.
Mid-way through the week, Elizabeth asked how many days were left. I told her three. "THREE?" she said in dismay. "But I went to school for lots more days than that, why is gymnastics so short???"
On the last day we were invited to watch a little gymnastics routine the kids had been working on all week. It was pretty cute. Some of the kids were obviously better at certain skills than others but we thought the staff did an amazing job of working around that. I think it's safe to say there will be more gymnastics photos in our future...

You might also like
- Party
(0.382508)
- Family Day
(0.375121)
- Camp Otonabee
(0.3733)
- Angie 2015
(0.372093)
- Three under three
(0.371393)
All
June 25, 2014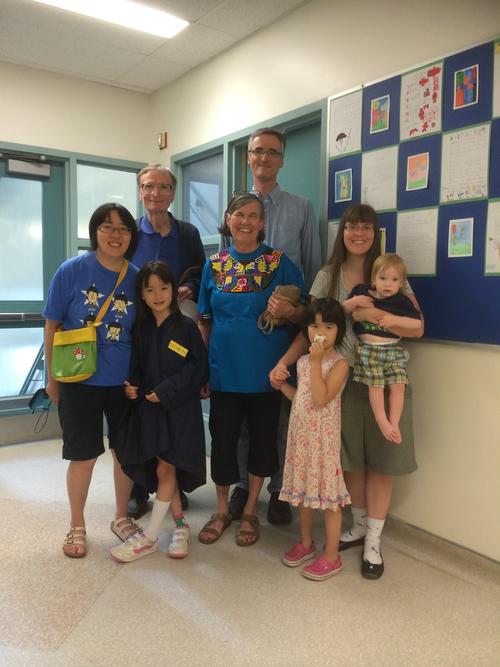 Matthew and I got to go to Erika's vernissage (art show!) again this year. This year she drew a portrait of Uncle Chris "while you wait". My favourite part was the little story she wrote. She read it to me twice (there's a bit of a twist, you see and she wanted to make sure I "got" it ;)
You might also like
- Christmas Cake 2013
(0.340764)
- Marking 1st Baptism
(0.303681)
- Baptism
(0.277512)
- Sledding and stripes
(0.274359)
- Maria\u2019s birthday
(0.274238)
All
June 24, 2014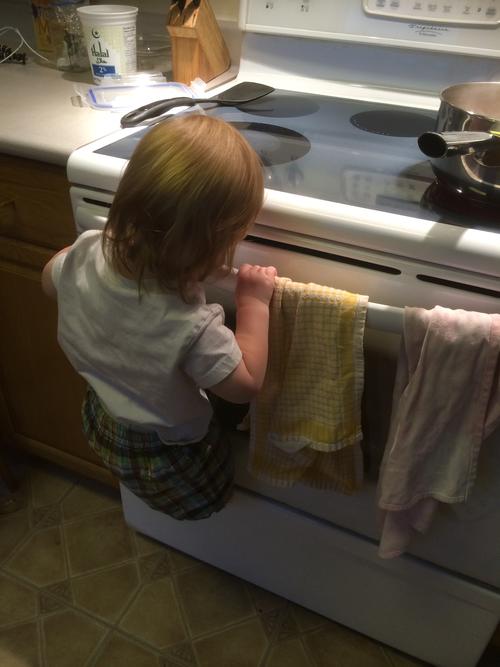 Baby proofing is quite a bit easier when the baby isn't climbing the appliances. Working at home is also easier when baby isn't screeching in the background in dismay over the cruel, cruel parent who won't let him stir the hot pot on the stove even though he OBVIOUSLY is quite capable of doing so.
So Matthew has been getting out of the house more lately. This also seems to help with napping, which in turn helps with getting work done... In any case, Elizabeth's gymnastics camp is quite close to the train museum so we stopped for a bit and I let Matthew carry around foam blocks bigger than himself for a while.
You might also like
- Michael 7 months
(0.311337)
- Life skills
(0.30605)
- Crystal Gardens
(0.302589)
- Toddler camp
(0.302083)
- Duty day the third
(0.301184)
All
June 23, 2014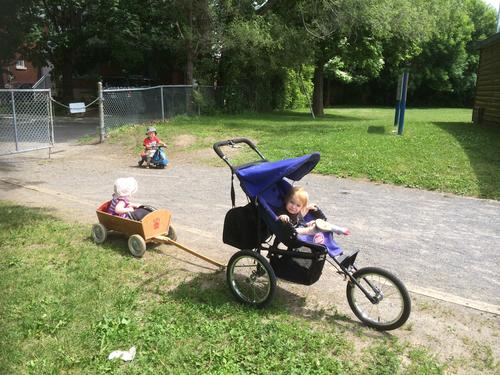 Xander and Isabelle (Zee) came to play with Matthew (Elizabeth was at gymnastics camp) so I had three children under the age of three to keep me entertained.
Zee has just learned to walk. She and Matthew had discussions over whose turn it was to push the little stroller, though she was a little confused about how to push - mainly using only one hand. She gained undisputed possession of the doll, so Matthew made do with his beloved drill. He actually wanted to walk train around but Xander felt this was not the thing to do. "Me train play. My want to play train." he said.
After a little while we decided to go to the park. I made a train. I strapped Matthew into the stroller. Zee rode in the wagon attached to the stroller. Xander got to ride Elizabeth's plasma car. He isn't quite big enough to push it all the way to the park, so I got him to put his feet up and I bumped it with the stroller while he steered. There was one scary moment on Percy when Xander decided he'd like to drive into the street (Percy is VERY busy these days). I was luckily able to grab him before any unfortunate flattening occurred. Xander is not used to being told off by Auntie "Mo-ey" - BIG EYES while I worked on getting my heart rate back to normal. He was as good as gold after that!
At first I wasn't going to let them get wet because we didn't bring bathing suits. But it's summer and they are kids so I decided what the heck ;)
You might also like
- Surprise
(0.393013)
- About the boy
(0.380853)
- Water Baby
(0.380734)
- Strawberry picking
(0.379866)
- Come Sing Messiah
(0.378553)
All
June 21, 2014
It was Auntie Heather's party so we all went to Kemptville to hang out on her deck (parents) and run shrieking through the bushes (kids). There was chocolate flourless cake.
I am pleased to report that there was no meddling with perfume this year.
You might also like
- Easter Saturday
(0.271642)
- DQ
(0.269663)
- Apple picking
(0.263393)
- Happy Birthday Uncle Dave
(0.259475)
- Family birthday party
(0.25876)
All