June 29, 2014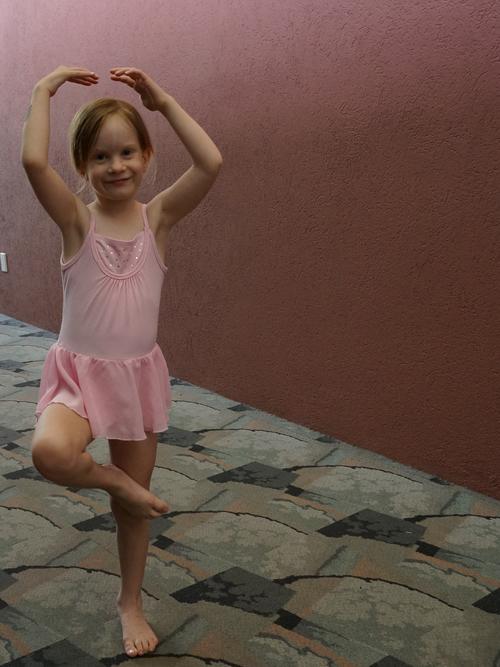 Elizabeth decided she wanted to try ballet classes in lieu of skating and while one might think that classes should be available at our local community centre, apparently this is only true if you sign up more than three weeks before they start. In fact, basic "ballet" classes for a five year old were surprisingly hard to sign up for. Finding a class with space was challenging - we ended up at St Laurent which is a fifteen drive not counting traffic issues. And that wasn't the end either, since our class was cancelled twice in the first two weeks as they were merging classes without sufficient enrolment. I think I was still not quite sure what time the class started as a result by the time the classes ended. And of course Elizabeth missed class #1 due to scarlet fever.
So what I'm saying is that we got off to a rough start. Elizabeth seemed to enjoy her classes very much, but complained that they "always did the same thing" every week. I was pretty sure this was the end of ballet, but at the end there was an adorable recital and Elizabeth is asking when she gets to do ballet again...

You might also like
- Decision making study
(0.377588)
- Swimming lessons
(0.375291)
- Number 3
(0.374262)
- Elizabeth end of year concert
(0.372765)
- Summer's Over
(0.371831)
All
June 28, 2014
When we arrived, Caitlyn proudly announced "Today is MY party and I am three years old." We got to swim in her pool (Elizabeth was very impressed!) Matthew did not have any qualms about destroying piņatas, I was glad to see, though I guess Elizabeth was older when she was traumatized by the shocking demise of the piņata. Matthew was not sure about participating at first but once he realized we were sanctioning enthusiastically hitting something with a stick he was all over it.
The only problem is that shortly I'm thinking that David and Dianne are going to have to reinforce the piņata so that it doesn't get pulverized by the end of the first round. It's quite amazing how much better the kids have gotten at breaking these in the last five years (here's the first one - aren't the kids tiny?!)...
If Dianne ever gets tired of her day job, I'm thinking professional cake decorator would be a definite possibility... That's some cake, n'est ce pas?
You might also like
- Pirate Pinata
(0.379906)
- Swimming lessons
(0.364596)
- Sportball
(0.351678)
- Decision making study
(0.351515)
- Guided Tour
(0.35)
All
June 27, 2014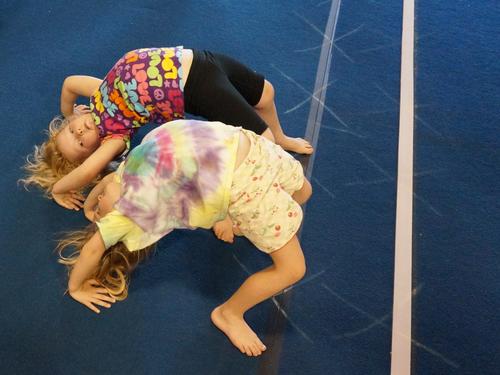 Adi asked whether Elizabeth might like to do Olympics-themed gymnastics camp with her this week. It sounded like fun, so we signed her up.
I was a little surprised to hear that her camp counsellor was named "Gargle" - even for a camp name that seemed unusual (I think it was actually Galaga). We were not surprised that Elizabeth loved the camp - Adi was there after all and there was a trampoline. Every day she came home and insisted on demonstrating a new skill. Her favourite move was called the "teddy bear", though it looked more like a pretzel to the untrained eye ;) There were at least five kids from maternelle level at her school, most of whom she knew quite well.
We appreciated that it wasn't just confined to the gym. They weren't able to go swimming at the RA centre due to bad weather (outdoor pool) but they went to the park / splash pad later in the week where they tie-dyed shirts. Elizabeth used all the colours.
Mid-way through the week, Elizabeth asked how many days were left. I told her three. "THREE?" she said in dismay. "But I went to school for lots more days than that, why is gymnastics so short???"
On the last day we were invited to watch a little gymnastics routine the kids had been working on all week. It was pretty cute. Some of the kids were obviously better at certain skills than others but we thought the staff did an amazing job of working around that. I think it's safe to say there will be more gymnastics photos in our future...

You might also like
- Party
(0.382508)
- Family Day
(0.375121)
- Camp Otonabee
(0.3733)
- Angie 2015
(0.372093)
- Three under three
(0.371393)
All
June 25, 2014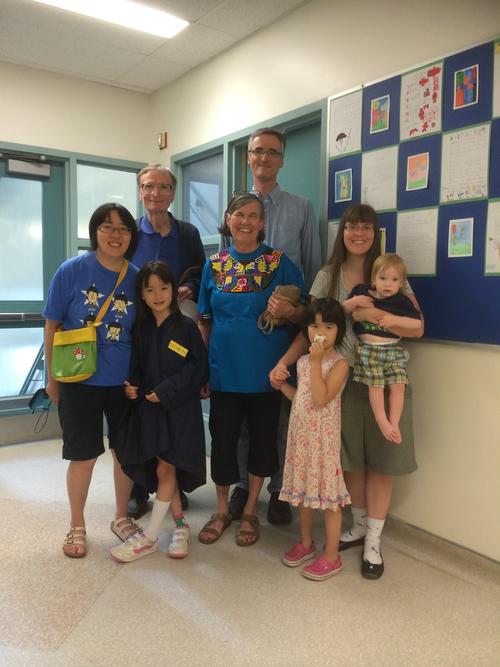 Matthew and I got to go to Erika's vernissage (art show!) again this year. This year she drew a portrait of Uncle Chris "while you wait". My favourite part was the little story she wrote. She read it to me twice (there's a bit of a twist, you see and she wanted to make sure I "got" it ;)
You might also like
- Christmas Cake 2013
(0.340764)
- Marking 1st Baptism
(0.303681)
- Baptism
(0.277512)
- Sledding and stripes
(0.274359)
- Maria\u2019s birthday
(0.274238)
All
June 24, 2014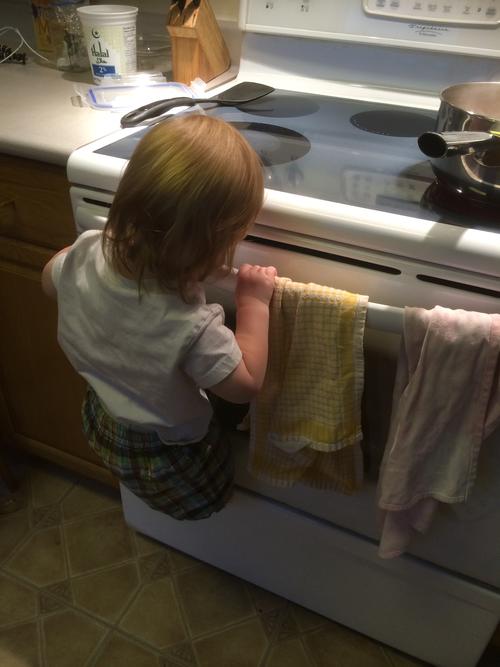 Baby proofing is quite a bit easier when the baby isn't climbing the appliances. Working at home is also easier when baby isn't screeching in the background in dismay over the cruel, cruel parent who won't let him stir the hot pot on the stove even though he OBVIOUSLY is quite capable of doing so.
So Matthew has been getting out of the house more lately. This also seems to help with napping, which in turn helps with getting work done... In any case, Elizabeth's gymnastics camp is quite close to the train museum so we stopped for a bit and I let Matthew carry around foam blocks bigger than himself for a while.
You might also like
- Michael 7 months
(0.311337)
- Life skills
(0.30605)
- Christmas Day 2: PJ Day
(0.304636)
- Crystal Gardens
(0.302589)
- Toddler camp
(0.302083)
All