July 10, 2014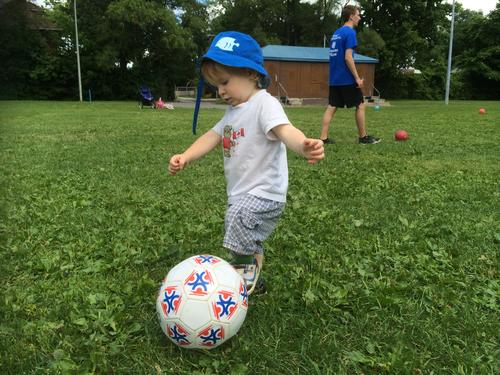 We thought we'd try out the park-ticipate program again this year as Elizabeth loves any excuse to do a craft (and we enjoyed it before)
The website looked promising too, with all kinds of fun themes for each week. "Children aged 4 to 10 are invited to join our highly trained Recreation staff in this fun-filled program of crafts, games and sports". But when we arrived on the first day, their staff showed up late. Then they couldn't find parking and were unable to figure out how to let people in the park know this. So then they left again, leaving behind at least three confused parents who had called in advance to check that it was happening and their disappointed kids.
The second week the staff had parking (no idea why they couldn't just park at the edge of the park like they used to, but whatever). They welcomed us to play soccer. "Leave your kids with us and go relax" said perky staff member. There was no sign of any pirate theme as advertised. I asked about crafts. "Oh" said the staff. "We're not doing crafts this year. We want to keep the kids active for a full hour doing games and sports". Ooookaaay.... I promised Elizabeth we could do crafts at home for the second week in a row. Soccer occupied the kids for about ten minutes. Hula hoops, crab games and bubbles for another five. But then they all wanted to play on the play structure and that was that. I am not entirely clear what the city of Ottawa thinks that kids normally do in a playground without "highly trained" kids to tell them what to do... But the kids did have fun.
In the evening Adi came to visit for supper. Elizabeth was super excited. Adi was super excited. There was much giggling and whispering of secrets.
You might also like:
-
Decision making study
-
Sportball
-
Skating
-
MYC
-
Hawaii
July 9, 2014
We're always impressed by just how much water comes off the roof during a "Canadian" rain storm (and on that note: eaves troughs & rain barrels make a big difference to preventing water from getting places it shouldn't!)
You might also like:
-
Fall
-
Going home
-
Waterpark
-
Gingerbread Dough
-
Graduation Day
July 8, 2014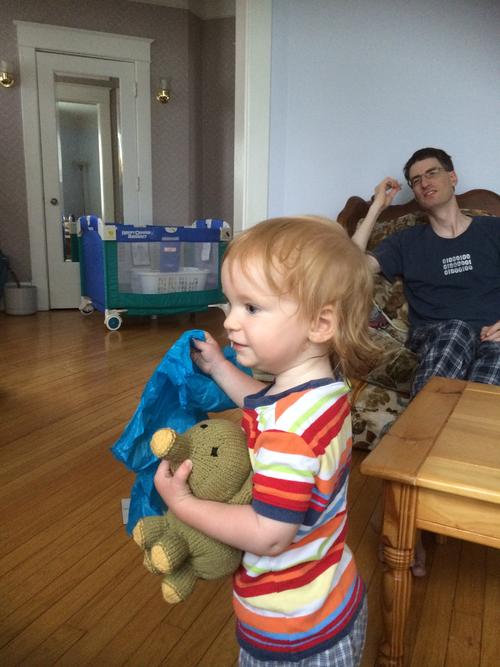 Friend Janice (as she's known around here - as opposed to Auntie Janice) is very, very crafty. I often joke that I have the fanciest dish cloths in the world because of her - she's knitted me ones with hearts, Canadian provinces and many, many different kinds of frogs. I love them.
So we already knew she was a super talented knitter. But she's outdone herself with Matthew's first "stuffie" of note. Meet Elephant. Matthew and Elephant have a complicated relationship, but it's the first thing he looks for in the morning (after Mommy). He tucks it in tenderly at night, complete with book and kisses. It's adorable. Elizabeth thinks we should "call him Emma".
Elizabeth didn't get left out though. She got a pair of Hello Kitty pjs which were immediately dubbed "the magic pajamas". Apparently they help her sleep all night...
You might also like:
-
Halloween karate
-
Piano Recital
-
A visit from friend Janice
-
Recital, Home Depot, movie night
-
Dovercourt
July 7, 2014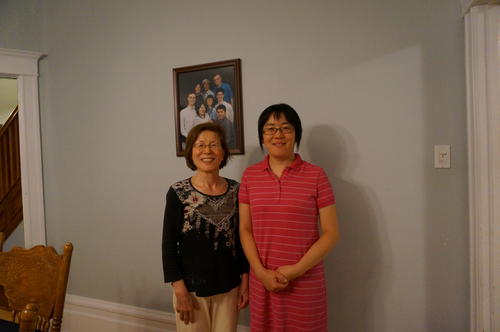 Yukiko's aunt came to Canada and visited us in Ottawa after a lovely trip to the Rocky Mountains with Chris, Yukiko and their girls.
I think she was surprised to celebrate her birthday several weeks early (especially because I gather birthdays aren't as big a deal in Japanese culture), but any excuse for cake and candles - right?
You might also like:
-
Angie
-
Happy birthday Uncle Chris!
-
International Museum Day
-
1st birthday
-
Amelia baptism birthday, visit from Hayley
July 6, 2014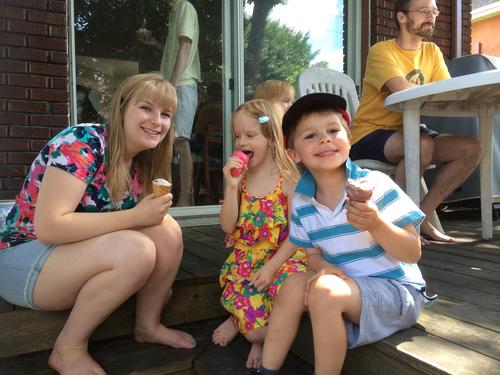 Our last ice cream potluck was pretty popular but while we think it ought to be an annual tradition, it's apparently taken us a few years to work up to it again.
This year we had a wide variety of chocolates with a smattering of other flavours. (Not that I am complaining!) Heavenly Hash. Coconut chocolate. Smarties icecream. Chocolate Caramel. We were most impressed by Rachel's astounding homemade ice creams, which I hope she makes again. Especially that peanut butter one!
Also, I think maybe Matthew would like a riding toy. What do you think?
You might also like:
-
Capital of extremes
-
Decision making study
-
Lac des Loups
-
Sunglasses
-
21 months