July 28, 2014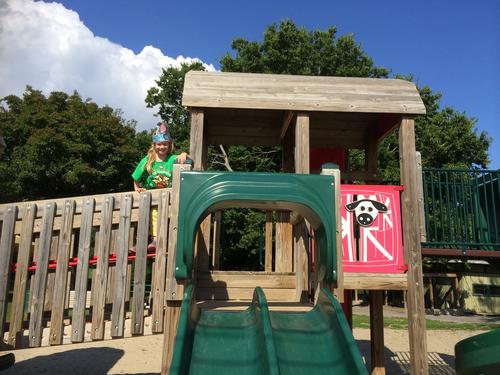 Farm camp was much anticipated this year and it did not disappoint. Well, we were slightly disappointed that the "show" this year was just for the other kids (they did a hoe-down dance, apparently, but Elizabeth claimed she needed the other kids and couldn't demonstrate at home). But we were thrilled that there was no getting sick! I of course made farm themed lunches. My favourite was the sheep that accidentally were also pigs when viewed upside down!
She got her wagon ride, she named rabbits, she made pretty much the cutest crafts I've ever seen. She made all kinds of fun snacks. She now struts around the farm like she owns it. Apparently, the best part was the face painting at the end of the week.
Xander, Matthew and Isabelle came and helped pick her up the one day. Three under the age of three makes for a lot of sympathetic looks, I discovered. But I managed fine - even took them for the tractor ride all by myself which I thought was quite something since it requires climbing into the cab about seven or eight feet up!
You might also like:
-
Broken nose
-
Grading for a brown belt
-
Piano Recital
-
Dance Camp
-
Strike Day
July 27, 2014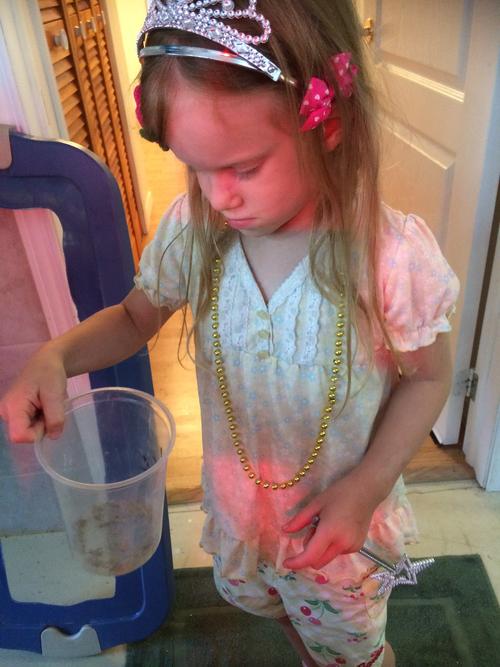 Now that she has the proper cricket disposal outfit, Elizabeth is brave enough to help shake the crickets (to properly coat them in vitamins) and even hold the container to feed Pica the Chameleon a couple of crickets up close...
You might also like:
-
Scary crickets
-
Sand sprinkles
-
First Snow
-
Pet sitting
-
Running
July 26, 2014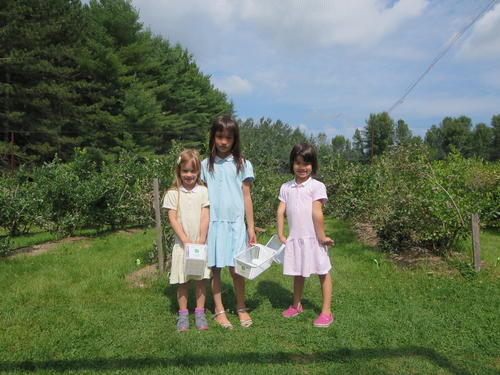 Elizabeth had her first sleepover without Mom and Dad. We survived! She had a good time! They all went blueberry picking and they got to stop at the St Albert's ice cream store (I gather a big hit). We did pick her up again slightly too late and by the time we got her to bed she was crying about how tired she was. Apparently Erika didn't "let her have a nap" and they went to bed "too late when she's still just a little kid". "Tomorrow, Mommy, I am going to have a nap AND I am going to go to bed at one o'clock", she declared. I struggled to keep a straight face, as you might imagine. We didn't hold her to the 1pm bedtime, although it was tempting... By the next day we were hearing all about how she got to stay up late and sleep in a tent in the backyard with Erika and could she go for another sleepover soon pretty please Momma? Much thanks to Uncle Chris and Auntie Yukiko for having her and taking pictures!
While Elizabeth was off gallivanting, we were having our own adventures. Daddy and Matthew went to help Uncle Dave lay a new stone walkway. Auntie Karen watched the three under three, who really wanted to supervise the Daddies a little closer than they were allowed...
I got to go to the spa with friend Janice... Le Nordik is supposedly the largest spa in North America and I cannot believe it took me so long to go here! I really enjoyed myself. There are all kinds of saunas and hot tubs to relax in for a few minutes, cold waterfalls to tighten your pores and then in-between places to lounge. We indulged in the pool that is supposed to have the same salinity as the Dead Sea (probably the closest I will ever get). It was dimly lit with changing coloured lights. I regretted having shaved that morning (somehow missed seeing the provided earplugs, shower caps and salve for cuts on the way down). But once I got comfortable and relaxed in the water it was as if I was the only person in the world. It was very nice to have a day to catch up and just relax.
You might also like:
-
Family Day
-
Erika and Maria
-
Halloween
-
Sister Act
-
Mary Day
July 25, 2014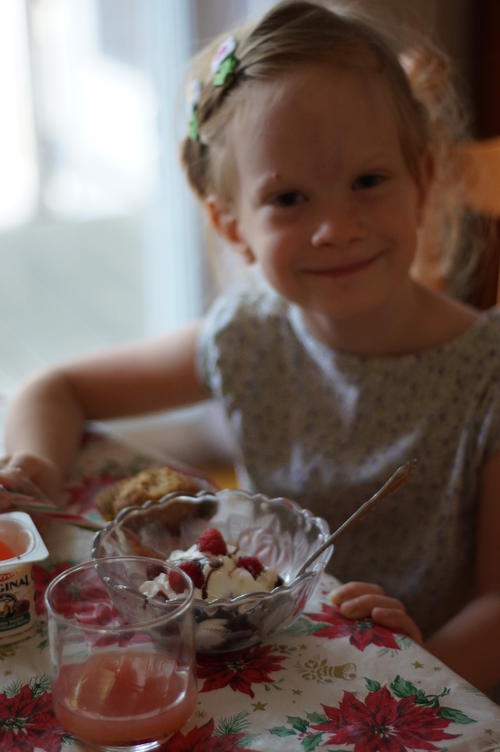 Auntie Janice helped us properly celebrate Christmas in July with a festive tablecloth and candy canes. I let the kids eat chocolate and whipping cream for breakfast (okay, there were raspberries in there too, but I don't think Matthew ate most of his!). There might have also been chocolate chip muffins and hot chocolate with sprinkles...
We participated in a Friday fun day in the morning (playground plus pool is definitely my kids' idea of a perfect July Christmas)
Then I made a bûche de Noël, because I don't really have time in December but they are so yummy!
Since it was "Christmas" (and since Elizabeth has been dying to use the leash we were loaned), we took Black Beauty out for a walk. Matthew got up the courage to pet the bunny. He was pretty proud. Little neighbour Elizabeth from next door came by during the outing and hopped around as well.
Then Elizabeth headed over to Erika and Maria's house for her very first sleepover!!!
You might also like:
-
Boxing Day
-
Cousins move in
-
Ice Cream Festival
-
Happy Birthday
-
Early Christmas
July 24, 2014
We're lucky enough to get to look after not one but two sets of pets in the next couple of weeks.
Black Beauty the bunny arrived last Monday, and next Monday we get to look after Iain's zoo! We were lucky enough to be invited for lunch with Iain and Renee (and to get a refresher course on looking after the animals). Elizabeth is still not fond of crickets, but is consoled by her frog feeding outfit that she chose out of Renee's special box. Plus she agrees with me that the frogs are pretty cool (not quiiite as cool as the chameleon though...) Her favourite frog is "sticky frog" also known as a red-eyed tree frog.
You might also like:
-
Playing with Daddy
-
Family time
-
Fun at the neighbours
-
Red gi for Matthew
-
Four stripes to black belt