August 17, 2014
Auntie Janice is heading out to Angola to surprise my folks pretty soon. She wanted to cut her hair before going in order to need less shampoo while she's travelling. So we decided it was time for another dramatic hair chopping (the last time was May 2010!). I contemplated allowing Elizabeth to join us (in addition to growing out her bangs to match Adi, she would DEARLY love to match hair length), but reluctantly concluded that in order to get the required length we would no longer be able to do a ponytail. This would be far too traumatic for her Daddy...
Matthew's ponytails on the other hand seem to make his scissor hand twitchy... (What? He idolizes his sister and he likes the shiny. Of course he demands ponytails and hair clips! At least for about five seconds and then he pulls them out...)
You may notice a new face - Mahnaz is our current tenant. In addition to fantastic cooking skills, she cuts hair!
You might also like
- Washing the Car
(0.349927)
- Packing List
(0.341917)
- Carols and Lessons
(0.340164)
- Jesse Tree
(0.336387)
- London
(0.335849)
All
August 16, 2014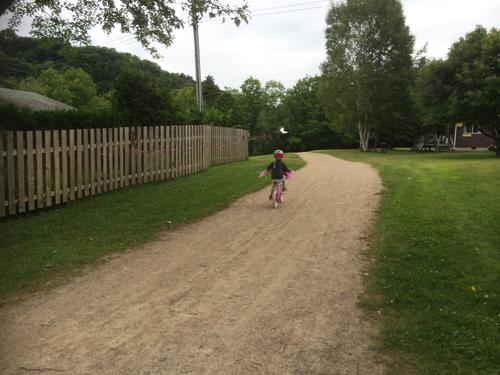 Yesterday, it was super windy while we were at Uncle Ryan's cottage and Elizabeth was quite desperate to fly her kite. By the time we got back to the cottage there was hardly any wind. There was some consternation - it's almost the last day and Elizabeth hadn't had a chance to fly her kite yet! This always happens. We bring practically our whole house with us and then it's a scramble in the last couple of days while we try to use all the things we didn't need in order to justify having brought it... Ahem. Anyway, we averted the crisis by suggesting she try flying it behind her bike. It totally worked! So much fun...
Last day at the cottage is always a scramble. The kids want one more time at the beach - and no cold wind or weather was going to stand in their way. One last canoe. One last paddle boat. One last visit to the chickens. We stopped at Henrietta's to grab lunch and drove all the way home.
We were very excited to see that things have been growing in the garden while we were away. The tomatoes obligingly waited to start ripening now. And we got our first corn on the cob! It's not fully pollinated, but it's corn! In the city!!!
You might also like
- Rainy day
(0.367816)
- Marathon swim
(0.351197)
- Island visit and Scavenger hunt
(0.350515)
- Cottage Days: Feeding the deer
(0.348344)
- Cottage Days
(0.348033)
All
August 15, 2014
My cousins own a cottage very close to Bondi, so we organized a day trip to go visit Ryan.
It was pretty windy but the water was gorgeous and it was pretty sunny so the kids wanted to go swimming. I got volunteered to swim too, though they were pretty much done by the time I got into my swimsuit! I swam out to the raft and back instead.
We brought lunch from Henrietta's and Wheat Free Delights (yum!). Elizabeth and Matthew and Ryan spent a significant amount of time "sleeping" up in the little nook. Elizabeth cried when we had to leave. It was a lovely day...
You might also like
- Spring (and early summer)
(0.331915)
- Swim to the point
(0.324675)
- Cottage Days: Visiting Lindsay & Anna
(0.32093)
- Fireworks
(0.320442)
- End of Summer Luau
(0.320388)
All
August 14, 2014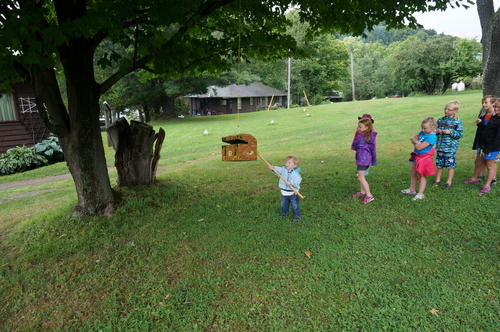 Thursdays are swimming to the point or Island day at Bondi. I was contemplating doing the swim with Elizabeth in her lifejacket and floater as she's made huge progress this week but it was frigid and rainy and I decided Elizabeth at least shouldn't be getting in the water today. So we went as a support canoe instead. Matthew was outraged to be left behind so after our swimmers made it back to the dock he got his own turn. In the pouring rain. I kept asking him whether he wasn't all done, but he was quite insistent on paddling all around the lake. Eventually Daddy had to pry him out of the canoe, dripping wet.
In the afternoon Mr Bear had his treasure stolen again this year but ten determined kids came out despite the rain on and off to help follow the clues and put together the map that pointed to the secret location under Nancy's deck (sneaky!). I did suggest they didn't *have* to swim out to grab the clue on the water, but Jenna came prepared and no one wanted to fuss with boats...
We learned that it takes exactly twenty hits to demolish a treasure box. We also learned that chocolate coins look awesome as they cascade out, but a good number will get pulverised in the process.
The kids wrote us amazing thank you notes afterwards. These kids are awesome.
After the treasure hunt we took the kids on a hike to Lookout Point. Elizabeth kept shushing us as she really wanted to see "animals". "Remember last year?" she kept saying "We saw a grasshopper!" She was disappointed not to see a heron again, but we DID see a fish doing gymnastics in his pond... I've never seen a fish do so many jumps in a row! It was still at it when we passed by on the way back, so Brendan took his picture. We also managed to locate a moth, many grasshoppers and one tiny little frog - I guess it was too cold for froggie friends as we normally get to see quite a few.
After our hike it was pony time. Matthew chased the chickens and actually caught a couple. He still wouldn't sit on Squeegee but he petted him with vim and vigour. Elizabeth and Sophie went to play ping pong while the other kids were riding pony.
It was probably just as well today was too cold to play on the beach or go swimming because I'm not sure when we would have had time! Instead we had some hot chocolate topped with marshmallows and whipped cream in front of a roaring fire.
You might also like
- Homeschool wk may 19-22
(0.416667)
- Summer Week 1 - Visiting
(0.416539)
- Farm Camp
(0.415653)
- Canoe Camping
(0.415267)
- Good Friday 2015
(0.414286)
All
August 12, 2014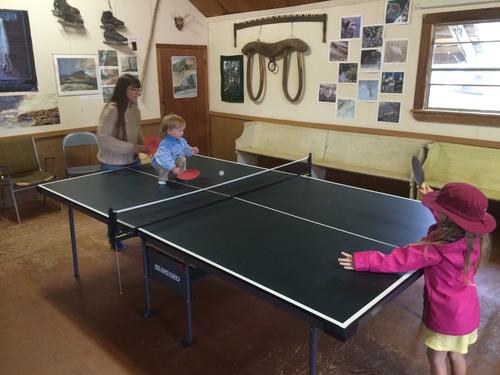 It was raining so after we collected eggs from under the hens we decided to go visit Huntsville. It turned out to be a lovely day of poking around shops. Elizabeth is (somewhat) better about keeping her hands to herself, but Matthew is grabby enough we avoided many of our favourite stores with breakables... New this year: Elizabeth wants ALL THE THINGS. We didn't indulge her desire for a zipline (I was sorely tempted) or a kayak, but she did look so cute in the hat that we did let her get it. And a leak-proof camping water bottle to replace the horribly leaky refillable juice boxes from Loblaws.
Elizabeth and Matthew enjoyed the toy store, the Huntsville piano and the playstructure parts of our outing the most.
When we got back, it was time for hotdogs and seed spitting contests. Unfortunately there was thunder so the bbq was moved to the barn which meant no s'mores. But we still spat seeds in the pouring rain. It wasn't raining when we started! Matthew didn't throw his seed with his hand this week (progress?). He spits straight down. Elizabeth spits with much vim and vigour - I was a little afraid she might hurt herself. Unfortunately, all that energy gets directed down towards her boots, so she doesn't do much better than Matthew...
While it was raining we've taken advantage to do a few of the rainy day activities we brought. Some crafts... A little school... and we've been teaching the kids how to play ping pong. They actually managed to volley the ball back and forth a few times... Grandpa brought his weights to do his exercises. The kids were fascinated and of course they both needed to imitate him. Everyone was impressed that Matthew could lift them - he's strong!
You might also like
- Virtual School: Week 34
(0.388889)
- Cottage Days: Eggs
(0.383205)
- Starry Sunday
(0.381836)
- MYC
(0.378456)
- Grading for a brown belt
(0.378024)
All