September 2, 2014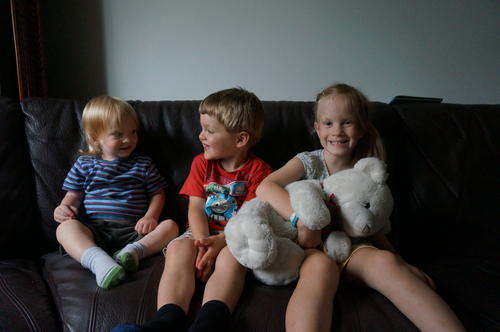 Auntie Mary and I took Elizabeth and Matthew to hang with their cousins while Karen went to an appointment. I had this idea that we should take our overdue 18 month and 5.5 year picture with a bear photos, but Matthew wasn't feeling very cooperative...
They wanted to play outside and run around and destroy the fun fort Auntie Karen made under the dining room table. Isabelle was quite suspicious of Auntie Mary at first but warmed up significantly over the course of the afternoon. I was pleased that she considered me a familiar face - bodes well for our sleepover plans at the end of the month!
You might also like
- Muriel and Pat come to visit
(0.325397)
- Tulips
(0.321008)
- Lac des Loups
(0.315876)
- Thanksgiving
(0.315549)
- Lac des Loups
(0.3125)
All
September 1, 2014
Maria has learned how to ride her real bike, so Matthew gets to try out the balance bike. So far he's more interested in the tricycle than the balance bike, but he really likes wearing his helmet just like his big sister. At least for thirty seconds at a time...
He isn't quite tall enough to pedal yet, but that hasn't stopped him from trying.
You might also like
- Beach
(0.290576)
- Xander is TWO
(0.290398)
- Bike swap
(0.284047)
- Big Brother
(0.283613)
- Bikes
(0.282937)
All
August 31, 2014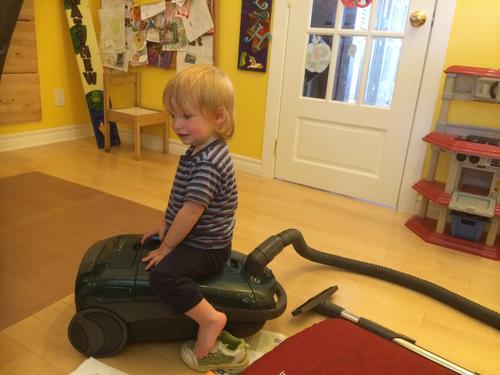 At eighteen months Matthew weighs about 20 pounds and is 32" tall. Eighteen months is also more talkative. Matthew points at things and tell us what they are: frog, chicken, deer, duck, dog, canoe. There might be a cottage theme going on...
He's started shaking his head "no" and vocalising his pleases. Life now has a musical sound track. Matthew loves to sing, especially the ABC song which has a recognizable tune and even some of the letters. He also sings quite a few camp songs his Auntie Janice taught him. The great big moose ("waaaay-o waaaay-o" and "bringing home my baby bumblebee" are both quite popular.
He doesn't have as many (recognizable?) words as Elizabeth at the same age but is VERY good at communicating nonetheless. Eighteen months is also the beginning of what we call the "by self" phase. Actually, I find that Matthew is more likely to do something he doesn't want to do (eg climb into his car seat) if I ask him to do it himself ("can you clip yourself in?"). He insists on climbing into his booster. He does a lot of cooking and imaginative playing. Still loves his drill and cars. He loves stickers and drawing. Frighteningly, he has figured out how to take the lids off his own markers...
You might also like
- 23 Months
(0.386207)
- Amelia is 3 months
(0.379433)
- Amelia 21 months
(0.369658)
- 19 Months
(0.369414)
- Matthew is 2.5
(0.368627)
All
August 30, 2014
Summer has come back with a vengeance - it's been well over 30C, but luckily the city hasn't turned off the water at the splash park yet. I didn't bring swimsuits because Elizabeth insisted they were just going to play on the structures, but I suspected that the water would prove irresistible. Good thing Daddy grabbed a change of clothes and a towel for us!
You might also like
- Maria's first swim
(0.317227)
- The Dentist
(0.305732)
- Picnic
(0.302949)
- First Canal Skate 2013
(0.291188)
- Red stripe
(0.290667)
All
August 29, 2014
My friend Evelyn hosted a luau complete with red velvet pig cake for the last Friday Fun day. The head was Rice Krispies for brains - Hilarious. The pig was made by one of the other very talented homeschooling moms (!)
You might also like
- Avenue O pool
(0.254967)
- End of Summer Luau
(0.24359)
- Dave is old again
(0.237154)
- Mother's Day Tea
(0.234848)
- Introducing Evelyn
(0.233415)
All