September 6, 2014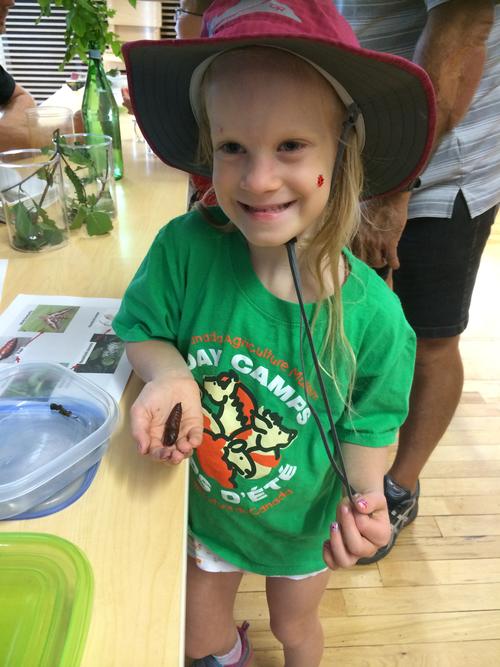 It was bug day at the Museum of Agriculture so of course we had to go and check it out!
Elizabeth got to hold a giant cocoon! There were cockroach races and many creepy and cool bugs. Matthew and Elizabeth made butterfly crafts and Elizabeth got her hand painted. Matthew absolutely refused to consider getting his hand or face painted, which was fine with me. (Note to future self - face painting is better than hands because kids don't want to wash their hands if it has picture painted on it...)
I was very interested in the bee exhibit they had - I hadn't realized that we have so many different varieties of bees in Canada nor that some bees look like flies - though the more interesting colours (green!) are mostly not Canadian. I also didn't realize that many bees don't live in a hive with queens - they are just solitary and fly around pollinating things. Huh.
You might also like
- MosaiCanada
(0.387917)
- Cottage Days: Jack and Olivia
(0.3584)
- Ultimate Dinosaurs
(0.356792)
- Bug Day 2017
(0.354167)
- Butterflies 2015
(0.349745)
All
September 5, 2014
Elizabeth is participating in a fashion show for kids organized by our next door neighbour Noemie. Called "Happy Hearts", eight year old Noemie hopes to raise ten thousand dollars for our local Children's hospital (CHEO).
Noemie had previously made a small fashion show in her friend's backyard at a sleepover and raised $22. Her mom, a pediatrician at CHEO got Noemie hooked up to present the money to one of the bigwigs on the fundraising committee. To his credit, he took her very seriously and gave her a big hug and a personal tour of the research labs etc to show her where her money was going. "I'd like to do more", she thought.
She talked her mom into giving her rides to various stores and helping her organize the event.
37 kids, 12 kid's clothing stores and over 80 donated silent auction items later...
Elizabeth had no clue what a fashion show was before this, but she LOVES Noemie and was prepared to do anything she wanted her to do. When we were invited to the stores for a fitting, I was amused that they all communicated with Elizabeth directly. "Dear Elizabeth" ran one email. "I understand you have a busy schedule with school during the day and after school activities, so I'm hoping that one of the following times will work for you." When we arrived, they were careful to check Elizabeth's opinion on the clothes she was modelling (it was clear they were focussed on dealing with the kids, not the parents - which I found pretty cool)
Here's a sneak peek of some of Elizabeth's favourite outfits...
You might also like
- Spartan Mud Race
(0.377176)
- Happy Hearts for CHEO 2.0
(0.376376)
- Happy Hearts!
(0.371993)
- Surgery
(0.369504)
- 24 Sussex
(0.369439)
All
September 3, 2014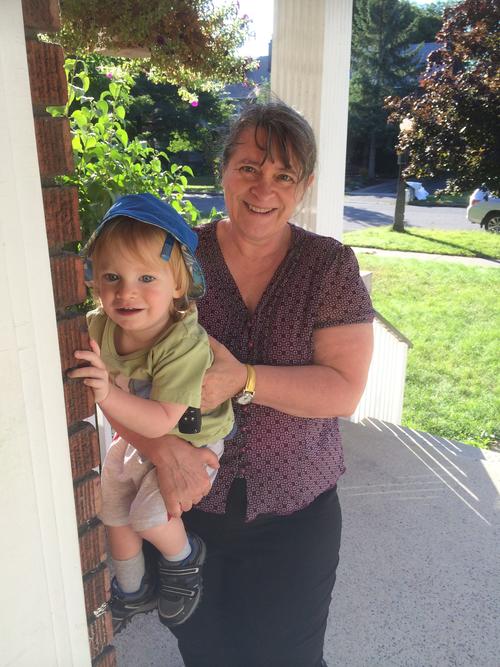 We are always very pleased to have Auntie Mary stay overnight with us on her way to or from the Hippo place (Southern Ontario) and up north (Pangnirtung). This time we were spoiled with two nights! Elizabeth was very excited - Mary came bearing balloons and took her for a walk and saw her off at the bus stop AND she made her a special napkin for her lunch. Matthew was excited too - finally someone who will lift him up to ring the doorbell as often as he wants!
You might also like
- Family time
(0.340385)
- First Communion
(0.320755)
- Chicken Block-Block
(0.312741)
- Palm Sunday
(0.3125)
- Home again
(0.311475)
All
September 2, 2014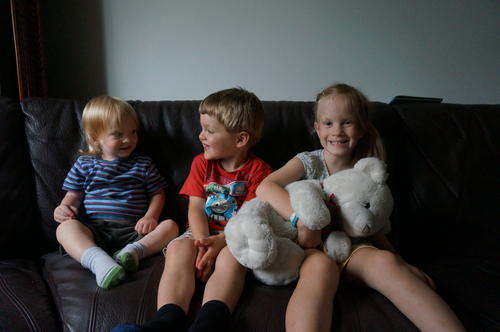 Auntie Mary and I took Elizabeth and Matthew to hang with their cousins while Karen went to an appointment. I had this idea that we should take our overdue 18 month and 5.5 year picture with a bear photos, but Matthew wasn't feeling very cooperative...
They wanted to play outside and run around and destroy the fun fort Auntie Karen made under the dining room table. Isabelle was quite suspicious of Auntie Mary at first but warmed up significantly over the course of the afternoon. I was pleased that she considered me a familiar face - bodes well for our sleepover plans at the end of the month!
You might also like
- Muriel and Pat come to visit
(0.325397)
- Tulips
(0.321008)
- Lac des Loups
(0.315876)
- Thanksgiving
(0.315549)
- Lac des Loups
(0.3125)
All
September 1, 2014
Maria has learned how to ride her real bike, so Matthew gets to try out the balance bike. So far he's more interested in the tricycle than the balance bike, but he really likes wearing his helmet just like his big sister. At least for thirty seconds at a time...
He isn't quite tall enough to pedal yet, but that hasn't stopped him from trying.
You might also like
- Beach
(0.290576)
- Xander is TWO
(0.290398)
- Bike swap
(0.284047)
- Big Brother
(0.283613)
- Bikes
(0.282937)
All