October 12, 2014
You might have noticed my mom in the pictures and wondered why she isn't in Angola like she's supposed to be! After all, we weren't supposed to see her for a couple of years after last Christmas and then Mom and Dad showed up again in February... We were very thankful to be able to celebrate Thanksgiving with her this year for the first time in many years. Sadly she's back to say goodbye to my maternal grandpa, who has been moved to palliative care.
At church Elizabeth was quite amused to discover that it was bring your grandma to church day. Rachel had her grandma with her as well! This obviously called for a photo.
You might also like
- Ice Cream Festival
(0.339465)
- Wedding prep
(0.33642)
- 10 days of Canal
(0.333333)
- Flattening Grandma and Grandpa
(0.33125)
- Easter
(0.323899)
All
October 11, 2014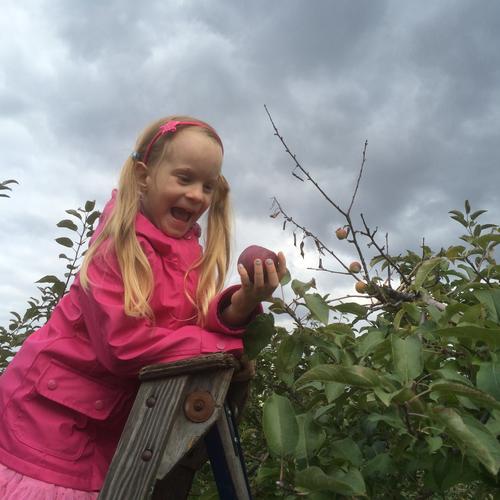 Our "must-do" chores for the day were done unexpectedly early so I bundled the kids into the car and headed for our closest orchard. Daddy stayed behind to work on the basement in peace. Elizabeth wasn't too pleased to hear this meant going to Mountain Orchard (a new place!) instead of the slightly longer drive to the place we went last year, but she was soon consoled by the discovery that it also had a play structure. And apples.
Matthew was quite excited to pick apples off the tree, though there was a learning curve - he found the wormy ones on the ground easier to pick up and couldn't understand why Elizabeth and Mommy didn't want him to eat those!
You might also like
- Life skills
(0.349462)
- Summer week 3
(0.3472)
- Race Weekend (Children's Marathon)
(0.344884)
- Apple Picking
(0.342014)
- Apple Picking Reprise
(0.341193)
All
October 8, 2014
I picked Elizabeth up from school early so we could go on our annual field trip to see the Carleton butterflies. I hadn't wanted to brave the weekend lines, so I was thrilled when we managed to time it such that we basically didn't wait in line at all!
Elizabeth was super excited because they made bread at school. She apologized quite a few times that it wasn't gluten free so I couldn't try it, because it was "SUPER YUMMY".
Last year was gruesome with school crowds trampling the poor insects and my terrified small children not too sure about the dangerous butterflies possibly touching them. This year Elizabeth actually attempted to catch her own butterfly. Matthew did not want to hold his own butterfly though (a very nice lady thought he might like to hold her orange with butterfly - nope!)
Afterwards I still had quite a lot of time left on my parking voucher and it was a gorgeous fall day so I told the kids we could play in the leaves a bit.
You might also like
- Butterflies 2015
(0.402985)
- Butterflies 2017
(0.37395)
- Garden update
(0.36829)
- Victoria Day
(0.366469)
- Butterflies
(0.361528)
All
October 5, 2014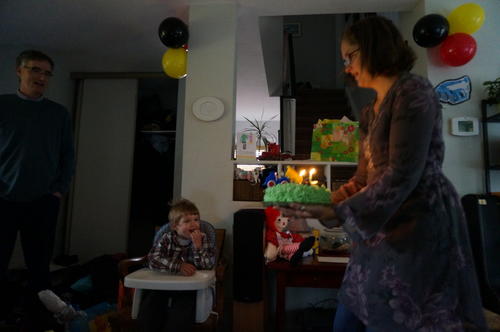 It was party weekend and long past time to celebrate Xander's birthday which was technically last month. He's into Bob the Builder so had a construction theme to his party. Elizabeth approved, especially of the many chocolate options. The kids spent quite a while playing outside and were sorry when it was time to go home.

We gave him a sock monkey umbrella from the "store with the skunk" (aka the Christmas store in Huntsville). Elizabeth kind of thought she ought to have one too. Grandma H wrote Xander his very own book for his birthday! Lucky boy!
Erika did come too, but she spent most of the afternoon arguing with her dad so she's not in any of the photos.
You might also like
- Angie
(0.329389)
- Sport Day
(0.318318)
- Matthew's christmas concert
(0.317111)
- Lac des Loups
(0.315372)
- Happy Father's Day
(0.314152)
All
October 4, 2014
We had the whole crew over to celebrate Brendan's birthday on the weekend. Lasagna, garlic bread, Caesar salad and homemade gluten free black raspberry forest cake. Of course the cake was too hot when I iced it as usual, so we had to get creative with chopsticks to hold it together...
Brendan wanted to go to Home Depot before the party and we were amused to discover it was fire safety awareness day or something. A real live fireman gave Elizabeth and Matthew fire chief hats. Matthew promptly threw his into the cart but Elizabeth would sleep in hers if she could.
You might also like
- Elizabeth baptism birthday
(0.328872)
- Three at a time
(0.318662)
- Fish!
(0.317992)
- Daddy's birthday
(0.317669)
- Xander
(0.316726)
All