November 14, 2014
Hardly enough to cover the leaves, but Elizabeth is already dreaming of snowmen, forts and tobogganing.
"Is the canal be open?" she asked eagerly.
You might also like:
-
Thanksgiving
-
Cricket wrangling
-
Spring!
-
Leader Board
-
Lost molar
November 12, 2014
I recently participated in a "busy bag" exchange. The idea is that you make an activity that can fit in a bag and then pull out the bag to keep your active toddler busy while you need some peace and quiet. Exchanges allow you to make a single bag multiple times, and then you end up with as many different activities as participants.
I'm looking forward to pulling out our loot when Matthew is a wee bit older. Elizabeth was very keen to play with all his new activities, but he doesn't quite have the fine motor skills for some of them - eg Matthew's version of a busy bag where the kids squeeze a clothespin and clip it to the side of a box is to dismantle all the clothespins into numerous pieces.
I made a geoboard as my contribution. It was so popular that I actually ended up making a couple of extra ones - one for Elizabeth and the other went to Isabelle's and Xander's house. You can use them for all kinds of math activities so they are trendy in the homeschooling community, but my kids mostly just like to make drawings.
You might also like:
-
Baby!
-
Fall Fair Birthday
-
Rainy day
-
Lac des Loups
-
About the boy
November 11, 2014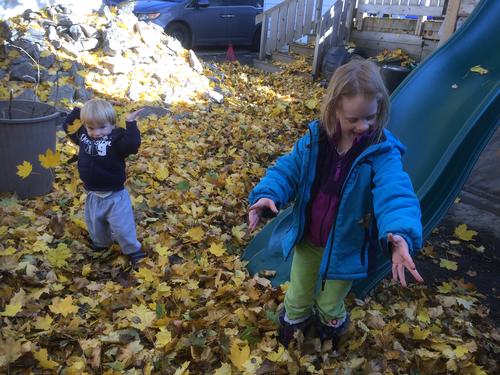 Some of you might have read about Ottawa's recent terrorist attack (the shooter on Parliament Hill on October 22nd). Most of the schools within two hundred kilometres of Ottawa apparently responded with "lockdowns", which in my opinion was way overkill. Elizabeth's school, however, is actually not that far from Parliament and Rideau Centre is walkable. (At one point there was a report of additional shootings at the Rideau Centre, though this turned out to be a social media rumour rather than actual fact.) So we were not surprised to learn that that her school not only locked all the doors to the school but they locked all the classroom doors, kept the kids away from the windows and made the kindergarteners whisper for nearly six hours. Apparently the stories given to the kids is left up to the discretion of the teacher. So Elizabeth's friend Adi was told about a wild animal roaming the playstructures. Elizabeth's class received a more truthful version but unfortunately a little too much detail for our rather sensitive girl. She's now rather scared of Parliament (doesn't seem convinced that the "monster" that was "shooting people dead" isn't still hanging around) and she was very concerned about Prime Minister Harper. She's fond of him because he invited her to a party with a merry-go-round, you know...
I was worried that perhaps Remembrance day might be a bit intense for Elizabeth under the circumstances and who knows what her teacher might decide to talk about, so we decided to keep her home. Besides, we traditionally make Christmas cake with Grandma on Remembrance Day and Elizabeth was a bit put out that we made it without her help last year.
It was very nearly a disaster. Before heading to Grandma's, we decided it would be fun to rake the leaves. It was a warm day and the forecast was looking chilly. Maybe even a little snow coming... So we wanted to get the leaves off the ground.
The kids were having a blast, especially Elizabeth. Suddenly she started screaming. Turns out there was a wasp hiding in the leaves and it flew up her pants and stung her.
It took a while to calm her down but eventually we were able to proceed as planned with swimming and cake making...
You might also like:
-
River Oak
-
Tornado!
-
16 Months
-
Dr Lynn is leaving :(
-
Logan Hall
November 9, 2014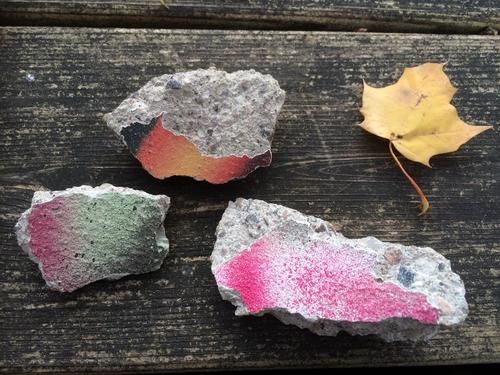 Today is the 25th anniversary of the fall of the Berlin wall.
I remember watching the news when the wall came down (I was eleven!) About a year later my parents decided that we ought to go to Berlin for a visit in order to get a chance to experience history for ourselves. I would have been twelve. Uncle Dave was ten. Auntie Janice was three. My friend Catherine came along, which was the best part as far as I was concerned!
We stayed in East Berlin. I remember being surprised by how shabby everything was, although the hotel was supposed to be a nice hotel. Even the toothpaste was super gross. By the time we were there, we were able to visit some hastily erected museum displays. I was most interested by some of the contraptions people used to try to cross from one side of the wall to another (well, technically there were actually two walls with a no-man's land in between them)
We visited Checkpoint Charlie - broken glass everywhere - people had busted up the windows. We ate at the Fernsehturm Television tower. We admired the East side of the wall and spent a bit of time chipping our own pieces off the wall. All the paint on the side was added by tourists post-fall. I gave my pieces away to friends when I got back and they all LOST them and asked for another piece. I still remember how disgusted I was! We also bought some pieces near the Brandenburg gate (I still have mine) I had a "certificate of authenticity" but I think that was sadly lost in the move from Belgium to Canada.
And that's the story of how I ended up with my own pieces of Berlin wall!
You might also like:
-
Party
-
The Big Clock
-
Visitation and Recital
-
Jaundice
-
River Oak
November 8, 2014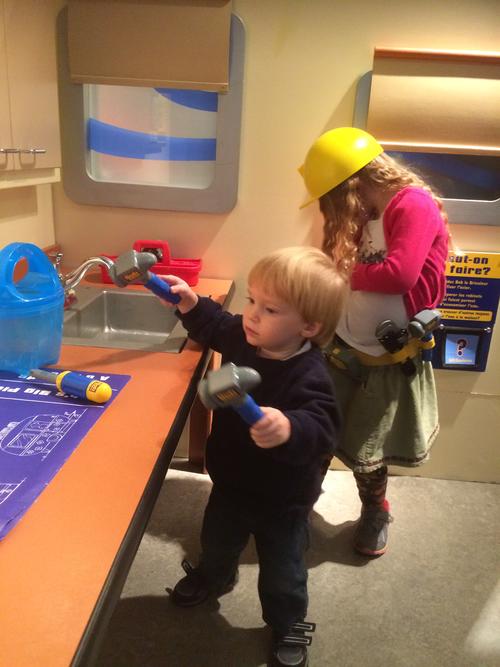 I took the kids to see the Bob the Builder exhibit that's on at the Children's Museum.
They had no idea who Bob the builder was. The exhibit didn't clear this up, which I found a little surprising. There was a weird attempt to teach the kids about energy conservation, which went totally over both kids' heads. They enjoyed playing with the various tools, though they did not understand why certain things could be climbed on and certain things couldn't (me neither!) And certain things moved and made noises (eg the saws) but others just looked like they ought to but didn't (cement mixer).
But ignoring the attempts to be educational and just treating the place like a playground seemed to work fine for our purposes.
You might also like:
-
Apple Picking Reprise
-
Vote Ontario
-
Bus ride practice
-
Museum of Nature
-
Ice Cream Festival