December 13, 2014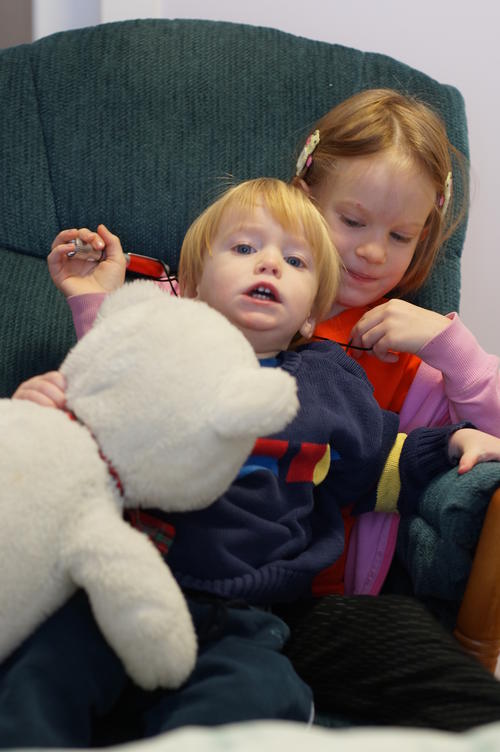 Picture with a bear day... A month late (oh dear!)...
The light wasn't good and Matthew had zero interest in posing but we decided they would have to do.
At 22 months Matthew's vocabulary has exploded. He had a fair number of words before, but all of a sudden he's communicating with other people - who are commenting that "Matthew has just learned to talk!" He tends to double many of his words "Up, Up, Down, Down, Round, Round" (Meaning: Pick me up, take me downstairs and let's do laundry!)
Mum Mum, Da Da, Dee Dee (Elizabeth) are also favourites, as is "Nay" - no he's not usually talking about a horse - he means he wants a drink (he uses the same word for nurse).
He insists on having a "nigh" (knife) at suppertime, which we humour unless he starts waving it around or threatening to throw it. It is a sad but true statement that he is more diligent about using his knife and fork correctly than Elizabeth.
Unfortunately, along with the vocabulary increase there was a definite volume increase as well. Quiet is not a concept he has embraced.
Favourite toys include his new pretend power tools from St. Nicholas that make noise just like Daddy's and light up. He spends many hours drilling and sawing. Zooming trucks around like Elizabeth is also pretty exciting, as is getting pushed in the little toy stroller / pushing big sister in the little toy stroller. We would be remiss if we didn't mention Tickles the Elephant. Elizabeth always carefully rotates the animals that sleep with her, never really settling on one favourite stuffy. Matthew must have Tickles at bedtime, whom he lovingly tucks in beside him and holds up to nurse too. Poor Tickles has taken a lot of abuse but he is fiercely loved.
Night weaning is still not popular but Mommy has no more milk and is very much ready to quit so the "nursing" is down to a few minutes at bedtime (usually) and a few minutes in the morning (if Mommy didn't manage to sneak out of bed quickly enough). His appetite for real food has thankfully picked up dramatically as a result - I can't remember if I mentioned that we realized he was nursing 6-8 hours at night which was part of why I got serious about the night weaning... Sadly he's still waking up a couple of times a night, but mostly for diaper changes which is probably fair.
You might also like
- Michael turns 2.5
(0.437344)
- Picture with a bear and a two year old
(0.431472)
- Matthew is 3
(0.429163)
- 23 Months
(0.428694)
- 18 Months
(0.425649)
All