December 26, 2014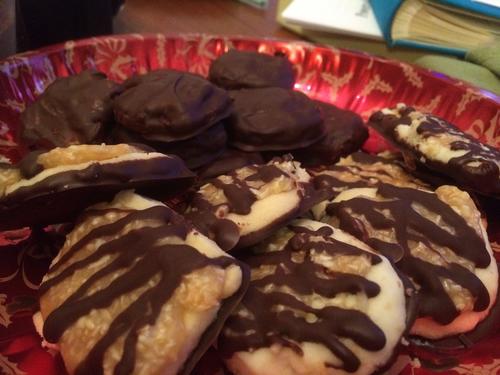 I finally finished making most of my Christmas cookies. Thin mints, Coconut caramel chocolate covered shortbreads, chocolate mint meringues, Nanaimo bars, fudge and chocolate truffles. There might be a theme. I threw in some Christmas jello just for fun. Clearly we had a shortage of dessert...
Matthew received a doll for Christmas which has many different pieces of clothing. Matthew is very into removing and replacing said clothes - I find this amusing because Elizabeth only recently started to play with doll clothes (after I put most of the ones we had away, of course...). Unfortunately it only took a single day before Matthew managed to scalp his new baby boy. He brought the hair and bald baby to me for repairs with great crocodile tears. Enough force was used that Daddy had to do the mending with his greater muscles and a screwdriver, but eventually we got the head back together and the hair is now firmly attached once again. I gather Matthew was traumatized enough by the bald head that he isn't tempted to try to remove the hair again... Yet!
You might also like:
-
Smiley Face Pancakes
-
Piano Recital
-
Cottage Days:Swim, visit and treasure hunt
-
Auntie Muriel's
-
Starry Sunday
December 25, 2014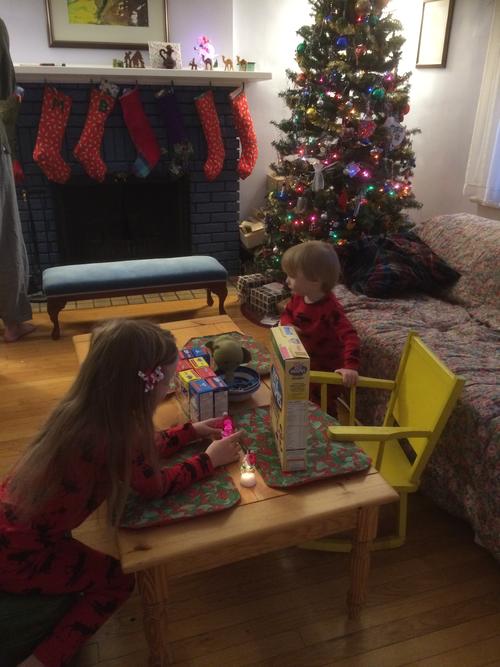 Merry Christmas!
Ding dong merrily on high,
In heav'n the bells are ringing:
Ding dong! verily the sky
Is riv'n with angel singing.
Gloria, Hosanna in excelsis!

E'en so here below, below,
Let steeple bells be swungen,
And "Io, io, io!"
By priest and people sungen.
Gloria, Hosanna in excelsis!

Pray you, dutifully prime
Your matin chime, ye ringers;
May you beautifully rime
Your evetime song, ye singers.
Gloria, Hosanna in excelsis!
You might also like:
-
First Christmas
-
Merry Christmas
-
Tismass
-
Double Rainbow
-
Come sing Messiah!
December 24, 2014
Matthew and Elizabeth were angels in the impromptu Christmas pageant this year. They were very cute. I can't believe we didn't take any pictures of Elizabeth!
After church we had Chinese fondue in front of the fire. Then the kids opened matching PJs. They might seem familiar - Elizabeth's just about to outgrow the 4T size she got two years ago. Matthew sadly outgrew his many moons ago. Elizabeth was quite thrilled to get the next size up...
You might also like:
-
Christmas Eve
-
Thanksgiving
-
Dow's lake
-
Skate to church
-
Butterflies 2014
December 23, 2014
We dressed up for our annual raclette dinner. Strangely, some of us eat less cheese now that we aren't teenagers... But the kids are definitely growing up...
You might also like:
-
Raclette
-
Raclette reprise
-
Hashi
-
DQ
-
University Buddy Day
December 22, 2014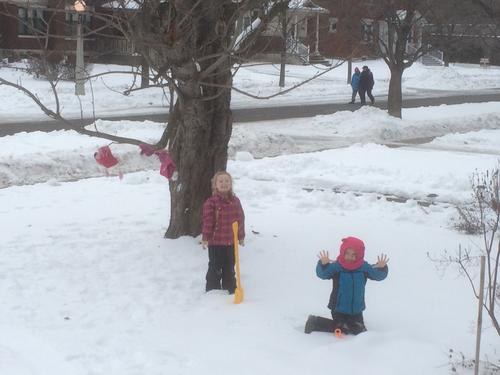 Elizabeth and Adi had so much fun playing together yesterday at Adi's house that they decided they needed to play together again today at Elizabeth's house...
Sadly it was too cold for making a snowman but they still managed to entertain themselves.
You might also like:
-
How does your garden grow?
-
First snow
-
Snow Cream
-
Theo is 5
-
New favourite way to get home from the bus stop