February 9, 2015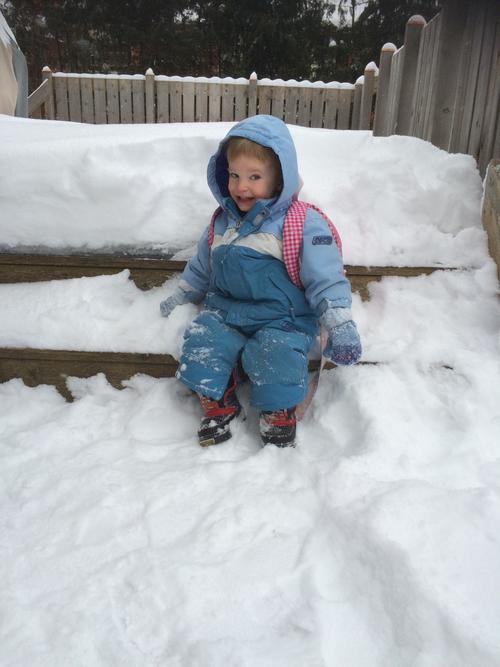 Matthew has suddenly decided he loves playing in the snow. I find it hilarious because he totally imitates all of Elizabeth's moves - right down to playing "snowy owl" (aka dumping snow on your hat)
You might also like:
-
Pokemon
-
Pumpkin carving
-
Mastering the umbrella
-
Snow play
-
Cooing
February 8, 2015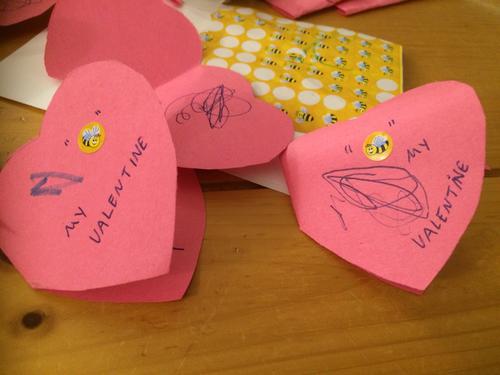 I signed the kids up for a valentine's exchange on the theory it would be good writing practice and they'd get real mail (better do it now while we still have door-to-door delivery!)
I thought that there were only nine kids and figured it would be easy enough to make nine valentines, completely forgetting that we'd actually have to make 18. Multiplication not my strong suit, apparently...
Then it turned out we actually had to make 18 valentines EACH! I'm still not quite sure how that happened. I ended up helping Elizabeth with some of the cutting but otherwise they gamely completed the task with very little assistance from me aside from the extensive cheerleading that was required. Matthew was more enthusiastic than Elizabeth - all I had to say was "Colour two more cards and you can play with the scissors again" and a great flurry of "rawing" (drawing) would ensue. Elizabeth mainly just wanted to make sure she was done ahead of Matthew ;)
You might also like:
-
Olympic skater
-
Number 3
-
First snow!
-
Fancy hotel
-
Come Sing Messiah
February 5, 2015
Angie came from England for her much anticipated Winterlude visit. Elizabeth counted for many days beforehand - she apparently wanted to show off her skating and also Angie is "more fun" to play with than Mom or Dad.
Matthew didn't remember her last visit but warmed up almost instantly. He adored the little train and book she gave him so much that he insisted on taking them to bed with him. He also learned a new word: "MINE"
Some years the weather has been too mild and the ice wasn't very skateable, but this year was almost too cold to skate some days. I didn't actually get out skating with Angie at all myself - left it too late and then was felled by stomach flu - but I hear she did have some nice skating weather. Next year!
Elizabeth and Matthew dragged her to the Nature Museum. They posed in front of their favourite birds, showed her the Arctic exhibit and Elizabeth even got to dig for real dinosaur bones again. Matthew was still too little, so the paleontologist gave him a ball to keep! He was super happy.
We went out for dinner at the Works and we partied with Dave and Karen and the kids and we were very sorry when Angie had to go home. "But she just got here!" said Elizabeth. "Awwww" said Matthew.
You might also like:
-
Dance Camp
-
Fall summer
-
Sheep Shearing
-
Rachel
-
Skating
February 1, 2015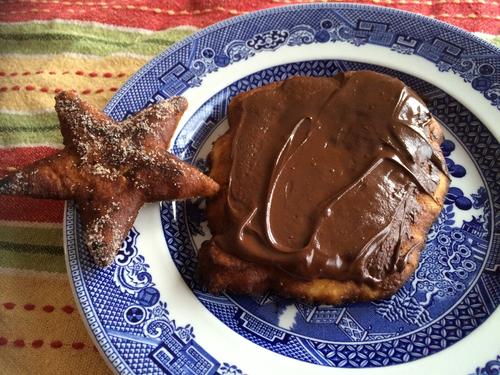 It's Angie's annual visit time - more on that soon - so Daddy, Angie and Elizabeth skated home from church today despite a windchill approaching -26C. Elizabeth skinned her knee falling down the stairs playing with her friends right before skating. We thought maybe skating wasn't going to happen but Pastor Michelle prayed for her and averted a crisis.
On the way to skating we stopped to look at the ice sculptures and Elizabeth and Matthew got to help build one out of coloured ice cubes. In retrospect it wasn't smart to let the Winterlude staff pour water over her mittens even to make beautiful art...
Elizabeth was bitterly disappointed not to have beavertails on the skate home from church, but it was just too cold. We had promised we would, but then Daddy saw that the line ups were long, the chalets were overcrowded and she'd been complaining about her cold, cold hands. She cried all the way home - apparently she hadn't understood that they weren't going to stop after all when Daddy told her there'd be hot chocolate at home instead.
Luckily Auntie Janice came to the rescue with homemade beavertails that were even gluten free!
Sift 2c flour
1tsp salt
0.25c milk powder
3tsp baking powder
0.5tsp nutmeg
0.25c sugar
Mix and add: 0.25c oil, 1 egg and 3/4 c water.
Stir with a fork until mixed.
Press between two pieces of parchment paper until shaped like a beavertail (or use a cookie cutter to make fun shapes). The thinner, the better!
Cook in heated oil for 3 min at 375 (or just flick a piece of dough into the oil and see when it cooks).
Fry until golden.
Sprinkle with sugar and cinnamon, or spread with melted chocolate (why use Nutella at home when we can use the good stuff?)
You might also like:
-
19th Annual Gingerbread Party
-
PD Day
-
Skating
-
Spartan Race
-
On the canal
January 31, 2015
Now that Matthew can communicate better, the kids actually entertain themselves pretty well - at least most of the time!
You might also like:
-
Cherry Picking
-
Back to school lunches
-
The loft
-
Dentist
-
Auntie Karen's birthday