March 28, 2015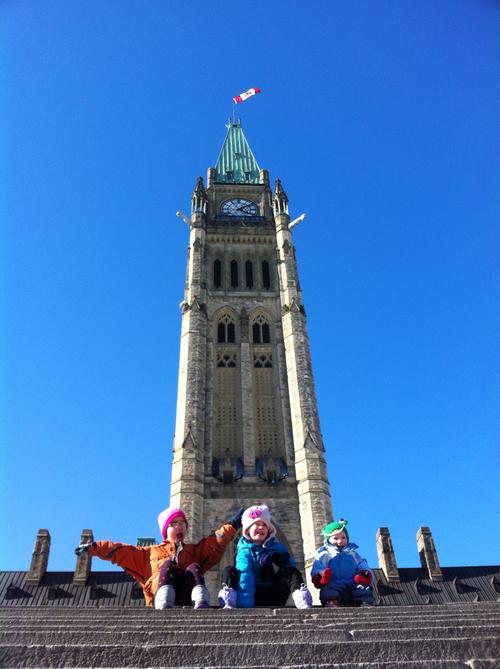 The Epic Adventure Day... by Auntie Janice
It all started harmlessly enough: Wednesday of March Break I took Matthew out for an "adventure", while Elizabeth had Mommy Time, and promised her that she could come on an adventure the next day.
Matthew's adventure involved a walk to bank street and back to drop off some quilt show flyers. I had no idea how much of an EPIC adventure Thursday would prove to be when I texted my sister to expect me for "adventure" duty around 11 the next morning...
The 8:30 AM knock at the door was a bit unexpected, but when Mary asked me if I wouldn't mind watching both kids while they went to the hospital- of course I agreed. Since I knew Chris and Yukiko would be also be headed to say their goodbyes to Grandpa J, I quickly offered to take all four cousins on the adventure. Erika declined, but Maria, Elizabeth, Matthew and I had quite a busy day!
At first it took me a little while to figure out how to fit two boosters and a car seat in my car (Priscilla)... Turns out the car seat has to be centred.
Once we were all in, we went to drop off some flyers near the airport. This sounds simpler than it was because I didn't quite think ahead to looking up directions and my friend's house wasn't directly off the intersection she had told me... Sigh.
Then we were hungry, and since we had seen Cora's while hunting houses, we went there. I cannot believe how much food the three of them ate! One and a half grilled cheese sandwiches, one giant chocolate/strawberry crepe, and a TON of fruit. They were clearly hungry.
Then we went to drop off more flyers at the Greenboro library, and the kids found a reading bus there and some awesome kid zone computer games. Sadly Matthew was SO excited about it all he forgot to tell me he had to poo again... which led to the realization that I had no extra diapers or wipes with me at all. I got creative with some paper towel, and we hurried back home to pick up diapers and water for the girls. We made it safely, phew!
Then we went downtown to meet my friend Jennifer for a Starbucks, many hot chocolates and... Drop off more flyers! We parked at the wrong Marriott downtown though (who knew there were two?) and so we took the bus to get to her. Yay bus!
Our final adventure of the day was walking up to Parliament, at which point we were going to go up the tower. Sadly it was closed already (last tour of the day is around 3, and the tower closes after then). But by then the kids all needed a washroom anyways, so we walked over to the InfoService kiosk "That doesn't open until summer" said one unhelpful off-duty security guard as we walked off the hill... Thankfully he was wrong, and there were none of the usual summer lineups. The kiosk staff were so delighted to see three well mannered children that they gave them all pins and flags. Very popular.
As we drove home, I asked the kids what their favourite parts were of the day. Elizabeth liked all the driving around, Maria liked going to the library, and Matthew liked the flags. I think my favourite part was either the moment when Matthew actually went pee on a toilet for me (first time I've witnessed this!) or watching the kids play in the snow on Parliament Hill. So many good memories for a sad day...
You might also like
- The Big Clock
(0.444706)
- A beanie boo birthday party
(0.442973)
- Family Day
(0.44186)
- Butterfly Adventure
(0.43912)
- Family Day
(0.438767)
All