May 11, 2015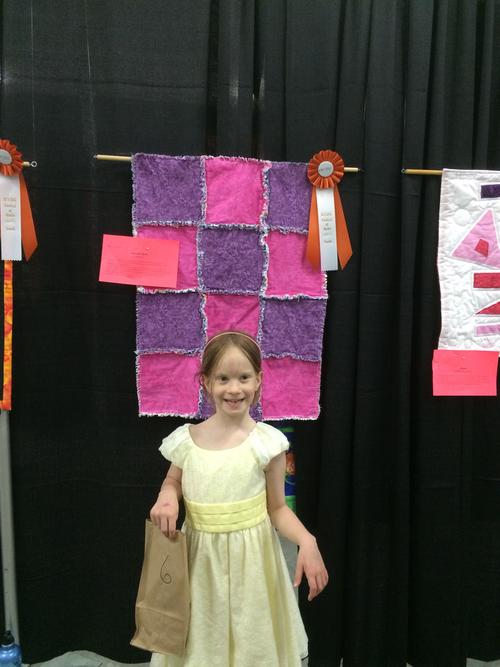 I mentioned that Margaret, Elizabeth and I went to the quilt show yesterday. We would have dragged the boys along but Matthew would have seriously interfered with my ability to properly enjoy it so I decided he had to wait until he's a bit older and less grabby!
At first Elizabeth didn't want to go either, but then she won a door prize and remembered that she had a big surprise for me at the show and suddenly she was much happier. It turns out that she had made a quilt for Amelia with some help from Auntie Janice. I may have had some inkling that something was afoot, but I was surprised to find out that Elizabeth had done much of the quilting herself. Elizabeth was super keen to show me her quilt and to find out if she had gotten a "surprise" (prize). She was quite indignant to recognize Auntie Janice's dress and to find out it hadn't won anything. I told her that most people didn't get prizes at the quilt show as there are many more quilts than prizes, and besides having people look at your quilting was its own reward. I had an idea of letting her down gently but turns out they give ribbons to all youth entries which is brilliant and was very appreciated by one over-excited six year old. She then spent quite a bit of time dragging random strangers to see her quilt. Luckily they were all good sports and actually many of them were super encouraging about her efforts - to the point of taking her picture and pointing her out to other quilters and just generally making Elizabeth feel like a rock star for submitting a quilt. She's keen to make another one now.
You might also like
- Apple Picking Reprise
(0.397887)
- Mother's Day
(0.395152)
- Preschool duty days
(0.393617)
- Surprise
(0.391949)
- Amelia 21 months
(0.390977)
All
May 10, 2015
Mother's day this year was a lot of fun. There was some spoiling by the kids who made me a card - together (!) and mostly without fighting (!!) Elizabeth made me flowers at school out of egg cartons. She was super proud of herself for making a gift and keeping it secret until it was time to give it to me.
After church Elizabeth and I met up with Grandma Margaret to see the quilts at the show Auntie Janice helped organize this year for her quilt guild. More about that later...
After the quilt show we met all the cousins at Tulip Fest to take tulip pictures. I organized it early this year because it's been rather hot and I was afraid the tulips would be past their prime if we waited... Not that I'm still bitter about last year or anything (heh)
After dinner Grandma Margaret joined the rest of us for a Mother's day BBQ. We hung out and then it was time for cousins to leave. Auntie Yukiko was tired but the girls didn't want to leave. "Okay then", I said. "You guys can just stay here." Elizabeth, Erika and Maria were electrified by this idea and instead of heading out the door they begged to be allowed a sleepover. (Last time we offered Maria a sleepover she couldn't bear to sleep away from her house, so I knew she was quite excited!) After some quick consultations among the grownups and figuring out that we could handle the lack of toothbrush / pjs etc we actually went through with the totally unplanned sleepover! I didn't even live to regret it ;)

You might also like
- Good Friday 2015
(0.4)
- Quilt Show
(0.395152)
- Mother's Day
(0.381944)
- Race weekend 2017
(0.378468)
- Grading for a brown belt
(0.378436)
All
May 9, 2015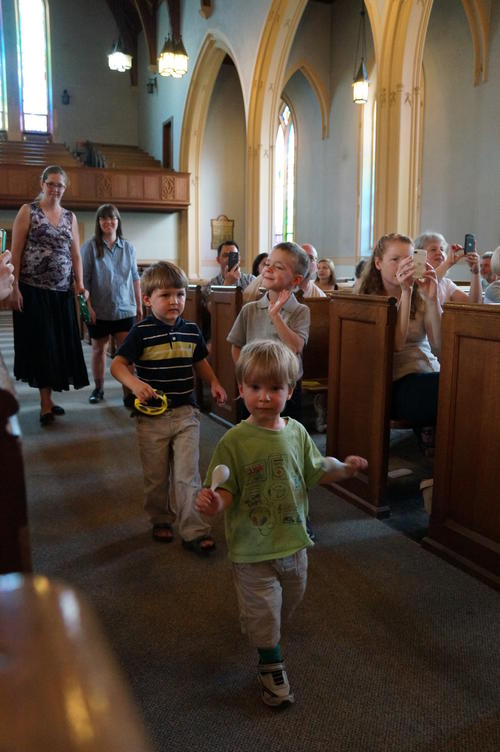 Elizabeth was invited to two different birthday parties, which of course happened to coincide with her spring piano recital.
Party #1 was Cosmic Adventures with Adi, and of course Elizabeth was pretty excited to be going. She carefully made her card and Matthew hopefully made one too after she told him he couldn't come because he had no card or present. We took him on an "adventure" to buy more dirt and flowers for the garden instead, which seemed to satisfy him - probably because he doesn't remember what Cosmic Adventures is...
There was a lot of gardening in between drop off and pick up for the two parties. Elizabeth and Matthew played in the sandbox when they got tired of helping.
Party #2 was a princess party (Princess Ariel, to be precise) at Lea's house. We weren't going to let Elizabeth go at first, but Lea's mom emailed me to see whether Elizabeth could come so we relented. This did mean that we had two recitals on the same day. Matthew was much more confident this time - banging his tambourine with vim and vigour and singing along to the "Mr Sun" song. Sadly he could not be stopped from continuing to sing so we had to leave the room after that! He enjoyed the dancing song as well.
Elizabeth's party ended a mere fifteen minutes before the start of recital #2 so Daddy had to motor to get her there on time. She was slightly delayed due to problems with the doorbell but managed to make the rhythm parade that always starts off the recital - though she did have to run... Matthew was happy to get to do the parade twice, but after Elizabeth's piece Daddy took him out for a walk as it was a bit much to expect him to sit through the whole thing again, especially considering that it was VERY hot. Mrs Hannah and Mrs Shana had kindly suggested that we could slip out anytime after Elizabeth's piece (which they put at the beginning). I left it up to Elizabeth, who didn't want to miss her "favourite" song aka Matthew's dancing song. So we ended up staying until then (about two thirds the way through). When we got home and Elizabeth realized that we weren't doing anything "exciting" the rest of the day she said wished she had stayed longer. But Mommy was hot so just as glad that we didn't! Elizabeth was so excited that she rushed her piece a little bit - it was fine but the version she played on a video that we sent out a few weeks ago was much better performed. Ah well!
There was more gardening before and after supper and even after the kids went to bed, but we managed to get all the flowers planted and watered, 1680L of dirt spread in the various garden boxes and many bags of mulch arranged to my satisfaction.

You might also like
- Michael is five
(0.424213)
- Orchestre
(0.424034)
- Homeschool wk apr 6-9
(0.420437)
- Home
(0.419815)
- Virtual Piano Recital
(0.418255)
All
May 7, 2015
Dianne invited Matthew and I along on a tour of the RCMP stables and picnic. We were hoping to catch a practice for the musical ride afterwards, but sadly they were too close to leaving on tour and don't need their noon practices anymore.
Matthew enjoyed seeing the horses very much. He was also thrilled to take TWO busses home, which was surprisingly painless until he passed out and I had to walk the last ten minutes in the hot sun with a sleeping child who could not be roused. Then I realized I had left my keys in my coat and was locked out of the house with said sleeping child for a bit as Daddy was at a meeting. Luckily we'd already pulled out the deck furniture so I put my feet up and relaxed until rescue arrived.
You might also like
- Big trip
(0.321375)
- Boxing Day Sledding
(0.320681)
- Triathlon
(0.318777)
- Messiah practice
(0.318482)
- Fish
(0.30941)
All
May 6, 2015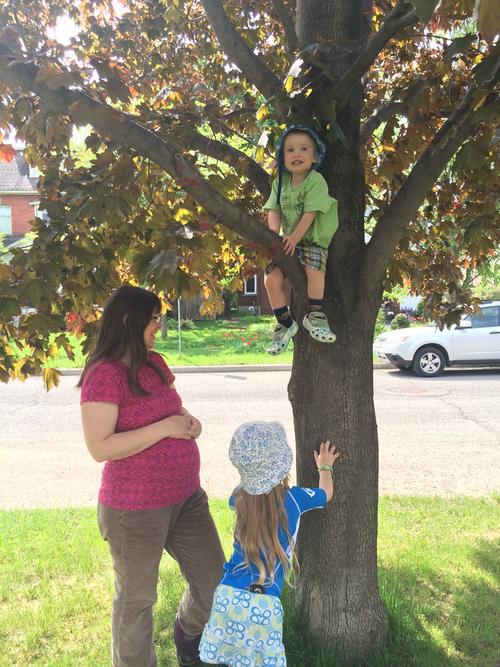 Now that I'm into the weekly appointment phase of pregnancy it's probably time for another update.
I had another ultrasound a couple of weeks ago - but I didn't have to leave the OB's office as they now have a handheld device about the size of a smart phone (or two hinged decks of cards). It was pretty cool! Matthew seemed to enjoy looking at "Meelee", although he also didn't seem convinced that the picture was of a real baby. Dr Gravelle said it was a present that she and the other OB she works with decided to get themselves - I wonder how long it will be before most OBs and even midwives all have their own ultrasound machines.
At the time of the ultrasound, baby was diagonal - somewhere between breech and transverse. But of course now she's head down. This is immensely frustrating, because if either of the previous two had deigned to flip down I could have avoided one or more C-section. But of course now it's not an option... On the plus side not having a transverse kid for once does mean that it won't be a medical emergency if I go into labour.
I'm still experiencing nearly daily leg cramps and swollen feet which is still very annoying. At least the cramps have mostly shifted from 2am to 6:30am! I've also started to get quite car sick if I spend more than about fifteen minutes in the car so am probably going to be hanging out close to home for most of the rest of the time left. I am finding it harder to bend over especially in the garden (not an issue I encountered with my February babies!) and I have been quite tired. I'm also into that part of pregnancy where I feel quite paranoid about things like "WHAT IF IT'S ACTUALLY A BOY" or "SHOULDN'T WE HAVE SCHEDULED THE C-SECTION EARLIER?". Brendan thinks it's cute. Elizabeth keeps trying to figure out when the baby is coming already ("Before or after cottage?" "Before or after I go to the big school?" "Before or after flat Grandma and Grandpa come to visit?"). And Matthew is very taken with his sister in tummy. I think it's cute when he insists on hugging her and giving kisses. It's useful when I can talk him into doing things he didn't want to do to "show Amelia". It's not cute when he stabs me in the stomach with a fork in an attempt to "feed Meelee. Hundee! (hungry)"

You might also like
- How many weeks?
(0.449824)
- Elizabeth
(0.439067)
- Last OB appointment
(0.43686)
- Healthy Girl
(0.434815)
- Virtual school: Week 2
(0.428462)
All