May 20, 2015
Elizabeth's class doesn't have a class pet, but they do have a stuffed dog "Pitou" that they are passing around.
It was Elizabeth's turn to have him overnight - she was VERY excited!
You might also like
- Student ID
(0.273224)
- Housecoat
(0.272321)
- Standing Unassisted
(0.264045)
- A donkey carrot
(0.262376)
- Bear hiding
(0.257426)
All
May 18, 2015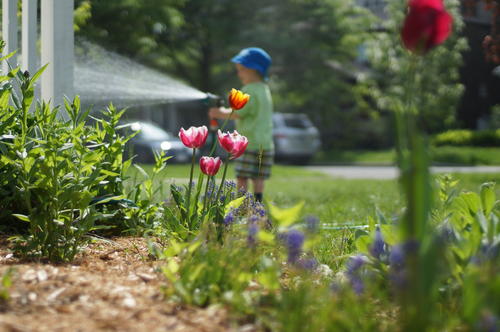 It's been pretty hot this spring (30C!), except when the temperature swings down and we get frost warnings. Our lawn has been reseeded and may eventually have grass again. We spread many bags of mulch and added many litres of dirt to the garden boxes.
I decided that I'd risk the frost partly because I was feeling impatient, but mostly because I knew that the closer we got to baby day the less I was going to feel up to gardening. Strangely...
I'm pretty pleased with progress so far.
You might also like
- Red gi for Matthew
(0.299107)
- Petrie Island Adventure
(0.290155)
- Spring
(0.287037)
- Mommy doesn't do naps
(0.285714)
- Rainy tulips
(0.284452)
All
May 17, 2015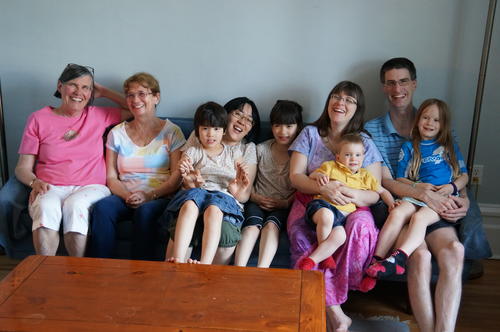 Brendan's paternal aunt is visiting from Austria - it's the first time Brendan remembers meeting her as the last time he met her he was Matthew's age! Elizabeth was fascinated to hear that she had another great Aunt that she hadn't met yet and really, really wants to go visit her house now. Maybe in a few years when the kids are a bit older...
It was the sheep shearing festival at the Agriculture Museum, so we invited her and Grandma to come check it out with us. It was a real scorcher of a day but lots of fun and it was the first time Brendan got to experience it first hand. My favourite part as always was the dog trials - especially the Frisbee tricks. It always makes me wish I had a dog, at least for a few minutes...
After the sheep shearing we headed to Sunnyside for Maria's 6th birthday party with the family. I made Maria a cake in the shape of a bear which was a great hit (Maria LOOOVES bears) until she realized that we had to cut it up in order to eat it. Oops!
You might also like
- Sheep Shearing
(0.37518)
- First day of Maternelle
(0.354642)
- Family Day
(0.34891)
- Easter
(0.345985)
- Family time
(0.34345)
All
May 16, 2015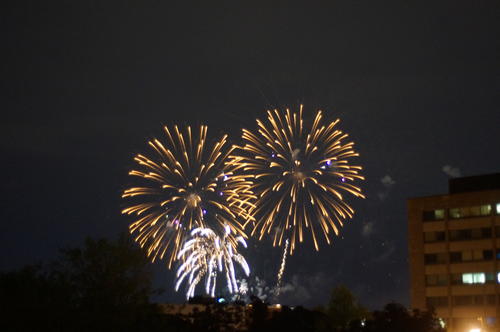 We are lucky enough to live close enough to the tulip festival that we can see the weekend fireworks without leaving the house! Granted, we have to watch from the bathroom but we do have quite a nice view...
This was handy the first night when they started fifteen minutes earlier than anticipated, not to mention the nights when it looked very much like rain. We had planned to take the kids one of the four nights but they just couldn't handle staying awake that late on the days in question so we put them to bed. I tried waking Elizabeth up one night and she "watched" with us. I say "watched" because she was soooo sleepy that she kept closing her eyes and after only a few minutes agreed that she'd seen enough and was happy to crawl back into bed. In the morning she remembered seeing the fireworks, but didn't have any idea where she watched them from!
You might also like
- Boston
(0.373692)
- Heidi and Tante Elfi
(0.357016)
- Thanksgiving
(0.353801)
- French Class
(0.350275)
- Three under three
(0.34964)
All
May 15, 2015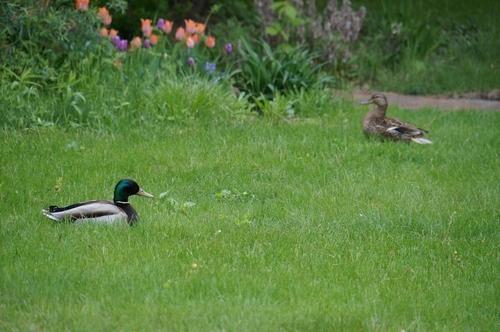 When we headed out to the bus stop this morning, Elizabeth and Matthew were very excited to discover ducks on our neighbours' lawn.
We've had ducks hanging out on our lawn before - a few years ago they stayed for several weeks (I gather they spent a fair amount of time in another neighbours' swimming pool!) but this time they were gone by the time we came back from the bus.
I'm always amazed by the variety of wildlife we have despite our extreme urban setting. There's a woodpecker nesting by Elizabeth's bus stop, chickadees nesting across the street, cardinals and blue jays in our backyard. Then there are dozens of squirrels, bats and who knows what else that call our large maple "home". Chipmunks in the rock pile, raccoons two doors down and yesterday an extremely large skunk ambled across our yard in broad daylight. Luckily the skunk appears to have moved on - we'd rather keep the ducks...
You might also like
- Amelia visits the playhouse
(0.329857)
- Sheep Shearing
(0.323329)
- Halloween
(0.322196)
- Christmas Day 2: PJ Day
(0.316642)
- Cottage Days: Feeding the deer
(0.314324)
All