June 3, 2015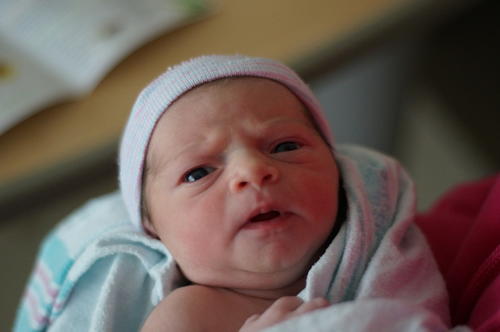 Mary and Brendan are thrilled to announce the birth of their daughter Amelia Anne. June 3rd at 11:12 am weighing 2816 grams (6 pounds, 3 ounces) and 48cm long. Mom and baby are both doing well.
Having done this twice before, it's always interesting to compare what's changed since the last time. They still don't tell you when to show up for surgery until between 2 and 4 pm the day before (but I knew in advance because Dr Gravelle thought that was silly and told me), but the pre-op process is more involved and there was more paperwork. Not that this saved the nurse from having to do another thirty to forty minutes worth of paperwork the morning of! I was amused to get one of those blinking "coasters" that you get at some restaurants to tell you when your meal is ready - mine was to let me know the technicians were ready to draw blood...
Surgery was scheduled for 9:50 am and there was very little waiting around. No one bothered with any ultrasounds, though they did put a heart beat monitor on for a while. That was kind of amusing since Amelia kept wiggling out of reach. The resident came in at the end of the previously scheduled surgery to tell us they were running ahead of schedule and that we'd likely be early. But then at the last minute I got bumped for an emergency. Luckily it didn't take long though and we were off to surgery only a little bit behind schedule. I was pleased that the nurse took me seriously for once when I told her how much I hate IVs and that I find the IV BY FAR the most painful part of a C-section. This is still true after number three.
I had a moment of panic when it turned out that there was a different anesthetist from the last two times (perhaps not helped by a conversation last week with my doctor neighbour who had been telling me about how she would never ever get a spinal after seeing some problems in the course of her professional practice) but it went just fine. I did have to pause before getting onto the operating table - both my calf muscles spasmed as I was climbing up - OUCH! No itchy allergic reaction in my face this time as they changed one of the pain meds. They also let me keep my glasses and didn't strap down my arms. They told me that the operating room light was reflective and that I might be able to see the operation in the light. The idea was that I should tell them to change the angle, but I watched most of it instead. It was interesting, but gory.
Amelia was able to nurse right away. Having just stopped nursing Matthew only a month or so ago I actually had colostrum already so that went very smoothly. We were surprised that she had a full head of dark hair - quite unlike her siblings. But other than the hair she looks just like them...
In recovery, I was amused that they used a crazy carpet sled to help move me around while I was unable to move my legs, and then more amused when Grandma H vowed to take one home with her to use in Angola! It was still annoying not to be able to contact anyone from recovery for lack of a communication device. I tried to get Brendan to smuggle the phone in with us but had no luck...
After we finally got out of recovery I was pleased to discover that we had managed to get a private room. It seemed quite a bit smaller than last time - but maybe that was just because the kids are all bigger. That's Brendan's theory anyway... Janice and mom brought along decorations and cake and there was much partying. I dutifully stuck with my liquid diet and later that evening I was glad that I had - I was pretty ill later in the evening. A little gravol fixed me up though.
Amelia weighed just four grams less than Elizabeth. Elizabeth had a moment of feeling displaced "But I was the littlest baby!" but luckily Amelia is also the longest of the three so Elizabeth can still be the littlest, if not the lightest. It turned out that those four grams were important as babies under 2820 grams get a heel prick in order to test their blood sugar every three hours for the first twelve hours, followed by a prick every six hours for a total of thirty-six hours of testing. She tested fine except for the second test which occurred after we let her sleep overlong. I forgot that newborns need to eat every two hours! In any case we weren't worried as she was obviously eating (and producing) like a champ.
Amelia has super strong legs and is all arms and legs that flail wildly. She much prefers her limbs swaddled. She can't lift up her head, which most people wouldn't find surprising, except that Elizabeth and Matthew could so this is a new experience for us. So far she seems to be a contented little soul and her siblings are over the moon to finally be able to cuddle her.
Our chosen bible verse this week is Psalm 139:13-14a.
"For you created my inmost being; you knit me together in my mother\u2019s womb.
I praise you because I am fearfully and wonderfully made."
You might also like
- Its a girl
(0.501477)
- Michael Gabriel
(0.500647)
- Matthew
(0.497258)
- Umbilical hernia repair
(0.485185)
- Home again, home again
(0.480744)
All