June 21, 2015
Erika and Maria came for a sleepover the night before Father's day so Brendan had FIVE kids crawl into bed to wake him up... After letting him sleep in, of course! Erika and Elizabeth made the pancakes all by themselves.
We then went to church and had SEVEN cousins all in one pew (Grandma and Grandpa H brought Xander and Isabelle) - unfortunately I didn't get a photo although lots of people stopped to count!
After church we headed to Grandma J's house for palatchinken and marillenknödel (and tinker toys). Xander discovered that he really likes marillenknödel...
But where were Uncle Dave and Auntie Karen, you might ask? Well, my latest nephew Theodore (Theo) Barnabas was born today on his due date at 3:20 am, at home (in the bathtub!) A hefty 8 pounds and 8 ounces with a squawk that made his Daddy dub him "my little pterodactyl".
We headed over to see the new baby that evening. Elizabeth was a little put out that she didn't get a chance to hold Theo so she had to give "her" baby (Amelia) extra cuddles instead. Auntie Mary was very pleased to get a chance to see Theo on her way back up to Pangnirtung.

You might also like
- End of an Era
(0.366983)
- Xander sleepover
(0.363121)
- Carp Fair
(0.362832)
- Happy Birthday Auntie Karen
(0.357947)
- Wedding prep
(0.35535)
All
June 19, 2015
Amelia not only met Captain Mike for the first time today, she also took her siblings to Glebe Memorial park for the first time with Grandma H, Auntie Karen and Xander and Isabelle. First major outdoor expedition.
She was fascinated by the sky. While I did walk there, Brendan did pick us up in the interests of not overdoing it...
You might also like
- Park with Xander
(0.3)
- Backyard camping
(0.289086)
- 12 Days of Christmas: Day 12
(0.288136)
- Dentist
(0.286058)
- Thanksgiving
(0.283887)
All
June 18, 2015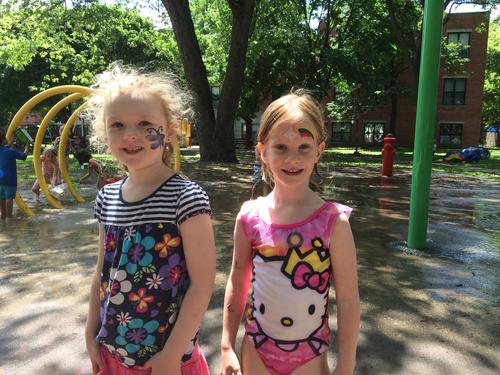 Today was Elizabeth's last day of kindergarten! How did that happen, Daddy wonders... Elizabeth's very much looking forward to being in first grade next year, mostly because the play structures have monkey bars. This week the Jardin (SK) portion of her class all went to "the big school" and hung out with a first grade class for the morning as an introduction. We were also pleased to discover that her report card actually had comments that seemed to reflect Elizabeth (unlike the last time). So it was a good end to a somewhat rocky year.
Elizabeth wrote all her teacher thank you cards by herself and mostly in the morning before the bus!
Sadly her penmanship is not quite as beautiful when in a hurry (no cursive!) Elizabeth insisted on giving her ECE from last year (Mme Josée) a card and gift too, which I thought was pretty amusing.
I'm loving the phonetic spelling and the strange grammar. "Je lem ce tu ma edi pur fer les bricolaj" (or Je l'aime que tu m'a aidé pour faire les bricolages or I like that you helped me make crafts) She also thanked her teachers for "helping her go to the park" (I gather Mme Souad in particular took them to the park around the street in the afternoons quite often in the last weeks. This was very popular.)
There was much anxiety over whether the weather would permit the end of year party in the park - but it did! We were a bit "late" arriving but Elizabeth was having too much fun playing with her friends to notice. There was facepainting, popsicles (mini yogurts that had been frozen), tattoos, crafts... I was pleased that we managed to get a picture of Elizabeth with most of her teachers (ECE Mme Sagine in the green shirt, Mme Hassina on the steps, afternoon teacher Mme Souad in front of the tree and gym/science teacher Mme Sonia)
You might also like
- Je d'école
(0.412801)
- 17th Annual Gingerbread Party
(0.39802)
- Virtual School: Week 37
(0.396535)
- Skating
(0.392405)
- First day of school
(0.391353)
All
June 17, 2015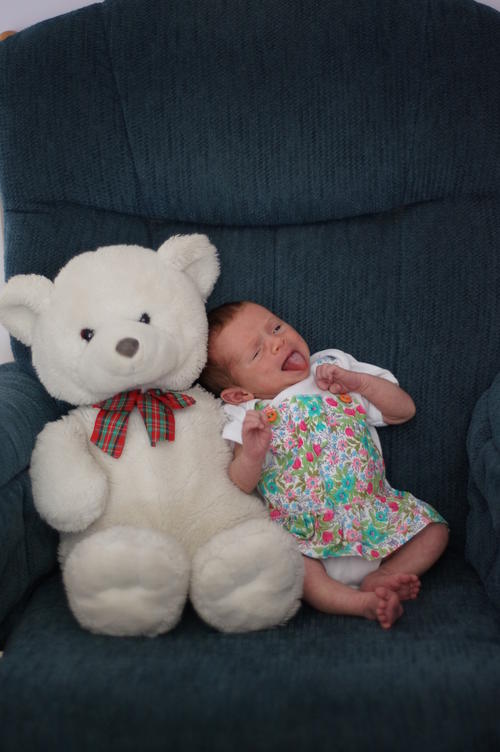 Amelia is now two weeks old. The novelty of having a sister seems to have mostly worn off for Elizabeth, but Matthew is entranced. He's always trying to cuddle her, play with her or say hello. "Me wake up Meelee" is a very common refrain. The other day he tried to change her diaper, which is not something Elizabeth has ever wanted to do with either of her siblings.
At two weeks she's starting to be a little more alert, at least in the evenings. Mostly she wakes up to nurse, fills her diaper and then passes out again. There is a great deal more baby spit-up involved this time round - so much so that I wish I had a baby scale to assure myself that she is actually gaining weight. There are many, many diapers so I'm not exactly worried, but she does lose what appears to be the entire contents of her stomach at least once a day (usually down my front) and there are many other smaller episodes throughout the day. She has the loudest belches I have ever heard from a baby. The kids think this is hilarious and try to imitate her.
You might also like
- Seven months
(0.39899)
- 2 months
(0.393742)
- Amelia 21 months
(0.382387)
- Lucy and Jack
(0.381953)
- River Oak
(0.381201)
All
June 16, 2015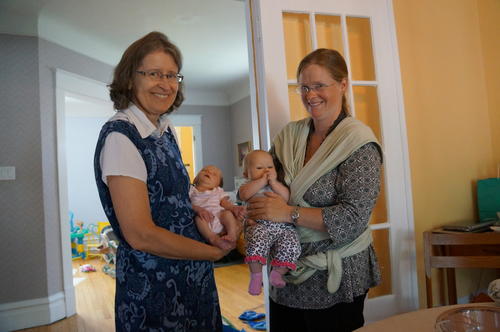 Elizabeth was just over three months old when she met friend Aidan for the first time (he was one week old at the time). So it's kind of fitting that their latest siblings - two week old Amelia and two and a half month old Evelyn - met today. We forgot to take pictures of their feet though! Next time, right Dianne? ;)
You might also like
- Sink Baby
(0.326648)
- Christmas Cake 2013
(0.321321)
- Seven Months Old
(0.320513)
- Introducing Evelyn
(0.313364)
- A new bicycle
(0.306843)
All