June 25, 2015
In which I remember that summer is the time we should always bring a towel and swimsuit to the park.
It was the first time it was warm enough to contemplate going in the water. Matthew is wearing a normal diaper and his shorts ;)
You might also like:
-
Lil helper
-
Real signs of Spring
-
First Swing
-
Beach
-
Rain
June 24, 2015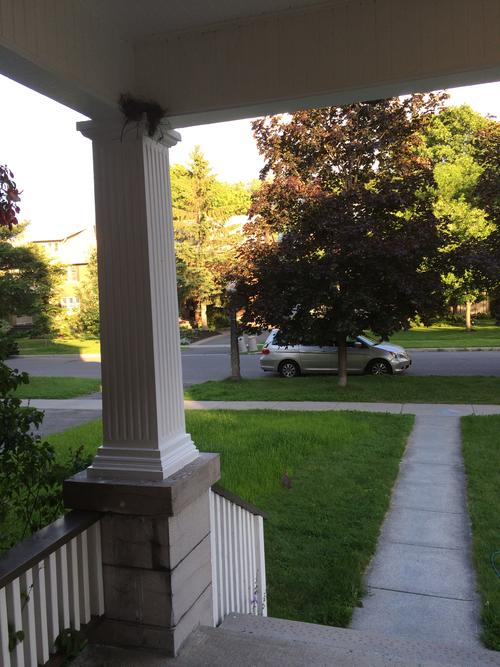 A bird built a nest on our porch, but I guess all the traffic scared it off as we haven't seen hide nor hair of it since the nest appeared. Too bad as I was wondering what kind of bird and kind of hoping to watch babies hatch... Ah well.
The funny thing is that when I went to photograph the nest, there was a bunny hanging out on our lawn. Mama and baby have been sighted quite a few times nibbling on the grass. They seem quite fond of the extra-fast growing variety that was planted after the lead-pipe replacement.
You might also like:
-
Cold weather fun
-
Cosmic Adventures
-
Summer's Over
-
Capital of extremes
-
Butterfly Show
June 23, 2015
Amelia is growing well. She mainly eats, sleeps and produces at both ends, but she continues to be more alert during her awake periods. She can hold up her head finally!
She still doesn't cry all that much - mostly complains about gas and wet diapers and how no one ever feeds her and she needs to nurse even though she is overflowing from lack of stomach capacity already (Did you know breastmilk is a natural antacid? This is something new I learned this time round.)
When she was a newborn, Elizabeth used to make a really cranky face that we dubbed this "Captain Crankpants". Amelia has this exact same face, but thankfully she tends to do the worried sparrow more often. She does cry a lot more when Daddy is holding her. He says she is getting louder and is contemplating earplugs.
You might also like:
-
Roommates
-
2 months
-
2 weeks old
-
A visit from Godmother Rachel
-
One month
June 22, 2015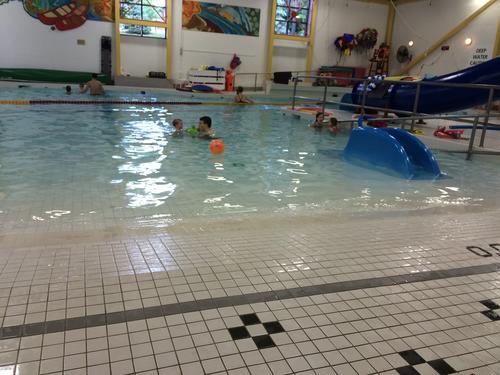 Although Dovercourt isn't exactly our local community center, we've spent a fair amount of time here this term. I've been taking Matthew to their preschool pass programs to do crafts, games, stories and outdoor play. He loves playing on the Dovercourt play structure and colouring. The snack time is also popular, although I was disappointed to discover that their Kids in the Kitchen program is not nearly as hands on as it was with Elizabeth. I guess since the program has increased in popularity they have found it hard to keep up, but mostly they just serve food - there's not so much "making" going on. I found the crafts a little more difficult as they often don't hold his attention very long. The pottery class in particular he enjoyed the first time we went but after that he seemed to feel he had experienced it already and was only interested for about five minutes at a time. I really love crafting with kids (and pottery is pretty awesome), but I must say I was also very pleased not to have to bring anything home...

Both kids have been taking swim lessons here as it's a bit closer than the OAC. Since they are private lessons, Matthew gets to go in by himself which is great since I knew I wouldn't feel like going in the water when 11,000 months pregnant and couldn't go in the water at all in June after having Amelia.
Matthew gets along super well with his instructor even though he gets dunked many times in a class. As a result, he's extremely comfortable in the water. Elizabeth also loves her instructor but we were less enthused - too much playing and not enough swimming! This isn't exactly the instructor's intent, but nonetheless we didn't feel Elizabeth made as much progress as she did at the OAC.
You might also like:
-
Social Distancing: Day 5
-
Skating
-
Virtual Piano Recital
-
Clemow Flix
-
Strike Day
June 21, 2015
Erika and Maria came for a sleepover the night before Father's day so Brendan had FIVE kids crawl into bed to wake him up... After letting him sleep in, of course! Erika and Elizabeth made the pancakes all by themselves.
We then went to church and had SEVEN cousins all in one pew (Grandma and Grandpa H brought Xander and Isabelle) - unfortunately I didn't get a photo although lots of people stopped to count!
After church we headed to Grandma J's house for palatchinken and marillenknödel (and tinker toys). Xander discovered that he really likes marillenknödel...
But where were Uncle Dave and Auntie Karen, you might ask? Well, my latest nephew Theodore (Theo) Barnabas was born today on his due date at 3:20 am, at home (in the bathtub!) A hefty 8 pounds and 8 ounces with a squawk that made his Daddy dub him "my little pterodactyl".
We headed over to see the new baby that evening. Elizabeth was a little put out that she didn't get a chance to hold Theo so she had to give "her" baby (Amelia) extra cuddles instead. Auntie Mary was very pleased to get a chance to see Theo on her way back up to Pangnirtung.

You might also like:
-
End of an Era
-
Xander sleepover
-
Carp Fair
-
Happy Birthday Auntie Karen
-
Wedding prep