June 27, 2015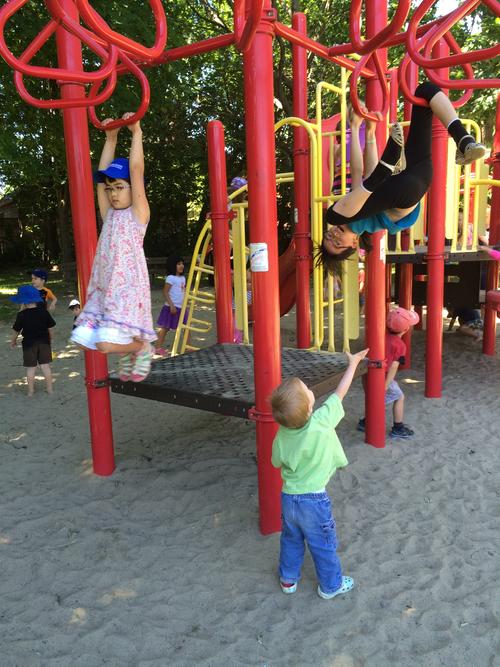 Auntie Yukiko has been working extremely hard over the last few months since Uncle Chris left for Japan via Germany. As she put it, not only is she experiencing the single mother's working life (teaching Japanese) but she also was in charge of packing up most of their stuff and prepping the Sunnyside house for rental. Finally she has successfully emptied her house and since the school year has come to a close everyone has moved in with us!
Elizabeth was very happy to have an extended sleepover with her cousins. The first thing they did was to set up a rotating schedule for the apparently highly coveted top bunk of Elizabeth's bed.
Erika greatly enjoyed teaching Elizabeth how to finger weave. We had a watermelon seed spitting contest one day when it turned out our watermelon was not seedless. My kids at first weren't going to eat the watermelon but Erika declared the pieces with seeds to be "happy pieces" and after that everyone ate them. Maria didn't want to spit as she was apparently in the middle of a book.
Sadly Erika was not well during part of her stay so she had to move out of the party room for a couple of days. But at least she recovered without passing anything on and in time to not be sick on the long long long plane ride to Japan!
You might also like
- January Duty day
(0.386179)
- Apple Picking Reprise
(0.385455)
- Birthday party
(0.384888)
- Sleeping Beauty
(0.38262)
- Sleepover time
(0.38196)
All
June 26, 2015
Elizabeth and Adi did gymnastics together again this week, and we came to watch the end of week show. Safe to say Elizabeth enjoyed it since she (and various imitating siblings/cousins) have spent a significant time since then doing somersaults in the basement and headstands off our dining room furniture.
You might also like
- Bubbles
(0.34593)
- Decorating
(0.327456)
- First smile
(0.318182)
- Baby
(0.317784)
- Spring walk
(0.311804)
All
June 25, 2015
In which I remember that summer is the time we should always bring a towel and swimsuit to the park.
It was the first time it was warm enough to contemplate going in the water. Matthew is wearing a normal diaper and his shorts ;)
You might also like
- Lil helper
(0.270655)
- Real signs of Spring
(0.266234)
- First Swing
(0.262626)
- Beach
(0.260745)
- Ratatouille
(0.252747)
All
June 24, 2015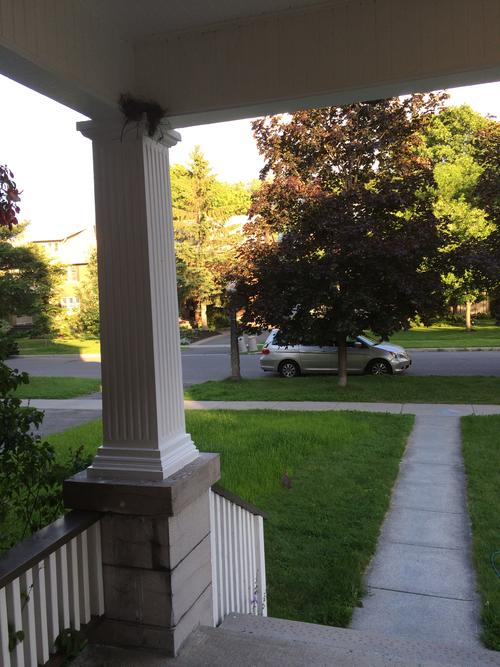 A bird built a nest on our porch, but I guess all the traffic scared it off as we haven't seen hide nor hair of it since the nest appeared. Too bad as I was wondering what kind of bird and kind of hoping to watch babies hatch... Ah well.
The funny thing is that when I went to photograph the nest, there was a bunny hanging out on our lawn. Mama and baby have been sighted quite a few times nibbling on the grass. They seem quite fond of the extra-fast growing variety that was planted after the lead-pipe replacement.
You might also like
- Cold weather fun
(0.293651)
- Cosmic Adventures
(0.288462)
- Summer's Over
(0.288026)
- Capital of extremes
(0.285467)
- Butterfly Show
(0.2848)
All
June 23, 2015
Amelia is growing well. She mainly eats, sleeps and produces at both ends, but she continues to be more alert during her awake periods. She can hold up her head finally!
She still doesn't cry all that much - mostly complains about gas and wet diapers and how no one ever feeds her and she needs to nurse even though she is overflowing from lack of stomach capacity already (Did you know breastmilk is a natural antacid? This is something new I learned this time round.)
When she was a newborn, Elizabeth used to make a really cranky face that we dubbed this "Captain Crankpants". Amelia has this exact same face, but thankfully she tends to do the worried sparrow more often. She does cry a lot more when Daddy is holding her. He says she is getting louder and is contemplating earplugs.
You might also like
- Roommates
(0.354978)
- 2 months
(0.351678)
- 2 weeks old
(0.344512)
- A visit from Godmother Rachel
(0.333333)
- One month
(0.3328)
All