July 1, 2015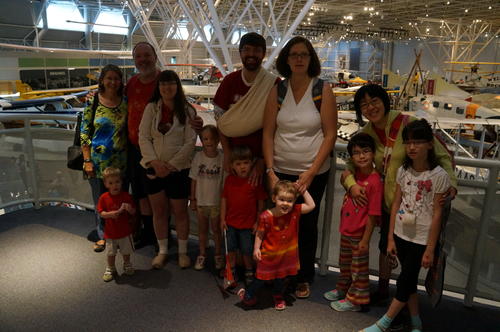 Auntie Janice often has to work on Canada Day, so we decided to head to the Aviation Museum to see what she was up to!
There were airplanes and maple leaf tattoos. We came in time to see the Police Tactical unit rappelling down from the ceiling (upside down!!) and checked out the fire services gear. I'm always amazed by how heavy that stuff is.
After the rappelling Xander got to assist in a magic show just for us! The magician gave him a foam ball to squeeze and kept the other. It vanished and turned up in Xander's hand. Then he repeated the trick so that Xander had three balls in his hand. "Keep them for a souvenir", he said as they all vanished. Xander seemed quite bemused and we were all impressed.
We intended to meet Auntie Janice at the space exhibit during her break, but we walked by the mobile science booth with all kinds of cool demos and it was many minutes before we could convince the kids to move on. Uncle Dave asked Xander if he knew what the (old fashioned) telephone was for. Nope! They particularly enjoyed knocking over the cups with the air cannon.
As we were making our way towards the space exhibit, a drum concert by BAM Percussion started. It was too loud for Amelia's sensitive baby ears (and frankly mine too) but the others went to watch part of it and I'm told it was completely amazing. I thought it was pretty cool just listening to it but I'm told that the performance took it to a different level. Hopefully we'll get to see them again sometime when we have ear protection!
We finally made it upstairs to the new space discovery centre. It has foam arrows you can fire so that was of course what we ended up doing for the rest of our visit. The arrows WERE fun though.
On our way home we were pleased that we had decided to come for the first few hours of the morning instead of later because the Aviation Parkway was backed up quite a long ways with people wanting to park having to wait for visitors to leave! I guess there were a lot of visitors, though it hadn't felt excessively crowded at the time.
You might also like
- Mooney's Bay
(0.421206)
- Family Day
(0.418963)
- Buskerfest
(0.416078)
- Nationals
(0.41503)
- Virtual School: Week 20
(0.414124)
All
June 30, 2015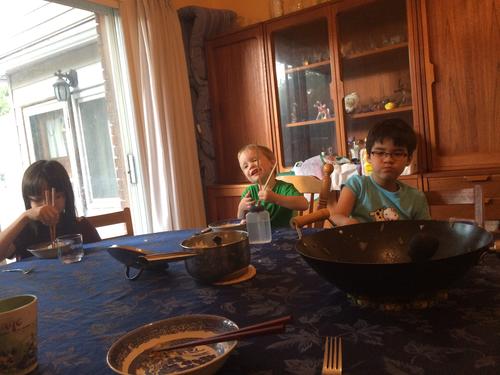 One benefit of having cousins staying with us is that when we have stirfry for supper they can demonstrate how to use grown-up chopsticks.
Elizabeth was quite distressed that her "learning" chopsticks somehow got shattered in the drawer but Erika and Maria were good teachers and by the end of the meal even Matthew was occasionally able to get food to his mouth...
You might also like
- Two stripes
(0.337963)
- Cousin Camp: Beach day
(0.332661)
- Erika and Maria start karate
(0.332308)
- Sugar Bush
(0.328671)
- End of an era
(0.320487)
All
June 29, 2015
Big Brother is watching you... LOL
You might also like
- Inhaling a book, baby style...
(0.163636)
- Movie Night
(0.129032)
- Breakfast fairy
(0.125)
- First Braid
(0.119403)
- Mary Mary
(0.118182)
All
June 28, 2015
Amelia was baptized today and while I was hoping to go three for three on the not screaming front, with Amelia I was primarily worried that she not spew all over Canon Paul. We figured this was the earliest I would be up for partying after the c-section, but it was one of my parents' last weekends in Canada (what a whirlwind this month has been!) I am pleased to report she did not drench the clergy! And actually she didn't particularly cry either - just fussed a bit at the end when she was tired of being held by not mommy. We were greatly blessed by so many of our friends and family who bore witness to Amelia's official entrance into the church. We hope and pray that she will grow to love Jesus, so as to fulfill the promises we made on her behalf today. Auntie Janice kindly held the Skype device during the service so that godmother Lorianne could attend from Winnipeg. We'll have to repeat the photo of Amelia, godfather Michael and Lorianne once Lorianne gets to Ottawa in September! After the baptism we had a mini pizza and dessert party back at the house. It was a lot of fun!
You might also like
- Michael is baptized
(0.365291)
- Last OB appointment
(0.358418)
- Aqua-culture
(0.354045)
- Guided Tour
(0.346558)
- 23 Months
(0.343856)
All
June 27, 2015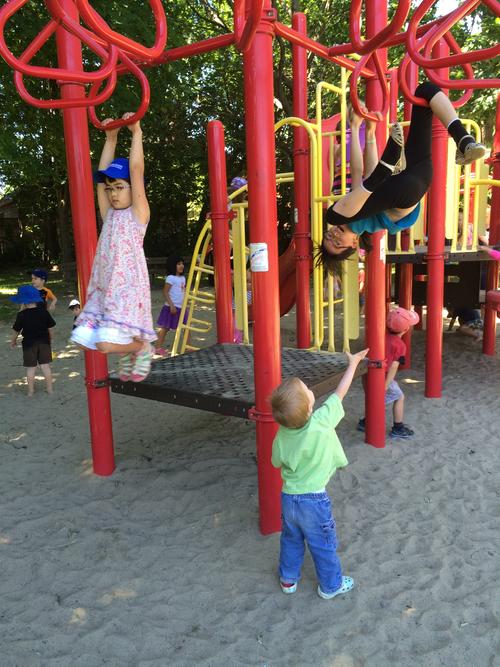 Auntie Yukiko has been working extremely hard over the last few months since Uncle Chris left for Japan via Germany. As she put it, not only is she experiencing the single mother's working life (teaching Japanese) but she also was in charge of packing up most of their stuff and prepping the Sunnyside house for rental. Finally she has successfully emptied her house and since the school year has come to a close everyone has moved in with us!
Elizabeth was very happy to have an extended sleepover with her cousins. The first thing they did was to set up a rotating schedule for the apparently highly coveted top bunk of Elizabeth's bed.
Erika greatly enjoyed teaching Elizabeth how to finger weave. We had a watermelon seed spitting contest one day when it turned out our watermelon was not seedless. My kids at first weren't going to eat the watermelon but Erika declared the pieces with seeds to be "happy pieces" and after that everyone ate them. Maria didn't want to spit as she was apparently in the middle of a book.
Sadly Erika was not well during part of her stay so she had to move out of the party room for a couple of days. But at least she recovered without passing anything on and in time to not be sick on the long long long plane ride to Japan!
You might also like
- January Duty day
(0.386179)
- Apple Picking Reprise
(0.385455)
- Birthday party
(0.384888)
- Sleeping Beauty
(0.38262)
- Sleepover time
(0.38196)
All