July 23, 2015
It was my last OB appointment for Amelia (and possibly my last OB appointment ever). I was late and ran out the door just me and the baby. No change of clothes. No wipes. No spit cloth of any kind. Which is how I ended up dabbing ineffectively at a massive puddle of spitup on the floor with a kleenex, covered in goo down my front and clutching a screaming child in my arms in front of a whole pile of very pregnant ladies. I didn't dare make eye contact but I gather some of them had no kids yet and were horrified at this glimpse of their possible future. Luckily the office staff took pity on me and let us into a room where I could upgrade to paper towel for cleanup and nurse Amelia as she was staaaarving after all that throwing up. After that the actual appointment went smoothly. Dr Gravelle agreed happily to my request for a photo of her with Amelia. Amelia even stopped being super cranky long enough to get one that wasn't mid-scream!
You might also like
- First Outing
(0.366071)
- Amelia's baptism
(0.358418)
- Owie
(0.349525)
- Great Glebe Garage Sale
(0.347716)
- Amelia is 3 months
(0.341289)
All
July 22, 2015
These are a whole pile of random photos from the last month or so that I can't bear to delete but don't really have a blog post for.
Summer is for:
1) Elizabeth and Matthew "hamming" it up at the farm
2) Gymnastics on the rainbow rug
3) Playing with friends
4) Biking - check out Maria just before they moved and just after she had re-conquered learning how to ride a two-wheeler.
5) Matthew's first selfie (I think)
6) Monkey bars! If I haven't mentioned the whole monkey bar thing - I'm definitely leaving out a HUGE part of life these days... Elizabeth is absolutely OBSESSED. She rates parks by whether they have a playstructure with adequate monkey bars and she's quite frighteningly good at them. Of course Matthew wants to do them too...
7) Playing with our food
8) Hiding!
9) Cuddling with babies
10) Having fun!
You might also like
- Leftovers
(0.334232)
- Bruised pinkies
(0.325959)
- Three under three
(0.317308)
- Weather board
(0.315789)
- Grade 1
(0.314939)
All
July 21, 2015
Matthew is enjoying having Elizabeth mostly around for the summer and was not impressed when Elizabeth disappeared to camp this week without him! As a consolation, I told him we could do "toddler camp". Elizabeth was quite unhappy to hear he went to parks and museums without her, but we needed some activity to keep him from literally climbing the walls without his "Dee-Dee". Not to mention that it's quite difficult to return client calls with him in the house as we are still working on the concept of quiet when Mom or Dad are on the phone!
You might also like
- Matthew and Elizabeth spectacle
(0.320329)
- Work
(0.317627)
- Geoboard
(0.313274)
- Siblings
(0.309091)
- Sheeple
(0.306483)
All
July 20, 2015
Elizabeth is enjoying being a big sister to Amelia because "she is nice to me. When I hold her she says arr arr arr and she smiles at me." "I made up a song for her. Shh shh no worries no worries I am here. Shh shh Mommy is coming soon. Shh baby shh here I am. Shh baby shh baby I am here."
You might also like
- First smile
(0.447059)
- Snow
(0.361403)
- Bubbles
(0.354949)
- O Christmas Tree
(0.339394)
- Voting
(0.338521)
All
July 19, 2015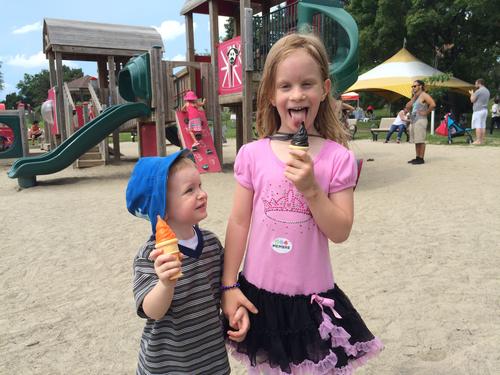 Our church celebrated Christmas in July today - the kids were thrilled that they even went to the trouble of putting up a Christmas tree and decorations. Then they got to eat all kinds of goodies while the adults learned more about our Christmas dinner outreach program and sang Christmas carols. It was a lot of fun, even if the end result was that the kids had cookies for lunch!
After church we went to the Agriculture museum for the Ice Cream festival. The kids blew bubbles and bounced in a farm-themed bouncy castle. I think this was Matthew's first time in a bouncy castle with kids other than his sister. We watched a cream separating demo (Elizabeth: "Can we try that with Mommy milk?" Mom: "No." Matthew: "Whyyyyyy???") and the kids were given ice cream shaped bubbles. I think there might have been real ice cream somewhere but we didn't find it. We could hear thunder and it looked like a rain storm was coming, plus I didn't want to have Amelia out in the sun any longer so we decided to go play in the sprinkler and eat ice cream at home.
You might also like
- Sheep Shearing
(0.4)
- Rain
(0.38069)
- The birds and the bees
(0.373449)
- Energy Garden
(0.370482)
- Advent I
(0.364807)
All