September 6, 2015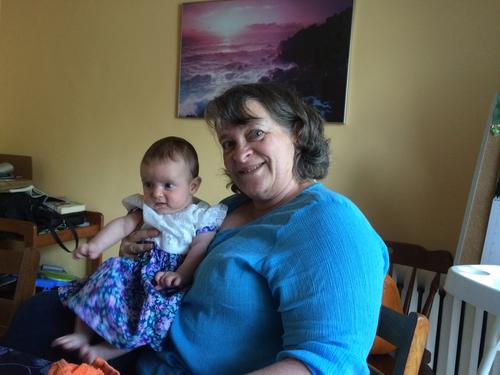 Auntie Mary is on her way down to the "hippo house" (aka Wellesley) and Ottawa's where the planes stop on their way down from Iqaluit so we usually get to have a sleepover.
The kids were all set to go with her, but we're going to see her at my cousin Karen's "BenderHaus" celebration on the weekend at camp Tawingo. We can hardly wait!
You might also like
- Ready, Set, Pack!
(0.301994)
- Joanne
(0.301325)
- Street Sweepers
(0.278646)
- Isabelle's dedication
(0.272973)
- Tulip Gallery
(0.270833)
All
September 5, 2015
We normally go camping as a big group in July, but for obvious reasons (three babies!) we hadn't gotten further than our own backyard. With a nice forecast in the weekend I was determined to change this. Dianne was my willing partner in crime but as we discussed possible locations the guys stated a strong preference for more backyard camping. Something about two of the kids being under six months... Aidan and Caitlyn had been camping for several days in their backyard so they were all set! I admit I pouted about not going to a "real" campsite for a few minutes but then I had to admit that it was pretty nice to have nearby a/c, working flush toilets, great cooking amenities (not that I did any personally - I was totally spoilt) and especially the dishwasher available. In fact, David and Dianne were fabulous hosts - even providing our own personal "beach" (sandbox) and waterfront (the pool) and wilderness hiking area (Bruce Pit). We even managed fancy s'mores on the bbq and did some stargazing with Aidan's telescope. Everyone was sad when it was decided we really couldn't stay a second night. I'm already scheming to bike along the NCC trails between our two houses as soon as the kids can manage it!
You might also like
- Amelia is 3 months
(0.361894)
- Kitty Face
(0.357827)
- Great Glebe Garage Sale
(0.35461)
- Farm Camp
(0.351556)
- Seven
(0.348901)
All
September 4, 2015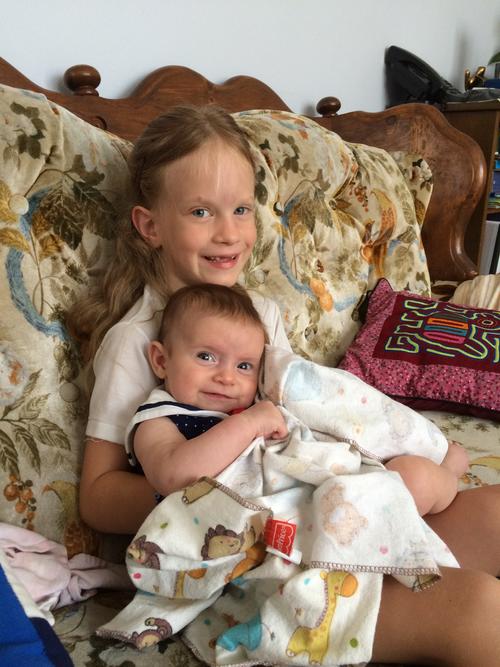 At three months, Amelia weighs 14.5 pounds.
She's VERY talkative - she'll coo and coo. If you talk to her she will often respond and we can get a little conversation going which is adorable, especially when her siblings are the ones talking to her as if they completely understand what she's saying. She's become much more smiley in the last month and has just started giggling. She has an awesome giggle.
She's a great sleeper. I feed her, she coos a bit, she fills a dozen diapers and then she drifts off. We discovered that she sleeps about twice as long in one stretch if you swaddle her (unlike both her siblings).
She's trying hard to roll over now. Sadly her great efforts to do so is rubbing off her hair and we're starting to get the reverse tonsure. Hopefully new hair grows soon because I'm not a fan of the baby monk look.
Matthew was desperate to have her go in the exersaucer, so I recently caved. She seems to enjoy it - holds her head up well and bats at the toys. We couldn't get her to sit up properly for her photo though, she was fascinated by her feet and kept looking down until we rearranged them out of sight.
She might be spitting slightly less, as I don't have to change my clothes quite as often. She's managing to yank out quite a bit of my hair instead.
You might also like
- 23 Months
(0.391546)
- Amelia is 6 months
(0.387255)
- Matthew is 2.5
(0.384246)
- Amelia 20 Months
(0.381271)
- 18 months
(0.379433)
All
September 3, 2015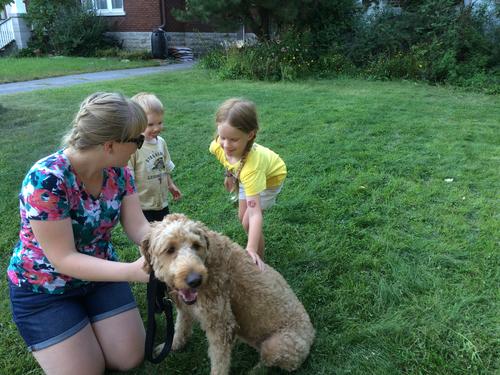 The kids came screaming into the house the other day absolutely terrified and shaking due to being "attacked" by an animal. It took a few minutes to calm them down to find out what had prompted this. Stung by a wasp? Did the neighbour's rather exuberant dogs get loose again? Nope. A black cat poked his head into our yard and looked at them.

Clearly we need to increase our exposure to animals!
So Rachel came by this evening to introduce the kids to her temporary dog Ginger (she was dogsitting for the week).
You might also like
- Daddy and the buck bucks
(0.270945)
- Study in Motion
(0.270492)
- Baby animals
(0.26738)
- Easter Egg hunt
(0.266667)
- Backyard camping
(0.266667)
All
September 2, 2015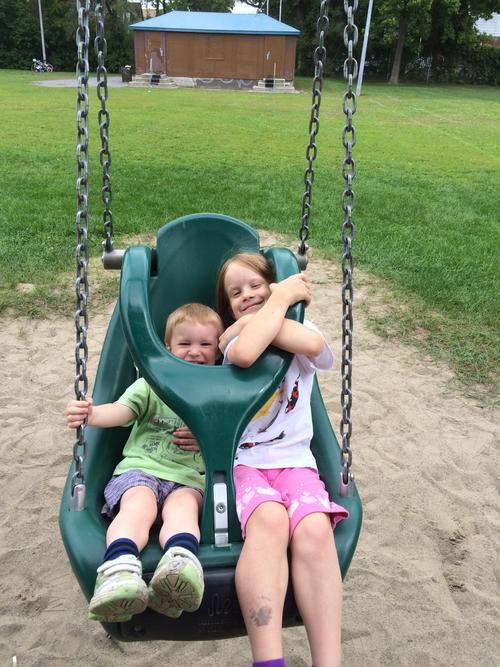 Every so often I look at the collection of random photos I have that I can't bear to delete but am realizing I'm unlikely to write a whole blog post about. Most of these could be labelled summer's end as they were taken after we got back from the cottage (can you tell which one I took before leaving? It's the one where Elizabeth has teeth!)
I was a bit discouraged that the kids didn't seem to have made much progress swimming at the cottage, but we've been swimming at various wading pools and at Grandma's since getting back and it turns out Elizabeth can suddenly swim! If she puts her face in the water it "hurts her throat" as she inadvertently inhales the water but head up she can swim right across the pool (more than 10m). Matthew has figured out how to swim on his own in a life jacket. So that's pretty cool.
We went to visit friend Claire who has recently moved to Ottawa and the kids were excited to find a new place to play. Elizabeth was confused that Claire's "basement is in the sky" (the basement is where the toys are, apparently). They want Claire to come visit soon.
When at the park, Elizabeth is all about the monkey bars and Matthew is all about swinging. Elizabeth will lift him onto the swing and push him "high into the tree". It's pretty adorable. He's very proud of his tricycling (he considers the tricycle more grownup than the balance bike because it has pedals).
You might also like
- St Nicholas Day
(0.393283)
- Mooney's Bay
(0.378088)
- Virtual School: Week 34
(0.377985)
- River Oak
(0.377732)
- Buskerfest
(0.376812)
All