October 2, 2015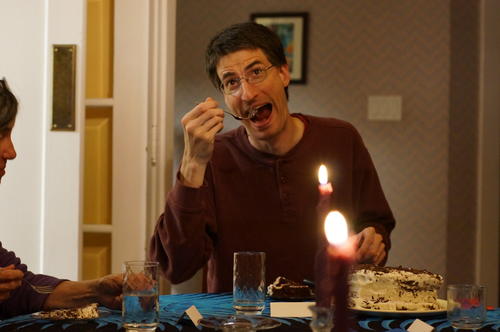 Lasagna, garlic bread, Caesar salad, corn and black forest cake (suitably modified to be gluten and oral allergy syndrome free) - it's the birthday boy's traditional meal!
Auntie Janice had too much fun wrapping her gift card. Brendan teased that he had flashbacks to when she was seven. She has ALWAYS loved wrapping things - when they first met she was going through a phase of wrapping a gift for anyone new. Said gift usually had about ten or twelve layers of paper, and it was the act of unwrapping that was obviously important as the gift was usually a random drawing. Or a Kleenex box!
Uncle Dave arranged the candles to be perfectly level with the help of an iPhone app, so they wouldn't drip. I might have given him a harder time than I should have...
You might also like
- Erika turns 12
(0.317901)
- Party weekend continues
(0.311828)
- Brendan's party
(0.30648)
- Erika is FIVE
(0.305825)
- Pooh Sticks
(0.30575)
All
September 28, 2015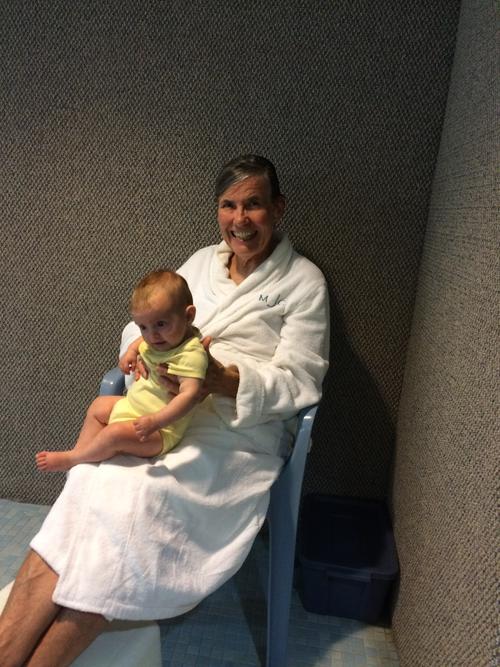 Milestone of sorts: Grandma and I went swimming with all three kids! And yes, both of us were in the pool at the same time at least for a few minutes.
Grandma says Amelia is already plotting what she's going to do when she gets her hands on her very own noodle.
You might also like
- Photo day
(0.304054)
- Tent sleepover
(0.302548)
- Bruce Pit
(0.301724)
- Fall
(0.299652)
- Amelia is 7
(0.299363)
All
September 27, 2015
Elizabeth and Matthew invited Amelia into the playhouse for the first time today. Mommy was only invited long enough to remove a very large, fuzzy and allegedly scary caterpillar.
Then they played house together for a while, which was confusing because Matthew was playing Mommy and the other two were babies. "Amelia can't really be anything else yet" explained Elizabeth. I kept interrupting their game responding to the constant calls of "Mommy!" until finally Elizabeth suggested that they refer to me as "Real Mommy" for the rest of the afternoon.
When they got tired of house they made gluten-free mud pies for a while before suggesting we go to the park. Along the way they decided to ask our new neighbours a couple doors down to come too, which was exciting since their nearly three kids are almost exactly the same age as our three (number three is coming in a couple of weeks). It's probably the last time the splash park will be operational and the weather warm enough but Elizabeth, Simon and Martin all went swimming. After a suitable interval on the monkey bars (Elizabeth) and swings (Matthew), of course. At the park we bumped into some of Elizabeth's friends from school and discovered that not only does one of them live around the corner from us, but their old neighbour just moved across the street from us last year. So all of a sudden there are tons of kids around that my kids are friends with and could theoretically go play with - without having to do a massive playdate coordination with parents first!
You might also like
- Party Day
(0.39364)
- Mother's day
(0.393182)
- Grading
(0.388565)
- First day of "preschool"
(0.387597)
- Family Day
(0.386545)
All
September 26, 2015
Xander is now four (FOUR!) and we had a great time at his spiderman party.
The silly string webs were pretty hilariously cool. The littlest kids couldn't really operate them independently which allowed the adults to get a turn as well.. Bwah hahaha!
There was a spidermaze and spider cupcakes and many spiderwebs. The real question is whether Auntie Karen will learn to love spiders as much as her son!
You might also like
- Street Sweepers
(0.291358)
- Park with Xander
(0.280098)
- Dinosaur Museum
(0.277916)
- Family Day
(0.277264)
- Dentist
(0.270833)
All
September 20, 2015
Brendan was complaining that it was cold this morning but I laughed at him.
After church we went to Brewer park for a picnic and played with Adi, her brother Tristan and her moms.
Brendan grabbed a hunk of ice on his way past the arena and chucked it at me. "See!" he crowed. "I told you it was cold this morning!"
Then we told the kids it was snowing. There were BIG eyes. Adi totally believed us. Elizabeth was highly skeptical. But they were quite happy to make the first snowman of the season. Then Lise-Anne treated the kids to ice cream from the ice cream truck. Adi and Elizabeth settled on ice cream sandwiches, while Tristan and Matthew had a batman ice cream with gumball eyes. Brendan got to finish it off (it was HUGE). Apparently it tasted blue. The girls got the gumballs...
We bumped into Tom and not-so-little Claire at the park too - pretty fun that they live so close that this is a thing now!

You might also like
- Virtual School: Week 21
(0.328147)
- Winter came back, the very next day
(0.326014)
- Christmas Eve
(0.325495)
- Iain and Renee
(0.324324)
- Vera, Astra and Magnus
(0.321839)
All