October 7, 2015
At four months, Amelia has discovered how to roll over! Front to back and back to front. She tends to roll from her back to her front and then sits way up high on her belly, the better to grab at the target object (there's always a target object).
She has a long attention span and loves to play with her toys... and some of her siblings' toys too. This is not always sanctioned - after Matthew's beloved (tiny) plastic dinosaur was rescued from her mouth we've started talking to the kids about putting things away they don't want eaten or destroyed. "We can just rescue it from her poo, like that bead Matthew ate when he was a baby" said Elizabeth helpfully.
She's definitely spitting up less, although she has not exactly stopped. She's actually been known to go a whole day without puking on anyone, but then she tends to make up for it shortly thereafter.
She's still a great sleeper. Frequently I put her down at night around 7pm, she wakes up briefly for a snack around 10pm and 2am before waking up again at 7am. I usually sleep through the 2am feeding. Actually she doesn't really wake up all the way - with her eyes firmly closed she just opens her mouth and wiggles around until she finds food! She's now mobile enough that I've started paying attention to where I leave her as we don't want her to roll off the bed!
She's a very happy and smiley little girl who is easy to look after - I'm very much enjoying her babyhood. Grandma J was surprised when I said that as our perceptions are entirely different. I feel like Amelia hardly ever cries and when she does it's always for a good reason that can be fixed. BUT... everyone else assures me that is only true if I'm the one holding Amelia. She's happy to be held by others under the right circumstances. Once she's decided she wants Mommy she's got quite an incredible wail and I am told it does NOT stop until I arrive.
You might also like:
-
23 Months
-
Nine months
-
10 Months
-
13 months
-
5 months
October 6, 2015
Now that Elizabeth is in grade one, she is expected to do homework. When I first discovered this I was a little concerned because we already have a full enough schedule and I didn't want to replace our carefully considered activities with busy work with little to no benefit.
But since I already freaked out on the teacher prematurely once this year I decided to wait and see what was involved before worrying about it. Turns out that Elizabeth is supposed to do fifteen minutes or less, four times a week and this involves her reading a book and then writing a couple of sentences. Since we were already doing this, I decided it was okay to switch from English to French.
I'm not quite sure why Elizabeth is SO ENTHUSIASTIC about homework, but she definitely was super excited to finally begin. "Finally, I get to do school at home", she gloated. This was perplexing since we do math homeschool and piano practice nearly every single day, in addition to the odd other homeschool stuff, but apparently that isn't real.
You might also like:
-
Progressive Supper
-
Crystal Gardens
-
First stripe!
-
Cousins move in
-
Hike in the woods
October 5, 2015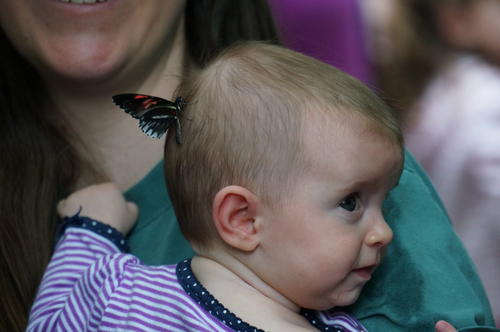 We pulled Elizabeth out of school a bit early because we wanted to limit the number of recesses while her nose was still fragile (aka chances to whack it again). Also the butterflies were in town and we've learned that it's best not to go on a weekend...
Brendan has a zoom lens this year... Can you tell? He took many pictures while I wrangled all three kids and tried to avoid crushing delicate insects. Elizabeth and Matthew were less paranoid about the butterflies, but Matthew flatly refused to hold an orange with butterfly. "It might bite me", he declared. Elizabeth didn't want to at first either, but after Amelia wore a butterfly on her head for a while she decided they obviously weren't dangerous and then was disappointed that she couldn't hold ALL the butterflies.
You might also like:
-
Butterflies 2014
-
Carleton Butterfly show 2016
-
Butterflies 2017
-
Jello bath and peaches
-
Lac des Loups
October 4, 2015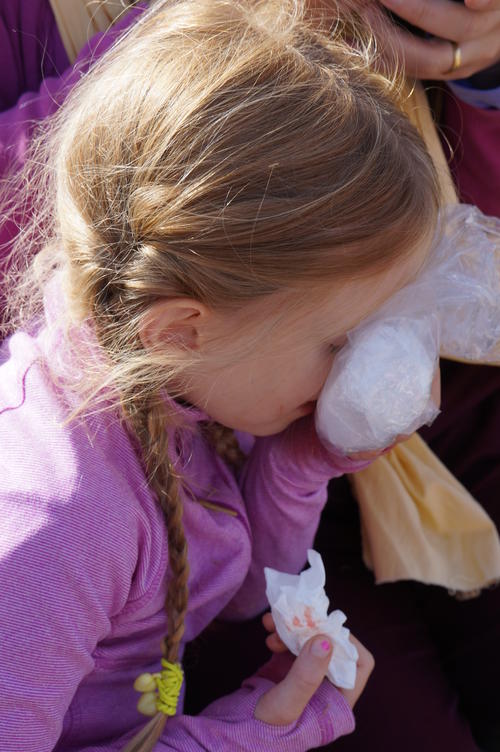 We had been plotting to go apple picking for quite some time. We'd also been plotting a play date with Elizabeth's friend Karis from church and with Aidan and company. Being ones to try and optimize our time as best as we are able we did the only sensible thing and combined the three activities. After church we all piled into the car and headed home for a quick lunch before dashing off to the orchard. Forty minutes later we pulled in along with 12000 of our closest friends. The place was a zoo. A very well organized zoo, but a zoo none the less. Dianne and her mom and the kids pulled up just as we were getting out of the van and we all headed over toward the entrance marvelling at our great foresight in all arriving at the same time and actually finding each other amongst the hoards. A few of us needed to use the facilities and so the rest headed over to the "straw jump" to wait for a couple of minutes. The kids climbed and jumped and crawled and were having a great time until... as Elizabeth later described it she failed to put her hands in front of her when she fell down.
And that was the end of apple picking for the day as Karis and Matthew did not want to go apple picking without Elizabeth, and Elizabeth wasn't fit for anything. Daddy acquired some ice from the owners of Mountain Orchards and after a few minutes we decided to head home. The owners insisted on giving us some free donuts, and would have given us free apples but I was too rattled by the whole thing to accept. Karis thought the donuts were pretty good. "At least we didn't have to pay" she said! "I'd rather have paid and not hurt my nose!" wailed Elizabeth. Karis had been advocating very strongly to do "work first, then play" as that is apparently their family rule. Elizabeth and Matthew have now taken this principle to heart. "If we had listened to Karis", Elizabeth pointed out "I probably wouldn't have hurt myself. And we would have had a tractor ride and some apples."
Once home, we had a quick consultation with our neighbour (who happens to be a pediatrician) and she confirmed she'd take her to CHEO if it was her kid. So Daddy and Elizabeth headed to CHEO and Matthew and Amelia and I waited at home. The doctors got Elizabeth to sniff in both nostrils (to check for blockages) and checked her out thoroughly. They concluded that the reason the one side took a really long time to stop bleeding was probably due to leftover hemangioma on that side but that even if the nose was broken, since it was very even there was nothing to be done. "Just don't bang it again", they instructed.
You might also like:
-
Flying Squirrel
-
Family Day
-
Missed the bus, Concussion, Matthew gets a stripe
-
London
-
Apple Picking Reprise
October 2, 2015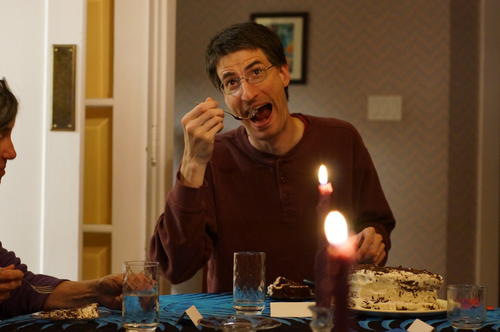 Lasagna, garlic bread, Caesar salad, corn and black forest cake (suitably modified to be gluten and oral allergy syndrome free) - it's the birthday boy's traditional meal!
Auntie Janice had too much fun wrapping her gift card. Brendan teased that he had flashbacks to when she was seven. She has ALWAYS loved wrapping things - when they first met she was going through a phase of wrapping a gift for anyone new. Said gift usually had about ten or twelve layers of paper, and it was the act of unwrapping that was obviously important as the gift was usually a random drawing. Or a Kleenex box!
Uncle Dave arranged the candles to be perfectly level with the help of an iPhone app, so they wouldn't drip. I might have given him a harder time than I should have...
You might also like:
-
Erika turns 12
-
Party weekend continues
-
Brendan's party
-
Erika is FIVE
-
Pooh Sticks