October 18, 2015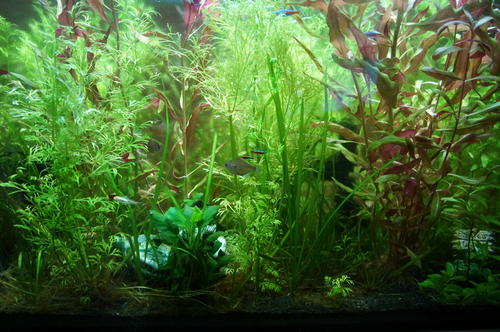 Frost is finally in the air. We've brought in all the tomatoes and even our poor watermelon plants (yeah - that didn't work that well...) As the outdoor garden winds up for the season it's nice that at least some of our plants aren't hibernating for the winter.
The aquarium plants are thriving. Perhaps Brendan has overdone it slightly - he regularly has to be quite aggressive with the pruning shears lest the fish run out of space to swim....
You might also like
- Cousin Week: Balloon Cars and Airplanes
(0.279915)
- Farewell
(0.271768)
- Heidi and Tante Elfi
(0.27163)
- Auntie Janice
(0.267368)
- Lessons and Carols
(0.266541)
All
October 16, 2015
We celebrated Grandma J's birthday with lasagna and carrot cake. By this point I was too sick with what turned out to be pneumonia to even contemplate cooking. So Auntie Janice came to the rescue again. She might have had a wee bit too much fun decorating the cake - it looked fantastic!
Somewhere around here I did actually go to the doctor and get fancy antibiotics and prednisone and stuff like that. Matthew and Amelia both had quite the coughs too. Brendan slept in a different room for a couple of weeks away from what we dubbed the "percussion section" in an attempt to keep one functional parent. Even so, at the peak I received simultaneous texts from the other occupants of the house demanding to know if we were okay - I guess all that coughing was pretty impressive. Thankfully, although I've been having to go to bed with the kids and been taking it very, very easy, the drugs did help reverse the slide into ill health!
You might also like
- Life with two kids
(0.366176)
- Grandir Ensemble
(0.355207)
- Birthday party
(0.354005)
- Canada Day Part 1: Aviation Museum
(0.351029)
- Fancy hotel
(0.347719)
All
October 13, 2015
Matthew and Elizabeth have been taking lessons at Dovercourt again Tuesday afternoons. We felt that Elizabeth's instructor last time around was a bit of a pushover - the girls got along very well but when Elizabeth didn't want to do whatever it was her instructor asked Elizabeth just stalled and giggled and stalled some more. So progress was slow and we asked for a change. This time her instructor is much firmer - he literally pushed her into the pool when she was dithering about jumping in which is exactly what she needs. We're happy to report that she's not only swimming but actually starting to work on technique and stuff which is pretty exciting. And she now jumps in when instructed without five minutes of giggling first.
Expectations for Matthew have always been a bit lower given his age but he and his instructor Ross are great buddies. The other instructors have made it a point to tell us they think he and Matthew are the "cutest thing in the pool" and we have to agree.
You might also like
- Dovercourt
(0.385445)
- Skating
(0.369845)
- Ollie Otter goes swimming
(0.366619)
- Sheep Shearing
(0.361823)
- Summer week 3
(0.359584)
All
October 12, 2015
Remember Baby Summit 2010? We got together with most of those not-so-baby kids again for a 2015 edition and this time the babies were old enough to play at the park! Amelia was the only actual baby this time around though. Francis and Victoria were there in 2010 even though we didn't get a photo for some reason. But Claire was in Toronto back then, and Natalie and Theo were across the pond this time. Simon and Matthew of course are more recent editions.
I was still not feeling that great, but it was really nice and warm so I figured a little fresh air couldn't hurt too much. There were lots of muffins, which were appreciated by my kids in great quantity.
Claire is a great organizer and kept trying to get all the other kids to line up and do various things. Elizabeth was quite willing to humour her except that she got confused by the rapidly changing and often conflicting instructions. "Hold my hand" Claire demanded, but then wouldn't put out her hand. It was most amusing, especially when Elizabeth later confided that "maternelles are like that sometimes". There was much playing. The dock was super attractive and everyone crowded onto it until it started to sink. After that we took turns.
The conversation was fun, the company was brilliant and it was totally sad that I wasn't feeling very well. Hopefully the next summit is sooner than 2020!
Elizabeth was sad that Nora couldn't come home and have a sleepover. We've promised to go to Boston in the spring...

You might also like
- Ultrasound
(0.401804)
- Broken nose
(0.396985)
- Social Distancing: Day 3
(0.396568)
- Music
(0.394203)
- Amelia 21 months
(0.39171)
All
October 11, 2015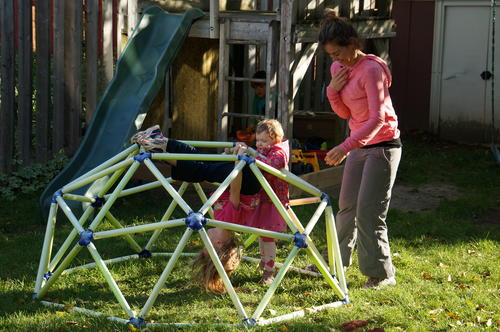 After the apple picking hijinks my cold took a sharp turn for the worse. I seriously contemplated staying home from Thanksgiving dinner, but Matthew probably wouldn't have gone happily without me and the idea of no dinner plus dealing with the two youngest didn't seem appealing. Besides, I was sure it was mostly asthma, lingering on from the bad cold I'd been fighting.
But as the day wore on, my cough seemed to get worse. I probably should have taken my temperature at that point as I discovered a few days later that part of the problem was a persistent fever over 38.6C
I started to make food, but needed to deal with Amelia and asked Brendan and Janice to finish up. I had also been planning to make the pies, but was too cold to get out of bed and Amelia was not cooperating. So Janice took over and made her first pies ever! She tried three different recipes and we all got to compare. I was pretty thankful not to be cooking. It's probably a testament to how sick I was that I don't really remember much of Thanksgiving dinner.

The kids look like they had fun in the photos though! The jungle gym thing is from Just Play Toys rental place. Xander picked it to play with for a month as part of his birthday present. Elizabeth thought it was awesome!
You might also like
- Decision making study
(0.388095)
- Quilt Show
(0.384615)
- Party
(0.384199)
- Happy New Year!
(0.383971)
- Climbing dome
(0.382244)
All