November 5, 2015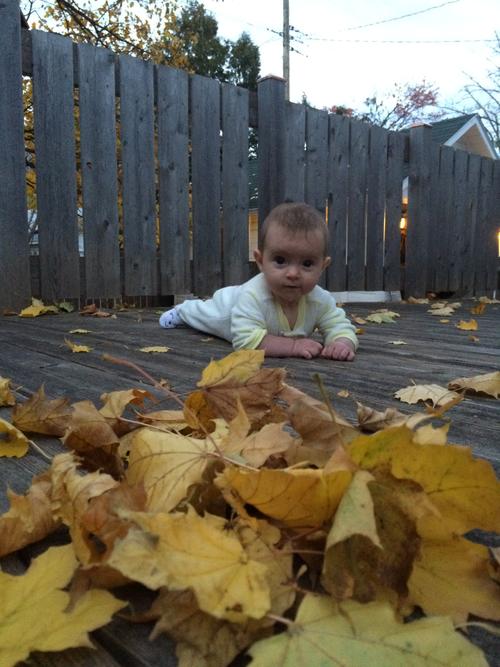 It is solidly autumn here now and for once our tree has actually changed colour to something other than muddy brown! The leaves have even mostly fallen and it hasn't snowed on them first. It was super windy the other day and most of the leaves on the front lawn obligingly blew elsewhere, so we only had the backyard to sweep. Interestingly, it appears we only have one squirrel nest in the tree at the moment (compared to over a dozen some years), and I'm pretty sure there were significantly fewer leaves to rake now that we are missing that one large branch we had to have removed earlier.
All that to say that we were able to rake up our leaves in just one afternoon session. The kids were actually helpful, once Elizabeth got over her fear of being stung by wasps. She did insist on changing her pants before raking though - the ones she wore are quite loose so that any wasps up her pants would "be able to get out quicklier" and I had to stamp on each pile before she'd go near it.
You might also like
- Braking Leaves
(0.372765)
- Blood Pressure
(0.355619)
- Chewing
(0.346859)
- Fancy hotel
(0.345098)
- Valentines
(0.343939)
All
November 4, 2015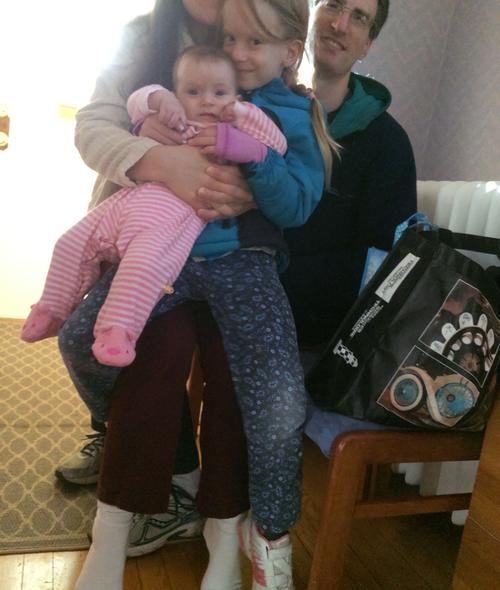 We try to pray as a family on our way out to catch the bus as part of our morning routine. Usually this requires some physical wrangling of the younger set who haven't quite gotten all their wiggles out by this point (and possibly need the potty).
The other day Elizabeth decided all the girls should sit on Daddy's lap. This was considered hilarious enough that everyone cooperated for once. And then Matthew was designated official photographer to record the moment. So far his photographer's eye appears to be mostly drawn to feet ;)
You might also like
- Skating on the Canal
(0.318584)
- Old fashioned Christmas
(0.318115)
- Feeding the birds
(0.315044)
- Muriel and Pat come to visit
(0.314376)
- Butterflies 2017
(0.310606)
All
November 3, 2015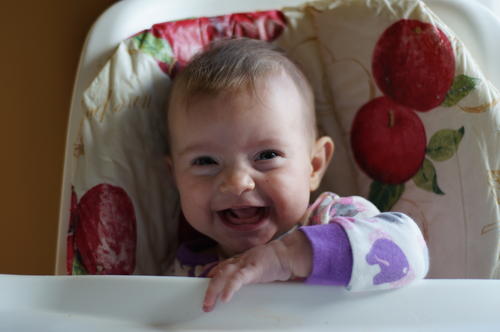 At five months, Amelia loves to play! She has a very long attention span and a wide infectious grin that she bestows liberally on everyone (especially her siblings). Her desire to grab things - and stuff them in her mouth - has fuelled her determination to conquer her limbs. Result: she is now rolling easily from front to back and has started "flying" - the precursor to crawling in our experience! In fact she is somewhat mobile, as we keep reminding the older kids after she slithered over to Matthew's baby dinosaur and very nearly ate it!
She's now tried out the exersaucer and the jolly jumper. The exersaucer is slightly more useful because the toys are attached; the problem with the jolly jumper is that she tends to lose her toys and then shrieks until someone brings it back. She really likes her toys, though she does get frustrated when they don't play the way she wants. A favourite is a bead maze along which she loves to push the beads. But then she yanks the whole thing over to gum and not only does it bonk her on the head every single time, but it doesn't fit in her mouth! (If this was a hashtag, I'd choose #babyproblems!)
Amelia now joins us at the table for meals from time to time. Singing prayers and getting to hold hands with Elizabeth is hugely popular, although she also seems to enjoy Daddy helping her with the actions to Johnny Appleseed or the Superman grace. She loves music class, loves watching her siblings at their various extracurricular activities, and eating anything she can stuff in her now more drooly than puke-y mouth (yes, she's teething...)
Still don't have a good sense of when she naps, but she sleeps a lot and often just passes out wherever she is. Despite much napping she generally sleeps most of the night too. I hope this continues!
You might also like
- Matthew turns 8
(0.424893)
- 7.5 ish years
(0.420508)
- Two!
(0.419869)
- 11 months
(0.418469)
- 19 months
(0.415804)
All
October 31, 2015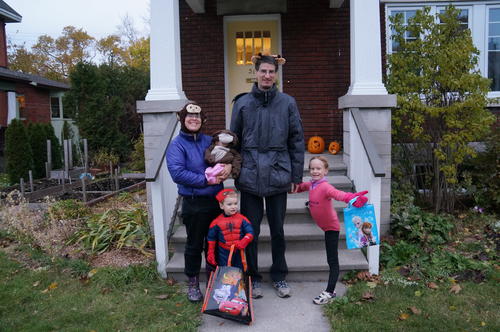 It appears that Halloween is the first time we have all posed together for a family portrait since Amelia was born, and Amelia's costume obstructs her face, so I'm not sure it counts. Shocking! We don't have too many photos of just the three kids together either. Clearly we are falling down on our paparazzi duties...
In any case, our neighbours got into decorating and the kids loved it except for the climbing tree getting wrapped in spider web. Which apparently offended Matthew and Elizabeth's sensibilities so much that we had to discuss Halloween decorations every. single. time. we went outside. Matthew liked the spiders though and made me take out several extremely disgusting books about spiders from the library. Actually I at first told him that I didn't know where the spider books were (true), thinking that we could go back to checking out books about tractors and babies (previous obsessions). But my kids both know their way around the library and he just marched over to Susan the librarian and demanded spider books. "Stories about spiders, or real spiders?" she asked. "WEAL spiders. BIG spiders!" he elaborated. Auntie Karen should stay out of that section, is all I'm saying. I dreamt about baby tarantulas all night that bedtime.
Ahem. Back to Halloween. Auntie Yukiko gifted us with a set for carving pumpkins before she left for Japan and we have now tested it out. It makes it so much easier! The haunted house turned out very well, I thought, though I personally had absolutely nothing to do with it.
Elizabeth had skating in the morning and didn't want to be gymnastics girl on skates (plus the costume would not have fit over the coat, I don't think). So she was a bunny. Elf Auntie Janice went to work with prosthetic ears she actually glued on. She made them herself. Matthew was slightly concerned they might not come off again.
We had pumpkin stroganoff for supper, as per tradition. Then the kids all went trick-or-treating at 5:30pm and half the street was all out (because suddenly there are a ton of tiny kids) and being all - don't go to my house until I get home but make sure you stop by! We met several new neighbours which was cool except I'm not sure that they'll recognize me next time without the toddler costume on my head. Matthew was pretty excited to get candy but after about five houses he was all "time to go home and start eating this". Elizabeth made him keep going for a few houses because she wanted to visit her friend's house across the street, but eventually he insisted he was done.
Then Daddy and Elizabeth dashed off to Adi's neighbourhood to do some more serious trick-or-treating and Matthew got into the candy... I mean ... went to bed early... We might have run out of candy and dealt with it by handing out some of the candy collected earlier by my children. Despite this we did not have a candy shortage the next morning. Elizabeth proudly announced to her Sunday school class that she ate candy for breakfast and didn't have to brush her teeth afterwards. Whoops!
You might also like
- Family Day
(0.465944)
- Pumpkin picking
(0.450288)
- 5th Birthday Party
(0.449483)
- St Patrick\u2019s day
(0.449185)
- Flying Squirrel
(0.448845)
All
October 25, 2015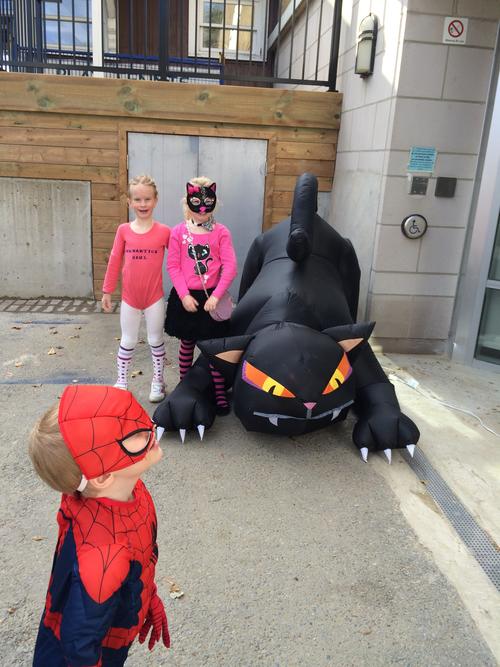 We invited Adi to come with us to the local community centre's annual Halloween party, where Gymnastics Girl, 'PIDER BOY' and Monkey baby tried out their costumes. Auntie Janice gave us a sneak peek at her costume too...
Matthew was sad that he was too short to go in his favourite bouncy castle, so Elizabeth helped him on the other one with a less strict height guideline. After the bouncy castles the kids went around to all the stations and got their requisite prize stamps to trade in for candy. There was much sugar consumed. "Want an extra bag of candy for good luck?" the volunteer asked? "Want to fill in another sheet to get another prize?" NOPE.
Matthew did all the same games as the older girls except for pin the coconut on the palm tree- he flatly refused to be blindfolded on the grounds that it was too scary.
We also went to a short Halloween play that ended with candy being thrown into the audience and walked through the haunted house (*not the one that came with a disclaimer stating no kids under eight though*)
I was amused to find myself bumping into all kinds of kids and parents that I knew. I guess we've started to actually get to know our neighbourhood!
You might also like
- Cooking Class
(0.375148)
- Halloween
(0.374424)
- All Saints and GNAG Halloween Party
(0.370582)
- Great Glebe Garage Sale
(0.363636)
- Dance Camp
(0.359212)
All