December 15, 2015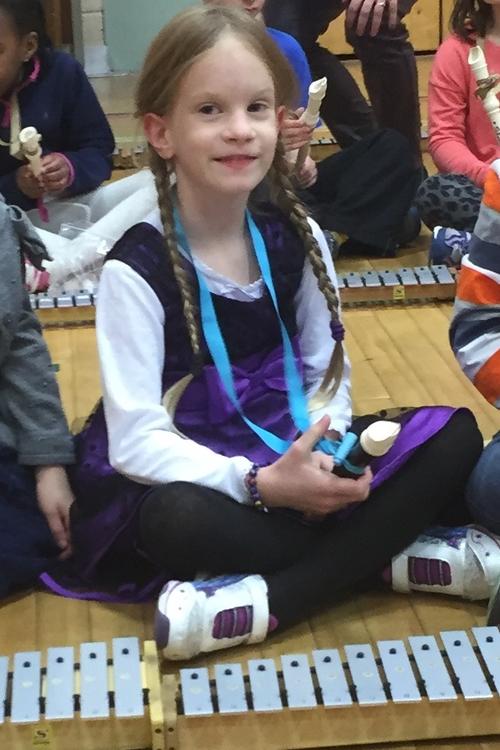 Elizabeth had her annual Christmas concert today and we duly headed over to the school to watch. Our video of this auspicious event has a much better view of Elizabeth than we did - apparently we should have arrived MUCH earlier! Unlike kindergarten the kids weren't on stage so it was really hard to see. Luckily Daddy was able to stick the camera way up high in the air with the zoom on...
They sang a few Christmas songs, including one "Petits oiseaux" that Elizabeth insists is partly in "another language". I guess some of the words are sung quickly eg it's usually sung "tee oiseaux" instead of "PEtit". Some of the songs they sang with words, and some they repeated with the note names instead of words eg sol, la, si, la, sol, la, si, sol, la. I was amused to find out that many of the kids were clearly more comfortable singing the notes as the volume increased appreciably (Elizabeth certainly is, I guess they sang the notes more often in class).
There was a xylophone piece. Not being able to see, I thought they were playing bells - it was only later when the grade twos came on that I realized it was the xylophones. Seeing the later grades was instructive; the kids really DID improve...
Then the highly anticipated recorder piece. Let's just say I nearly died laughing. Imagine eighty grade ones playing the recorder at the same time, most of which have no music background. They were NOT good, but OH so proud. The music teacher ran up and down the line hollering out "1", "2", "3" for fingering while small children puffed away with (too much) vim and vigour. It was hilariously awful and I'm just sad we can't share the video widely. As I told Janice, that music teacher deserves danger pay.
You might also like:
-
Grade 1 update
-
La lièvre et la tortue
-
Doctor visit
-
Musical Breeze
-
Gingerbread the 20th
December 14, 2015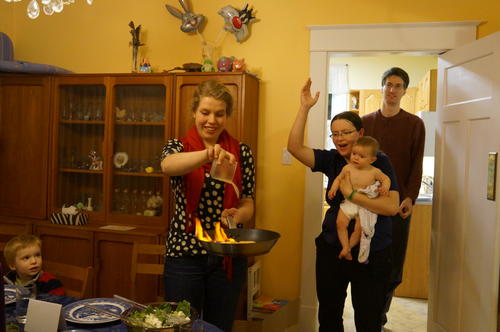 I was at the cheese store getting raclette supplies, so of course I decided to get some saganaki cheese as well. I started going to The House of Cheese in the Byward market after the other local option refused to give me a price for a half round over the phone on the grounds that I "couldn't afford it", but I keep going because they have quite the amazing cheese selection (six different kinds of raclette cheese this year! I went with the Swiss...) Not sure if they recognized me or if it was because I jokingly asked them whether they could remember what kind of cheese we bought last year, but they gave me a 15% discount too!
Having acquired saganaki cheese, I decided it was time to introduce Lorianne to Greek night and flaming cheese! I forgot to get a lemon; we improvised... Greek salad, lemon rice, boiled baby potatoes, gluten-free pita and tzaziki sauce... Brendan barbequed in the rain. Janice picked fresh mint from the garden (December 14th in Ottawa and stuff is still growing!!!) and made her tzaziki alternative (she's allergic to cucumber). It was a feast! There were raspberries and chocolate gluten free cake for dessert.
After the kids were in bed and the dishes were done, Brendan found out that Lorianne and I had never tried eggnog before. Janice volunteered to drive to the store and the next thing we knew, it was time to get cultured. "The fudge of milks", declared Lorianne. I think I will continue letting Brendan consume all the eggnog ;)
You might also like:
-
Raclette
-
Michael is baptized
-
Hike in the woods
-
Winter Feast
-
Big Apple
December 13, 2015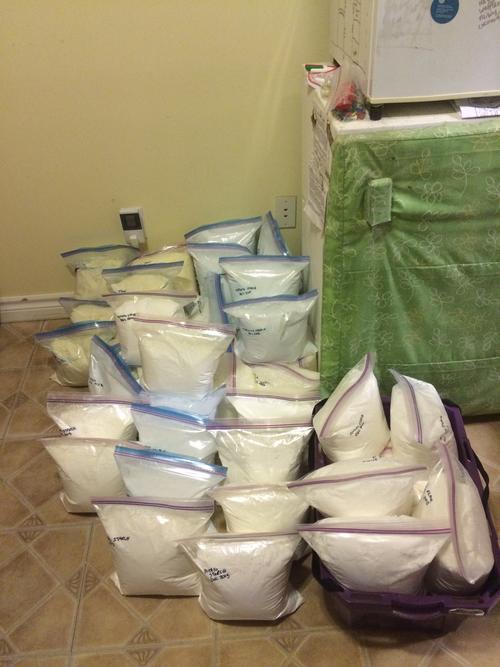 The regulations in Canada recently changed such that bulk bins are no longer allowed to make a gluten free claim for gluten free items that are opened on the floor. It's too easy for cross-contamination to occur. I had been dithering back and forth for some time as to whether gluten-free flours from Bulk Barn were safe (many fellow celiacs on the various celiac advice boards that I follow felt strongly that they were not), but this ruling clinched matters for me.
Our local bulk barn has pretty good procedures in place but I feel that now that items are not marked gluten free and the policy is officially that cross-contamination is inevitable it really isn't safe for me to consume flour from Bulk Barn any longer.
That posed a problem, because flour from the grocery store only comes in about 2 cup packages. It's more expensive too. I queried other celiacs to find out what they were doing. Seems like I may bake slightly more than average (!) but of those looking for bulk flour, some were ordering from the States, and some were still risking Bulk Barn or similar, some were buying a million small packages. Then someone mentioned they buy their flour from Bulk Barn unopened at a 20% discount!
One thing led to another.
I ended up ordering approximately $400 or 250 pounds of various flours (my favourite pancake mix, and ingredients to make up our favourite gluten free all purpose flour blend - rice flour, corn flour, corn starch, potato starch and tapioca starch). Janice was amused to discover that the corn starch had an explosive powder warning on it.
The Bulk Barn didn't require me to make any kind of deposit, but I was warned they would want me to come and get it the day it came in (Saturday, approximately two days after I ordered). They called about three times on the Saturday before they were able to speak to me - I gather it was occupying the manager's office. Then I made the cashier's day by paying for it and gingerbread supplies at the same time. "You're my new record for highest overall sale" he exulted. I couldn't even pay by credit card without triggering a manager's override (Manager: "I've never seen THAT before"). I guess most of their bulk orders are companies rather than individuals buying retail.
I now have my own gluten free Bulk barn in the garage as the rest of the house is too hot!
You might also like:
-
Pandemic ER
-
Child Labour
-
-
Homeschool wk apr 20-24
-
Hawaii
December 12, 2015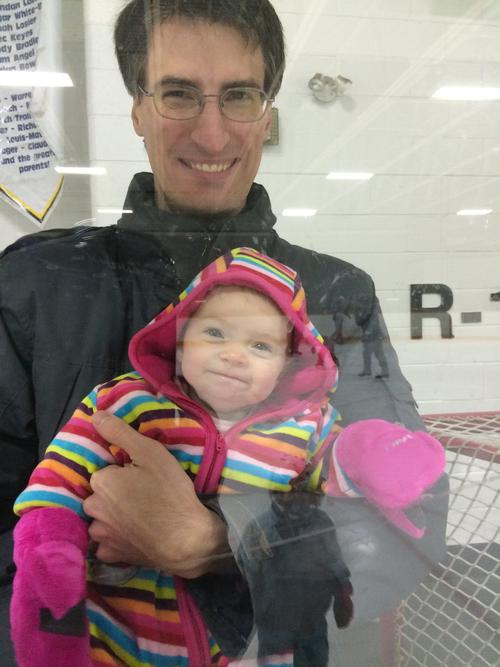 The kids have been taking skating classes at different times this year because I didn't get around to registering them for class until too late (trying to coordinate classes is pretty annoying, sigh) It's actually worked okay as each kid got some one on one time with Mommy and Daddy but we're looking forward to when they get to go skating at the same time again! They had skating shows at the end of their sessions this term and I got to try out my new skates for the first time while encouraging Matthew to skate into the middle and back again. He's actually got quite a fast shuffle forwards and can go backwards, if he wants to... Brendan says he spent many classes trying to convince him to listen to his teacher rather than crawl on the ice or play in the puddles left by the zamboni... Elizabeth says she likes skating classes because she's very good at it. Her favourite part is doing crossovers. "That's when you put one foot over the other and you go in circles." Elizabeth likes to go very fast and she also likes to jump. Daddy says she's officially exceeded his skill level. At least he still has an advantage in speed due to his long legs but we expect that won't last - she's frighteningly good at tag on skates!
You might also like:
-
Skating
-
Skating
-
Matthew's first skating class
-
LRT Grand Opening
-
Homeschool wk may 19-22
December 11, 2015
Matthew has been going to Sportball on Fridays and tumbling class on Thursdays at our local community centre. I've been trying to bike or walk more often after Matthew told one too many people that his class was really far away, so far that we have to drive... (I have had to resort to driving too many times due to bad planning, rather than distance!) Why do you like Sportball, I asked Matthew. "Jenna give me ball. Uh huh. Sometimes me go to tumbling class wif Miss Deanna and NO mommy but portball I can bring Mommy. Uh huh. Tomorrow I got to wear my 'piderman tostume. Me do jumping jacks and hockey and me do huly hoop and one train on magic line but normally me play wif real trains outside with Mill (Camille his friend). Me yike Mill."
You might also like:
-
18 months
-
Isabelle is TWO
-
First Outing
-
Curly hair
-
23 Months