January 3, 2016
I took the kids sledding (or "Bogonning" as Elizabeth likes to say) for the first time this season as we FINALLY HAVE SNOW!!! Yahoo! We got about 26cm while we were away apparently and came home to a driveway full of snow and cranky notes on our mail from the mailman. Auntie Janice's car was so covered in snow that she had to shovel out the door in order to open it. Then she moved it forward so that Brendan could get the snow blower out and Brendan had to shovel her out again because she was trapped!
The kids are LOVING it. Anyway, I drove to the Agriculture museum because I figured it was probably too cold for the kids to walk all the way to the Arboretum and back in addition to sledding. But there was no parking at the Arboretum. We randomly ran into Elizabeth's teacher at the top of the hill, which was amusing but also nice because I realized I'd forgotten to warn her that Elizabeth was going to be late for her first day back at school tomorrow due to an optometrist appointment. Ottawa is a small town, you guys!
The first time down any hill is always terrifying to me and I insist on holding onto the sled and kind of sliding with it. Plus I don't let the kids go down from the top of the hill, or at the steepest part. I'm such a spoilsport. But I gradually loosened up. Elizabeth didn't think it was fair that Matthew got to ride up the hill as well as down, but it was rather steep. After a while we went to a less insane part of the hill and I let Elizabeth go by herself. And then we started all going in the sled together because it was faster and I still didn't want to let Matthew go. Elizabeth wanted to keep sledding but Matthew was starting to get cold. I realized I probably let them do one too many runs because it was a good ten minute walk back to the car and by the time we got there Matthew was thoroughly chilled and both kids were wailing about how cold their hands were. But after a bit of warming up in front of Curious George and some hot chocolate they wanted to know how soon they could go back.
Less fun was Janice needing a second ambulance ride after a second epipen since Christmas.
You might also like
- Chickadees
(0.427521)
- 52 cm of Snow
(0.407098)
- Gingerbread the 20th
(0.401541)
- Virtual School: Week 12
(0.400722)
- Hawaii
(0.400694)
All
January 2, 2016
We must not have traumatized Grandma Margaret too much because she invited us to come swimming the day after our trip. Amelia is old enough to come in too (which is good because she would no longer be content to hang out on the side anymore!)
She was clearly just WAITING to be allowed to get into the pool. My kids have all enjoyed the water, and I thought Matthew seemed really comfortable in the water from day one but Amelia is a total water baby. She was kicking as if she was ready to swim all by herself and when I flipped her onto her back she just relaxed onto my shoulder and started kicking. I was even able to swim around the whole pool with her - it was as if we'd been swimming with her for months instead of her very first time.
It was the craziest thing, but kind of nice!
You might also like
- First swimming pool
(0.370766)
- Dovercourt
(0.367461)
- Camp Otonabee
(0.362832)
- Ollie Otter goes swimming
(0.360902)
- Maria's first swim
(0.357664)
All
January 1, 2016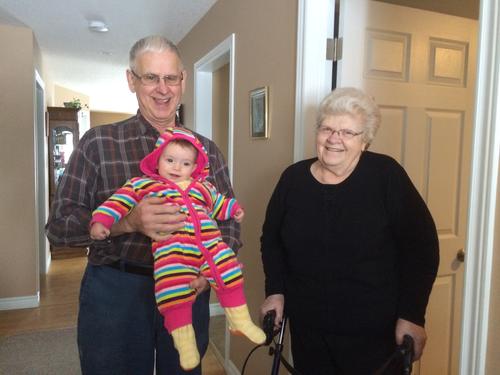 We paid a quick visit to Great (Great) Aunt Esther and Great (Great) Uncle Roy (who live next door to Auntie Mary) before heading back to Ottawa. Elizabeth and Grandma H made a snow mouse. Auntie Janice decorated our lunches, which we brought with us so that we wouldn't have to stop on the way home. Amelia had her first tangerine (hilarious faces, but popular).
Matthew in particular was not well behaved on the way home. Every time Amelia fell asleep, he'd poke her until she woke up. Seriously overtired baby was not a happy camper as a result. We finally moved him to the back next to Elizabeth. Then he was kicking Auntie Janice's seat. She was not a happy camper either! But we made good time and everyone got home in one piece...
You might also like
- First snow 2015
(0.348162)
- Room swap
(0.345745)
- Sleepover
(0.342715)
- Family time
(0.34188)
- Matthew is Two!
(0.341791)
All
December 31, 2015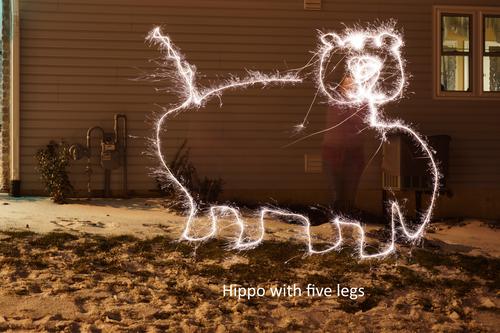 Grandma and Auntie Mary took the big kids outside to play in the snow and go on a walk around the pond to visit Santa while Karen and Dave packed up to drive home to Ottawa. I got to feed Theo his breakfast and he eats! (In comparison, none of my kids ever ate anything at that age. The older two because they were picky and Amelia because she hasn't quite figured out how to manage her tongue yet) It was very fun. He's a remarkably tidy eater.
Then we headed off to Uncle John and Joanne's to pick up Grandma Margaret, and to borrow a piano. Elizabeth and Auntie Joanne had WAY too much fun practicing together. Matthew wants to know when he gets to practice piano too(!) We admired her music Christmas tree very much. The golden bird is new this year in honour of Great Grandpa B.
Auntie Mary has a new tree too, and it comes with its own remote to change the colour (this was popular, as you might imagine). I always love looking at ornaments on people's trees and it's pretty cool that Mary's tree reflects her 22 years up North. Lots of fur to touch (that's polar bear, I believe!)
Then we went and spent some time at Grandma's. She was tired but chatted away with us and clearly knew who we all were, even Brendan's mom! Someone brought adult colouring books for us and I have to say - such a brilliant idea. My grandmother directed us all to colour (even told us where to sit) so was able to feel she was providing some hospitality and it was something to do that wasn't sitting around in a nursing home feeling awkward. I wish this had been a thing for visits with my Grandma H with Alzheimer's!
After dark, we had the traditional drawing with sparklers, courtesy of Janice. She might need to work on her cursive... And her counting of legs for bear-hippos. But actually it was pretty fun to watch her leaping and occasionally crashing around the icy cold hill outside from the comfort of Mary's house.
We put the kids to bed and I did a countdown to the new year with them (one at a time lol). Matthew enjoyed that part so much I counted down twice! Then we played Scrabble and went to bed. I think Janice, Margaret and Mary stayed up to make sure the New Year came in properly but the rest of us might have been in bed before midnight.
You might also like
- 19 Months
(0.422242)
- Chickadees
(0.422091)
- Visiting Great Grandma
(0.421594)
- London
(0.421429)
- Grading for a brown belt
(0.416826)
All
December 30, 2015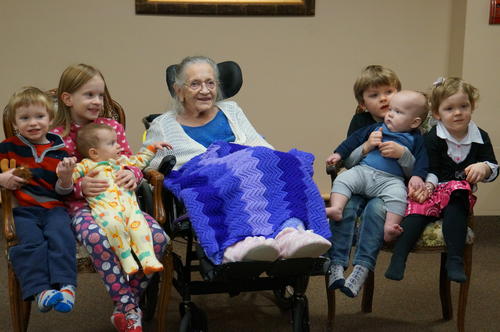 My grandmother is extremely ill and is now considered palliative.
So my mom came home from Angola to visit for some of her last days and in anticipation of a funeral. My mom hasn't been too well herself - some of you know she was recently quite ill with malaria followed by typhoid followed by an allergic reaction to the antibiotics that were supposed to be helping her - so we were very glad that she was well enough to travel and to see for ourselves that she is in fact on the mend!
There was some question of whether my grandmother would even make it to our big family gathering - she was hallucinating things like fire on her lap and some days not really responding at. One of my aunts thought it prudent to warn us that we wouldn't see the Grandma that we were used to. So it was quite surreal to get there and have Grandma come down in her wheelchair and interact with all of us completely normally. She was talking and joking with us, and remembered all of our names - even Brendan's mom, whom she has not seen in years! It's clear she perked up immensely for our visit ("I got to see my great grandchildren!" she gloated to a nurse). Even though she was so poorly she still arranged for presents for everyone. Girls got slippers and boys got socks. It was bittersweet that we got to have such a good visit and even managed some great photos, as we were very aware these would probably be the last time this side of heaven. Some family didn't arrive until later but we thought it best not to wait and I'm glad we didn't as Grandma did get tired quite abruptly. She didn't even remember getting back to her bed!
After Grandma went back to bed there was still much partying to be done and good food to eat. Cousin Chris was taught the proper way to flame a Christmas pudding with the booze we smuggled into the nursing home for the purpose. The kids mostly ran around playing a game that turned various uncles into tickle monsters, but Elizabeth surprised me by getting absorbed by a board game. She's growing up!

You might also like
- Christmas Pukefest
(0.407946)
- Christmas
(0.400831)
- 21 Months
(0.400706)
- Lorianne is home
(0.39982)
- Dr Lynn is leaving :(
(0.399332)
All