February 16, 2016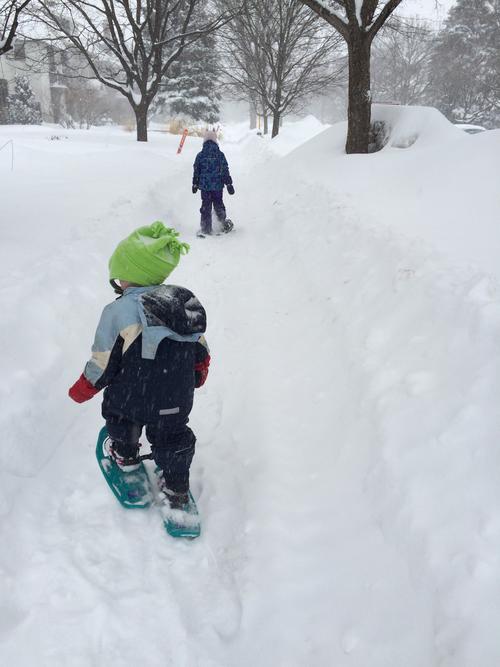 52 cm of snow at once! The kids were SUPER excited and I might have been a wee bit too! It was also a snow day. We didn't drive Elizabeth to school but we did all go to music class and then to the library. Elizabeth was pretty pleased to get to be Amelia's "helper" for music "... because I'm really too big to go to a baby class now Mom" said she, sparking fury from Matthew who was not happy about his beloved music class being characterized as for babies. Although there are definitely babies who participate and Amelia isn't even the youngest anymore!
By the time we got home around noon the snow was coming down heavily enough that I cancelled any ideas I had about driving anywhere else for the rest of the day. The plows were having a hard time keeping up and even the main roads were pretty terrible.
Eventually it stopped snowing quite so much and we decided we needed to clear the driveway. I was borrowing some snow shoes from Grandma J so the kids and I promptly put on our snowshoes and headed outside. I even shovelled a bit, wearing snow shoes with sleeping baby strapped to my chest. Does it get more Canadian than that?!?! Elizabeth was running up and down snow banks and generally having a blast. Matthew had a bit more trouble as he kept stepping on his own feet and having to be hauled back up but loved the snow!
There's a new app for tracking your snow plows in Ottawa this year and it's been pretty terrible so far. But this time after it went all day telling us that it wasn't about to give us an estimate since residential road plowing hadn't started yet (fair enough), when I finally checked the estimate was pretty good. Mind you, it had previously told Brendan 20 minutes about an hour and a half before that. But I still think it's an awesome concept and every storm they are getting better... Plus it's amazing to me that people basically still all went to work and we still received courier packages etc all day.
You might also like
- First outings: Music, library, karate
(0.45233)
- Family Day
(0.448009)
- Buskerfest
(0.424327)
- River Oak
(0.423039)
- First day of "preschool"
(0.416842)
All
February 15, 2016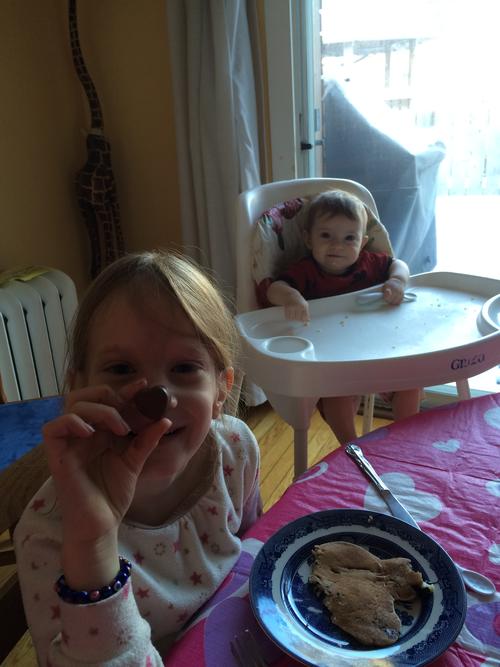 I didn't get around to doing much with Valentine's Day yesterday, so we celebrated today with heart shaped pancakes, special letters and cards and lots of chocolate! Elizabeth wrote many cards for her friends at school, many of which I found hilariously creepy (including the always popular "I like your pants" "Really?" I said. "I don't know what else to say!" said Elizabeth "She has pretty cool pants" "Ok then", I said)
Then the whole family went swimming AND skating with Grandma. The ice wasn't great and the wind was quite something so we didn't go too far. On the way home the kids complained bitterly about the wind in their faces so we covered them up with scarves and hats. They couldn't see but they didn't mind and Matthew actually fell asleep in the sled. Amelia slept the whole time all cozily covered up. It was too cold for the phones so we only got one picture before the phone died but we had fun.
You might also like
- PD Day
(0.396597)
- Ski
(0.373353)
- Matthew is Two!
(0.368201)
- Smiley Face Pancakes
(0.367107)
- Victoria Day
(0.365672)
All
February 14, 2016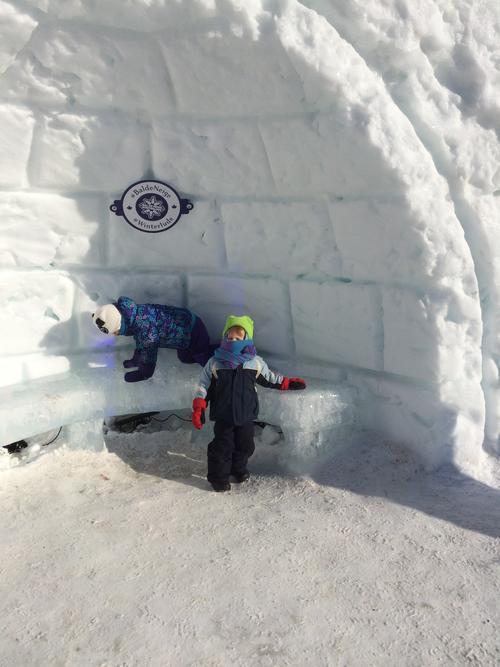 It was super cold for the last Winterlude weekend (of course) with extreme cold warnings for Saturday and Sunday. Family day Monday was supposed to warm up significantly, so we figured the line-ups for the ice slides would be ridiculous as everyone else would be waiting for the warm weather.
I wasn't too scared by the extreme weather warning in any case because we have good snow gear. Also, last year I took Erika and Elizabeth sliding on an extreme cold weather day but we didn't get too chilly because we warmed up in between and the lack of lines meant we weren't standing around waiting.
Brendan took Amelia home as it was really too cold for a baby to be out and rest of us caught the bus over to Jacques Cartier park.
It was a gloriously sunny day and we had a really good time. My phone battery died after about thirty seconds due to the extreme cold so no pictures of the actual ice sliding or of Elizabeth being an extra for a kid's TV program. Anyone know of a series that recently showed a blue wizard sliding down the ice slides into a foam wall? I can't remember the name of the show but Elizabeth got to jump around with a foam finger for the blue team. Matthew could have too but he bailed in the middle of the first take, partly because he was cold and feeling shy and partly because he spotted the Winterlude baby dragon Cybčle doing a dance and he wanted to dance too.
All too soon it was time to catch the bus back to Ottawa. I didn't want to risk frostbite, so we got off at the stop conveniently outside Grandma's house and borrowed her phone. The kids may have had cookies and hot chocolate for supper. Then we had a family movie night (Despicable Me) and now we know what minions are.

You might also like
- Family Day
(0.409762)
- Bogonning
(0.398472)
- Halloween
(0.391304)
- Grading for a brown belt
(0.388773)
- Strike Day
(0.388704)
All
February 13, 2016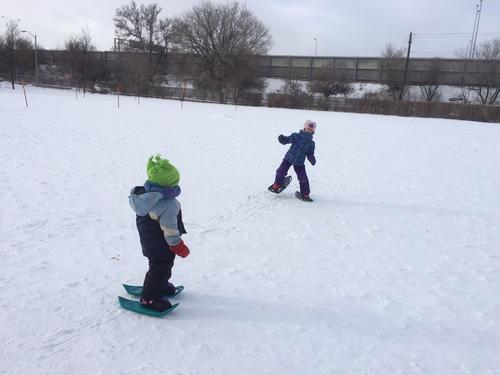 It was -45C with the windchill here (-29C "real" temperature) so obviously it was a good day to introduce the kids to snowshoeing.
Grandma J gave the kids snowshoes for their birthdays and they were too excited to wait until it warmed up to use them. We put on two pairs of everything except underwear, three sweaters and our warmest winter gear. We drove to the park, hopped them out of number one pair boots into snowshoe attached boots (my kids have two sets of boots each) and off they went. They both could easily march around - Elizabeth even started running. She wanted to stay out longer than the short time I had decided was safe for Matthew but mindful of the "extreme cold weather advisory" complete with advice about how to treat frozen eyeballs I didn't want to overdo it. So we drove home for hot chocolate and nachos. No one got frostbite but I was glad we didn't walk to the park as I think that would have ended badly.
Auntie Janice helped demonstrate some cold weather science for Lorianne (we did bubbles too but no photos - it was too warm by the time we got around to that). And then it was time to say goodbye to Angie until next year. The kids were very very sorry to see her go.
You might also like
- Winterlude (Ice slides)
(0.368231)
- Lac des Loups
(0.362914)
- Christmas
(0.358324)
- Happy Birthday Janice!
(0.358056)
- Rachel and Andrew
(0.355342)
All
February 12, 2016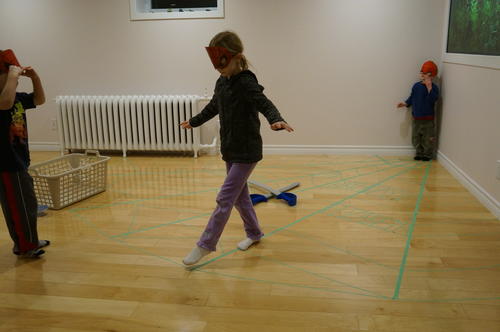 Elizabeth and Matthew had a hard time deciding on a "theme" for their combined birthday party. Matthew wanted Spiderman. Elizabeth did not. Matthew wouldn't budge, so eventually we settled on "My favourite things", which basically was . Spiderman and Minnie Mouse plates. Yellow (Elizabeth's current favourite colour) and green (Matthew's current favourite colour) napkins. The kids also got new cups, because Matthew really wanted one and he also really wanted Isabelle and Xander to have something to take home after the party. Well okay then!
The kids asked for broccoli, spaghetti and meatballs for supper. Elizabeth wanted an elephant cake. Matthew wanted spiders (of course). The cakes had to be chocolate.
We might have done slightly more spider-themed games - I figured that Elizabeth would get her fill at her friend party later this month. They had to retrieve balls with tongs without touching the yarn "web" and walk along tape on the floor avoiding obstacles. They would have liked to keep the tape for much longer, but Daddy was a bit afraid it would damage the finish.
This *might* be the last time we get away with combining birthdays, we'll see...
You might also like
- Thanksgiving
(0.361905)
- Xander
(0.361832)
- Smiley Face Pancakes
(0.358757)
- Piano Recital
(0.353994)
- Crachel
(0.353741)
All