March 17, 2016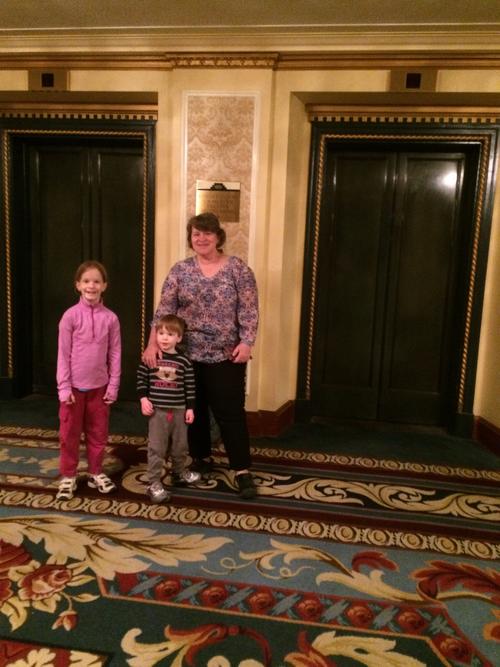 The kids weren't too sure what they thought of hotels but now they definitely are keen to do that again. We stayed at the Royal York. I was pretty impressed with their décor and the food. I couldn't have the buffet but the gluten free stuff they came up with was outstanding. The service was also really good. My kids' table manners not so much...
We had two double beds but partly because my kids sometimes kick and mostly because I didn't want to set any unfortunate precedents about who gets to sleep in a bed in a hotel room I made little beds for the kids on the floor. Each bed had two top sheets and about six pillows, so we were able to make two mattresses out of pillows, the extra sheet and some cushions from an armchair! Matthew might have drawn on the fancy sheets, to my great horror. So he was banned from using the hotel stationery after that.
All good things must come to an end and we had to head back to Ottawa. I was chagrined to find that we were in a real economy car this time, and not only didn't we get seats facing each other, we actually were a row apart! I offered to switch with the random stranger between us but she declined so after that I didn't worry about my kids bugging her too much. The kids were actually pretty great. Matthew even decided to brave the toilet, which was MUCH nicer than the one in business class (go figure). Elizabeth expertly dealt with Amelia while I took Matthew to the bathroom - she was super helpful. Overall I'd say the kids were quite well behaved on the train.
You might also like
- St Nicholas Day
(0.422367)
- River Oak
(0.405631)
- About the boy
(0.403046)
- Skating
(0.400455)
- Virtual school: Week 3
(0.400189)
All
March 16, 2016
I wanted to visit the aquarium in Toronto and there was definite appeal in not having to drive to Toronto prior to getting on the train. So Auntie Mary, the kids and I drove to Toronto and checked into the hotel right across from the train station! We even had a view of the CN Tower from our beds!
Before we left for Toronto we had breakfast with Aunt Judy C at Schmidsville (my first time). I was quite amused that they handed out coloured Styrofoam peanuts - the kind that melt in water - instead of the typical crayons. The kids loved building stuff with them!
Elizabeth wasn't keen on leaving the hippo house but was reconciled to the hotel when she found out Mary was coming with us.
At first we thought about doing the whole CN Tower thing as well as the aquarium but when we discovered it was over $100 we decided we'll wait until the kids are old enough to remember the experience. We ruled out the zoo when we discovered it was far away and the panda lines were apparently more than 90 minutes for five minutes of viewing.
The aquarium was quite wonderful! We deliberately timed our visit for after the peak March Break time as per their website. It was still quite busy but we didn't have to wait to get on the longest moving sidewalk in North America that takes you through shark lagoon. We could have easily spent all day there and thoroughly enjoyed ourselves.
You might also like
- Downhill skiing
(0.379723)
- Pumpkin picking
(0.379017)
- River Oak
(0.378991)
- Pregnancy Announcement
(0.377539)
- Camp Otonabee
(0.37697)
All
March 15, 2016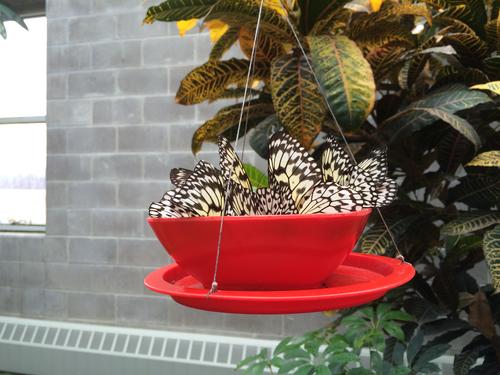 When in farm country, surrounded by cousins who are farmers, it seems logical to seize any opportunity to expose my children to exotic animals like cows and pigs. So off we went to visit my first cousin once removed. Elizabeth was not sure about the smell, which surprised me because she doesn't complain about the Agriculture museum farm and I think they are similar. But it is true that we haven't been much since Matthew's bout of c. jejuni in the summer as I was pretty convinced he picked that up after randomly licking the railings in the cow barn. Elizabeth was slightly horrified to find out that their beef calf is not exactly a pet. The kids thought the best part of the visit was meeting the farm dog (after it was shut away in a pen) and getting cupcakes to take home.
After driving past my mom's cousin John's sugar bush (look at the sap in the buckets!) we headed for Cambridge, where we introduced the kids to a restaurant that isn't Swiss Chalet (!) Elizabeth and Matthew have concluded that we may add milestones to the list of acceptable restaurants because while they do not hand out Skittles, they hand out highly breakable plastic figures in your straws. Note to self: I still need to dispose of the giraffe legs floating around my coat pocket.
Auntie Mary wanted a car wash. I think Elizabeth has experienced this once before but it was certainly Matthew and Amelia's first time. It was one of the highlights of the trip. We had a bit of a frantic moment when the wash started and the fancy automatic windshield wipers started going but luckily Mary knew how to turn them off!
In Cambridge, Elizabeth made the local paper contemplating whether she was brave enough to eat a cricket. The butterfly conservatory there is like a permanent version of the Carleton Butterfly show that comes here every fall, except it also has birds, turtles and a lot more space! I really wished I had the good camera! The kids patted a male cockroach and dressed up like butterflies. They were having a special exhibit on bugs-as-protein which actually fit in quite well with the bug exhibit at the museum of nature that I've been to a bunch of times with Matthew. There were cricket smoothies, mealworm grilled cheese and crickets, salsa and corn chips to eat. Elizabeth's response to "Want to eat a bug?" was an unqualified nope, but I craftily asked Matthew if he wanted a smoothie and he gulped it down and asked for more before anyone had a chance to put him off with talk about ingredients. So then Elizabeth braved the smoothie. Matthew ate the cheese sandwich pretty easily too. Moving on to the corn chip he was all keen and then noticed the dead bug nestled cozily in with the salsa, recoiled in horror and that was the end of that. Elizabeth was chagrined that her brother outdid her in the bravery department but just could not force herself to eat anything other than the smoother. Mary didn't manage either. I was concerned about whether it was gluten free so I didn't have to lead by example. LOL Having fed crickets to my pet frogs back in the day I doubt I'd be able to actually eat one though.
Then we headed off for my first working sugar bush visit! I'd been next door at cousin John's bush back in 2010, when I was surprised to discover that tree sap tastes like maple syrup - seems obvious now but I honestly was expecting something more sappy. This time we visited cousin David and Rosanna's bush and I got to see how the syrup is boiled! It was totally amazing - the way the sugar smoke hung in the air, the crackle of the fire, the boiling of the sap, the steady trickle of water condensing out the tube. Elizabeth and Matthew were quite taken by all the filters to take out any impurities. The sap is collected by lines connected to all the trees and there is a surprisingly strong suction on the line. Pretty cool! They have some "old fashioned" buckets too and Auntie Mary and David reminisced about hopping on and off the horse drawn wagon to collect those buckets back in the day. Now the farm produces 700 gallons of syrup, which you can buy at Sobey's. We got to drink some fresh out of the evaporator and I think it's the best syrup I've ever had. YUM
You might also like
- Doors Open: Robert O. Pickard Environmental Centre
(0.461437)
- Doors Open Ottawa
(0.461121)
- Great Grandma Funeral
(0.453837)
- Tornado!
(0.452168)
- Homeschool wk may 11-15
(0.45086)
All
March 14, 2016
The kids were excited to find that it's early spring in Wellesley. Flowers, no snow and umbrellas!!! Auntie Mary and Auntie Judy took the kids on two separate shopping expeditions to the Bulk store to buy birthday presents. Many items were seriously contemplated (and vetoed by mom). Elizabeth eventually settled on some baby bottles and soothers. Matthew on some duct tape to make a road and art supplies. Amelia really enjoyed walking along with the little shopping cart - she's definitely cruising now!
I was expecting to have difficulty locating a piano while we were away but Auntie Mary has acquired one. The kids made a dance floor with the floor puzzle pieces and had great fun making the keyboard play the drums and various other preset music. They got all dressed up with Great-Grandma's costume jewelry and generally had a blast. Cousin Jacob came over to dance too!
You might also like
- Rainy tulips
(0.345133)
- Ski
(0.343137)
- Christmas
(0.336114)
- Recitals
(0.333333)
- Easter egg hunt
(0.33209)
All
March 13, 2016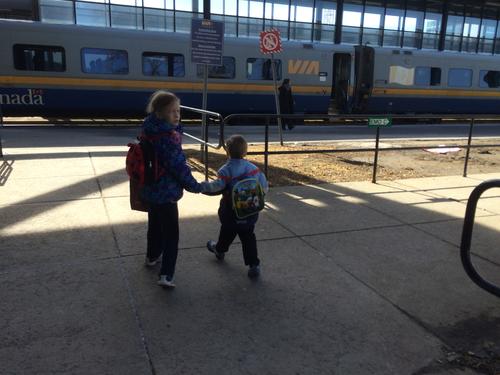 I decided to take the kids down to visit Aunt Mary in her Hippo house in Wellesley Ontario for part of March break. Brendan thought the idea of fourteen hours of driving solo with three kids was possibly unwise. So we took the train instead.
We were lucky enough to have a business class carriage on our way down - leather seats, curtains AND four seats facing each other. The kids were bummed that we brought a picnic so I didn't let them order food or even a "teensy wincy juice box that we would share" but otherwise bounced around happily. No one amputated their fingers on the cool folding table, or electrocuted themselves on the non-childproof outlets, though this was not due to lack of trying. They also didn't manage to disassemble the curtains or seats - that was the point at which I mandated naps. After that they calmed down a bit!
I remember vividly the pain of schlepping a car seat + kid + suitcase around Union station the last time I took the train with then two-year-old Elizabeth. So I asked Mary to borrow one for Matthew and packed Elizabeth's booster. Amelia luckily still fits in a bucket. The kids had to carry their own daypacks but otherwise everything was in one suitcase which Elizabeth was actually capable of pulling if necessary. If travelling with three kids on the train, I highly recommend limiting luggage. It's also handy to have one kid that can't get away by virtue of being strapped in ;)
Matthew did his part to limit luggage by conveniently and suddenly toilet training two days before our trip. It was AMAZING to only have to pack diapers for one kid. He was really keen to pee on the train, but the business class toilet was horrible. It was dirty. It stunk. There was pee on the floor. In short he took one look and refused to use it. By the time we got to Swiss Chalet past Toronto hours later I was seriously concerned about an accident, and Matthew had decided he was "never going to pee again until we get home". Ultimately I prevailed but it was a near thing!
You might also like
- At Mary's
(0.409891)
- London
(0.406446)
- First day of "preschool"
(0.405841)
- Dr Lynn is leaving :(
(0.404115)
- Virtual school: Week 4
(0.403159)
All