March 21, 2016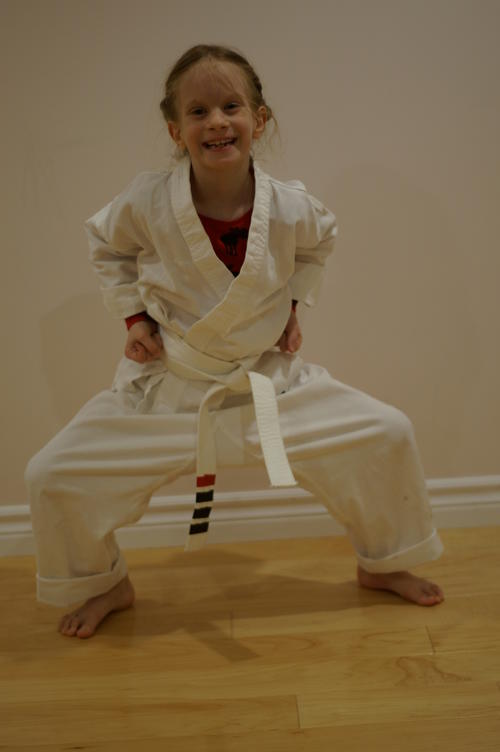 The Douvris dojo gives kids stripes on their belts to help measure progress so that they can feel encouraged between belts. The kids need to earn three black stripes, followed by a red stripe before they get a chance to test for their next belt.
Black stripe three came March 11th (lung infection and antibiotics notwithstanding; I did check with the doctor first about whether to keep her home!). Today she earned her red stripe.
We have had some discussions lately about not back-talking to Mom and Dad and generally showing more respect especially after Elizabeth was extremely rude to Auntie Mary while we were in Wellesley. In order to test for your belt, the karate dojo makes the parents and child fill out a form to evaluate general maturity. Is the child doing her chores? Homework? Listening to parents? Being respectful to those around her? Elizabeth burst out "but that has nothing to do with karate!!!". She was mortified to learn that the dojo takes her behaviour outside of classes as seriously as inside. After a very sober discussion, she's on notice to pull up her socks so that she is allowed to test for her white-yellow belt.
If all goes well, Elizabeth's test is April the 2nd. She is SUPER excited.
You might also like
- New doctor
(0.371661)
- Social Distancing: Day 3
(0.363546)
- Pandemic Karate
(0.357775)
- Red Stripe Test
(0.357337)
- Mother's day karate, spring fling and recital
(0.356195)
All
March 20, 2016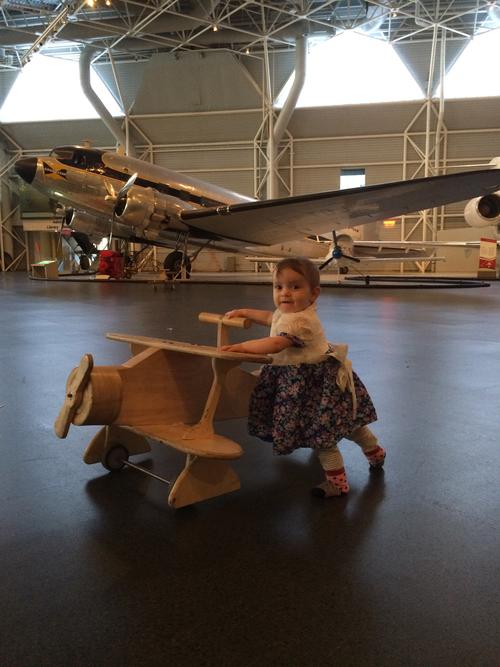 There were cool March Break activities going on at the Canada Space and Aviation museum while we were away. Janice told us we had better not miss them, so the kids and I headed to the museum to make playdough aliens and other Star Trek crafts. The crafts are Star Trek themed because the museum is getting a Star Trek themed exhibit soon which is going to be awesome. However, we haven't yet introduced Star Trek to the kids so they were a little bemused. "What's a tribble?" "Never mind, just throw the stuffie!"
Matthew has started referring to this as the "airport" museum. This drives Elizabeth insane "Are we picking anyone up? No. It's Air PLANE not Air PORT." Thus guaranteeing that it will be "airport" for a while yet...
Amelia had a great time pushing around her own little airplane - she's growing up fast!
You might also like
- Bug Day
(0.344123)
- Cottage Days: Jack and Olivia
(0.344051)
- MosaiCanada
(0.335404)
- Race Weekend (Children's Marathon)
(0.334898)
- Space Bubble
(0.33281)
All
March 19, 2016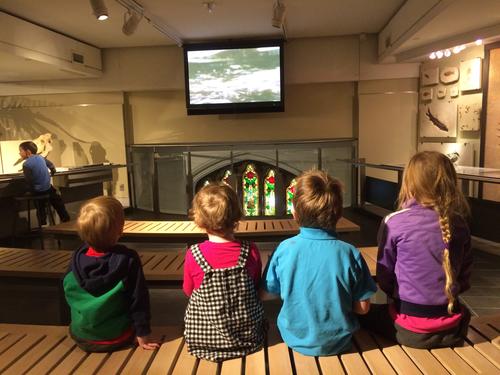 The kids and I went to see the dinosaurs, mammals and bugs at the Museum of Nature with Uncle Dave, Auntie Karen, and cousins Xander, Isabelle and Theo.
It's the last week for the bugs exhibit but we're excited to hear about a new dinosaur exhibit coming in June... Elizabeth and Xander got to help the paleontologists chip out some real dinosaur leg bones from their field jackets again. I think this is one of my favourite activities at the museum. Matthew and Isabelle used their big muscles to lift a tail bone. Matthew reckoned he needed to "help" Isabelle because it was so heavy. They also got to see a leg bone. "Why is it broken?" Matthew asked. "Well, my answer for you is that probably another dinosaur stepped on it" replied the paleontologist, winking at the adults. (Real answer is that they don't know)
You might also like
- Angie 2015
(0.367128)
- Good Friday
(0.335474)
- Auntie Karen's birthday
(0.334688)
- Cousin Marc
(0.329225)
- Ultimate Dinosaurs
(0.328431)
All
March 17, 2016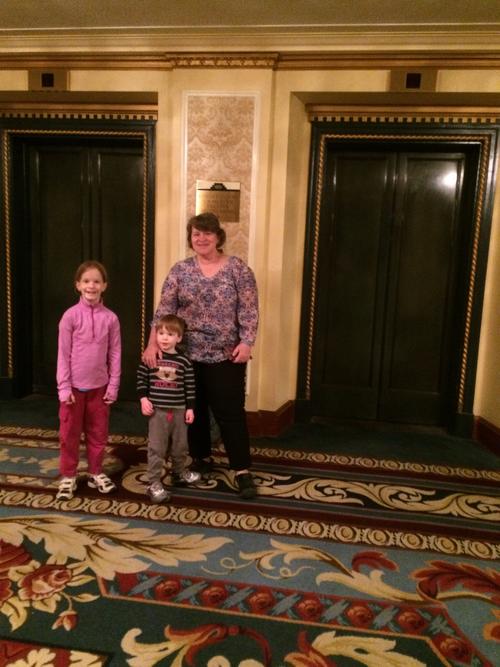 The kids weren't too sure what they thought of hotels but now they definitely are keen to do that again. We stayed at the Royal York. I was pretty impressed with their décor and the food. I couldn't have the buffet but the gluten free stuff they came up with was outstanding. The service was also really good. My kids' table manners not so much...
We had two double beds but partly because my kids sometimes kick and mostly because I didn't want to set any unfortunate precedents about who gets to sleep in a bed in a hotel room I made little beds for the kids on the floor. Each bed had two top sheets and about six pillows, so we were able to make two mattresses out of pillows, the extra sheet and some cushions from an armchair! Matthew might have drawn on the fancy sheets, to my great horror. So he was banned from using the hotel stationery after that.
All good things must come to an end and we had to head back to Ottawa. I was chagrined to find that we were in a real economy car this time, and not only didn't we get seats facing each other, we actually were a row apart! I offered to switch with the random stranger between us but she declined so after that I didn't worry about my kids bugging her too much. The kids were actually pretty great. Matthew even decided to brave the toilet, which was MUCH nicer than the one in business class (go figure). Elizabeth expertly dealt with Amelia while I took Matthew to the bathroom - she was super helpful. Overall I'd say the kids were quite well behaved on the train.
You might also like
- St Nicholas Day
(0.422367)
- River Oak
(0.405631)
- About the boy
(0.403046)
- Skating
(0.400455)
- Virtual school: Week 3
(0.400189)
All
March 16, 2016
I wanted to visit the aquarium in Toronto and there was definite appeal in not having to drive to Toronto prior to getting on the train. So Auntie Mary, the kids and I drove to Toronto and checked into the hotel right across from the train station! We even had a view of the CN Tower from our beds!
Before we left for Toronto we had breakfast with Aunt Judy C at Schmidsville (my first time). I was quite amused that they handed out coloured Styrofoam peanuts - the kind that melt in water - instead of the typical crayons. The kids loved building stuff with them!
Elizabeth wasn't keen on leaving the hippo house but was reconciled to the hotel when she found out Mary was coming with us.
At first we thought about doing the whole CN Tower thing as well as the aquarium but when we discovered it was over $100 we decided we'll wait until the kids are old enough to remember the experience. We ruled out the zoo when we discovered it was far away and the panda lines were apparently more than 90 minutes for five minutes of viewing.
The aquarium was quite wonderful! We deliberately timed our visit for after the peak March Break time as per their website. It was still quite busy but we didn't have to wait to get on the longest moving sidewalk in North America that takes you through shark lagoon. We could have easily spent all day there and thoroughly enjoyed ourselves.
You might also like
- Downhill skiing
(0.379723)
- Pumpkin picking
(0.379017)
- River Oak
(0.378991)
- Pregnancy Announcement
(0.377539)
- Camp Otonabee
(0.37697)
All