April 6, 2016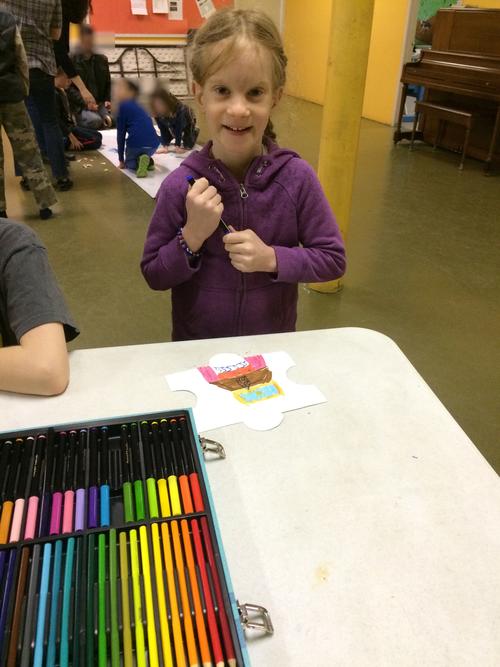 Elizabeth goes to school, but we do a lot of "school" at home as well.
Since I don't want to overload her with homework, during the school year we've mainly focussed on reading (which the school wants us to do as well anyway) and math. She's been steadily working through the Math-U-See Beta curriculum since Christmas and I've been really pleased with it. It's short enough that she can usually fit it in as part of our regular morning routine and she is definitely making progress.
To switch things up I've been giving her practice exams from Kangaroo Math which she really enjoys. I toyed with the idea of actually doing the Kangaroo Math exam but they scheduled her age group during church on Palm Sunday so that was that. In general she enjoys math, though she isn't super fond of word problems, especially the currency ones. Time to find some games that require making lots of change!
In any case, we had the opportunity to participate in an art unit for a homeschooling co-op recently. Elizabeth loves art and I think it's valuable to build connections with kids who aren't going to a traditional school (and the parents teaching said kids!), so I decided to go for it. At the time I signed up we had just come off the disastrous year that was SK so we figured there was a real possibility we'd be pulling her out of school for grade one. Luckily she has an amazing teacher but I decided that we could take Elizabeth out of school for the six mornings that co-op needed without jeopardizing her education! Or more precisely, without getting grief from her school...
Elizabeth really enjoyed the art unit. I leapt in with both feet and taught a unit on our first day about tempura (egg) paints. Super fascinating and I had never really considered before how much work making the paints and brushes must have been during the Renaissance. Not to mention how many eggs it must taken to paint some of the larger pieces! No one ever mentions what they did with the egg whites...
At the end of the unit they had a little art exhibition complete with decorations, food and music. It was awesome, though I was a little embarrassed about my own contribution which was definitely more on the "crafty" side as opposed to the "art" side.
You might also like
- Social Distancing: Day 3
(0.42651)
- MYC
(0.425277)
- Grade 1 update
(0.420954)
- Swimming lessons
(0.410256)
- Summer School Summer
(0.410142)
All
April 4, 2016
Elizabeth's MYC piano class has been in a friendly competition with the other two classes at her level for the past four classes (6 weeks). They were asked to keep track of how many times they practiced their piece between classes and then Mrs. Shana wrote down the overall score.
I was recently telling people that Elizabeth isn't that competitive - she doesn't like to stick out (although she does like to be the same or ideally just a little bit better than those around her). While true, apparently this did not at all apply to this competition. By the end she had played the piece more than twice as often as the other four kids in her class combined.
Elizabeth played this piece 400 times. Week 1: 33 times. Week 2: 77 times. Week 3 (March Break): 140 times. Week 4 (including Easter): 150 times. Hilariously, she missed the all time record number of times by a single rendition. Her reaction: "Mom, I TOLD you I should have played it eight more times." (I had suggested that an even 400 was quite enough.)
She tried a number of strategies for keeping it interesting - varying the tempo and dynamics, playing it up or down an octave, or holding down the pedal. Weeks 3/4 were the most difficult. She basically knew the piece and there was lots of March Break distraction. So I told her that she didn't have to play it. But she had set a goal and by golly she was going to make her goal. By the fifth week though she seemed to get into a groove and it became fun again. Quite an interesting little exercise because once she got over thinking "this is boring" and pushed into habit territory, playing the piece got fun again.
We are pretty proud. Terrified, but proud.
You might also like
- Nationals
(0.397235)
- Music
(0.388889)
- Sleepover time
(0.388421)
- Dovercourt
(0.387836)
- MYC
(0.387795)
All
April 3, 2016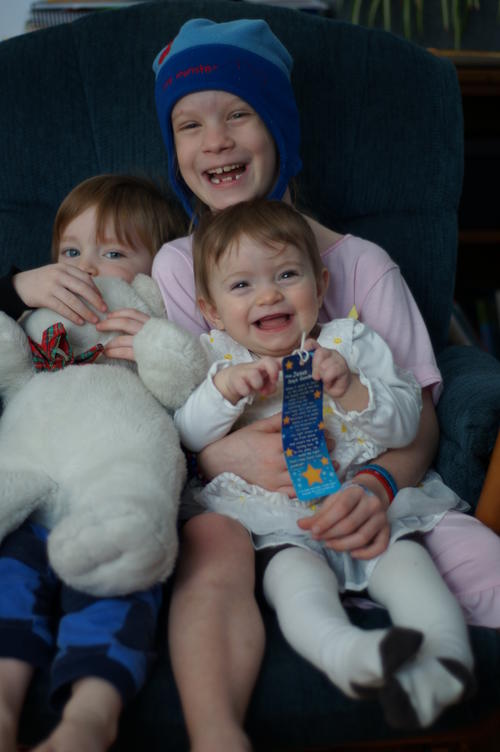 At ten months Amelia is a bundle of giggles and squeals of delight. This is the month that she's really mastered the stairs with fierce determination. Up and down and up and down and up and down... Most of the time she'll turn around if you tell her to go backwards, but there has been the occasional attempt at the faceplant-down-the-steps move.

She's now sitting up to play all the time - a skill she mastered while we were away for March break to show off to Daddy. She does like to play, even by herself for quite an extended period of time, as long as someone else is close by. She's a big fan of her siblings in particular and will go in search of them.
She's up to standing unassisted five or six seconds at a time and cruising around the furniture. She's even managed to climb up onto one of the little chairs (eek!). This means nothing is safe, as the raspberries left too close to the edge of our dining room table discovered to their peril...
She likes raspberries. She also likes lasagna, crackers, yogurt and chocolate cake. She does not like bananas, chicken or cheese. On the whole, eating is going much better. Her tongue still gets in the way for things being spoonfed but she's quite good at painting - er I mean feeding - herself... When she's done she'll very tidily drop everything off the edge of her tray (but can be redirected to put it all to one side if we are paying attention!)
She's starting to imitate what people are doing around her and particularly delights in peek-a-boo games. Amelia is also very much into opening cupboards. Lorianne's cupboard is out of bounds, so it's naturally one of the most interesting. Amelia is especially fascinated by Lorianne's very colourful cereal. When thwarted Amelia has a very loud screech and is not easily diverted. Luckily she is extremely charming most of the time!
You might also like
- 11 months
(0.451304)
- Amelia is ONE
(0.428454)
- Nine months
(0.421212)
- 10 Months
(0.405979)
- Fifteen months
(0.405726)
All
April 2, 2016
So Elizabeth and Adi took their belt tests today and now they are officially karate kids (moving up into the big kid class).
We had some time to kill between class and belt testing, but not enough time to go home and play. So we followed Adi's lead and headed to Tim Horton's across the street. Amelia seemed to approve of her first timbits. Matthew and Elizabeth had to try quite a few in order to conclude they like the chocolate ones the best...
You might also like
- Stripes
(0.310769)
- Bus fun
(0.306818)
- Stripes, stripes, stripes
(0.30491)
- Umbrella
(0.303797)
- January Duty day
(0.303448)
All
April 1, 2016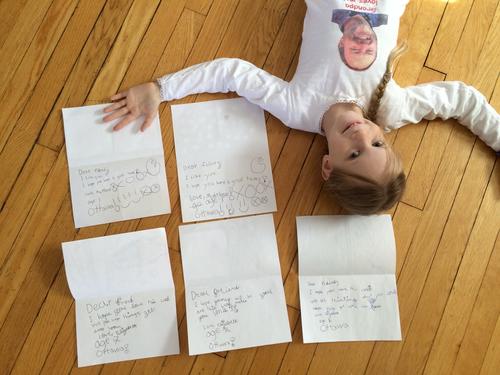 In general, Canada's a pretty amazing place to live but there are some places where living conditions are not so great.
Many of our First Nations reserves have been in the news lately due to out of control substance abuse and suicide rates. In Ottawa, the World Changing kids group joined Ladies that Lunch and put out a call for Kindness cards to go to Cross Lake (youth in the North had five specific requests: prayer, musical instruments, sports equipment, messages of support and hope and "things to keep us busy")
Elizabeth and Matthew worked hard to make their own cards.
You might also like
- Cottage Days: Jack and Olivia
(0.313726)
- RAida2017
(0.309154)
- Sleepover
(0.297436)
- Skating
(0.296875)
- Matthew
(0.293255)
All