April 16, 2016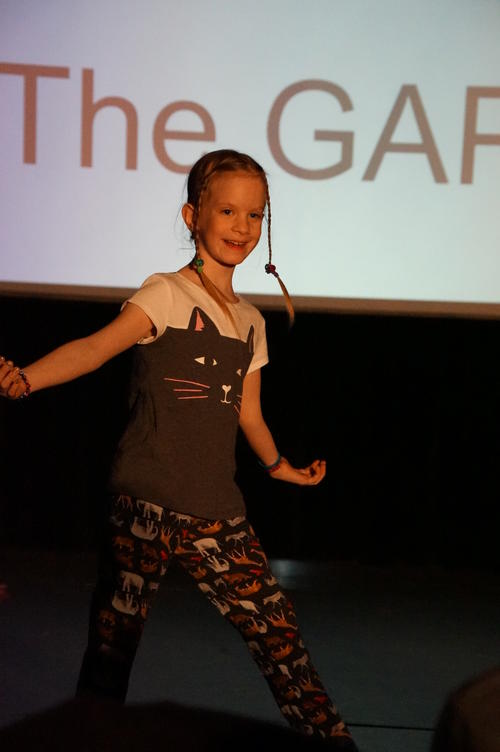 55 models. 16 stores, including some local designers! Over one hundred and thirty silent auction items. Nearly $18,000 raised for CHEO!!!
Our Elizabeth did a really great job modeling her clothes (big smile, nice pose!) and thoroughly enjoyed the fashion show. Matthew had a great time too, especially dancing with CHEO bear. It was loads of fun to see a number of neighbours in the lineup, including three year old Elizabeth from two doors down. The wee ones were super cute again. I thought the older kids had more confidence generally. Lots more backflips and cool poses. Noemie sure has some athletic friends!
The league of super heroes were a huge hit, though my kids didn't really know who any of them were and thought the Star Wars characters were pretty scary. "Mom!", Elizabeth said, pointing to Darth Vader "I think that one's supposed to be a bad guy!" Yup! I hope that she enjoys the movies when her mean parents finally let her watch Star Wars...
The Bears (and princesses!) were more approachable, though Matthew warmed up to Batman after discovering he was friends with Spider-Man. Pretty amazing costumes (and all the Heros were handmade!)
There were a ton of Beanie Boos being sold and I allowed my children to use their allowance to buy one. Because CLEARLY we have a severe stuffie shortage in our house... Oh well - it was for a good cause, right?
A day or so before the show Elizabeth went over to Noemie's to help cut out decorations (and eat many many cookies). She was super proud of the end result and pointed out some of the hearts she had helped make. Amelia may have enjoyed eating a few of them.
Noemie gave a polished welcome speech that any adult would have been pleased to give. Then they played a personal message from Sophie Grégoire-Trudeau!
Noemie was pretty happy. She's a pretty impressive young lady and we're pleased to have her as a role model for our kids living right next door!
You might also like
- Gingerbread the 20th
(0.423077)
- Delayed Halloween Party
(0.42171)
- Gingerbread
(0.40634)
- Snow, NAC, GNAG Halloween, dinner
(0.405362)
- Virtual School: Week 11
(0.402878)
All