April 23, 2016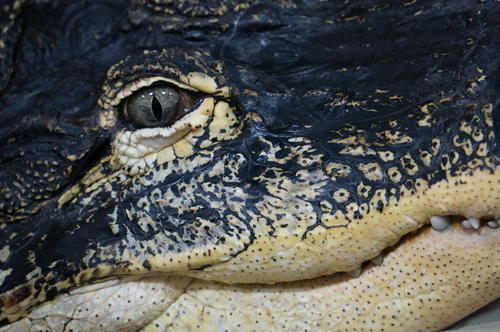 We went to see the Wildlife Festival put on by the Canadian Raptor Conservancy, Little Ray's Reptile Zoo, Papanack Park Zoo and Hands On Exotics!
There were lots of animals. The kids enjoyed petting them, including the fluffiest chicken I have ever seen in my life. We were disappointed but not exactly surprised not to be able to pat the baby lion - he was behind two sets of wire cages. We loved patting the alligator (Lady Chomps a lot). Apparently this three-legged animal just loves attention from people. Certainly she seemed super relaxed, unlike Amelia who was not about to touch her despite taped jaw!
We met up with Xander, Isabelle, Theo, Auntie Karen and her friend Sarah. Sarah was not a fan of the big snake but the big kids all snuck a little cuddle.
The kangaroo was sleeping most of the time but towards the end Elizabeth was thrilled to get a chance to feed him some Cheerios. She also tried to feed the camel but it was full by the time she managed to get the courage to put her hand close by and totally disinterested. Oh well!
One of the best parts as far as I was concerned was the bird of prey demonstration. We were quite surprised that they let such large birds fly around in such a tight space and with so many people - obviously super well trained!
Matthew was clearly exhausted as he actually fell asleep during the demo. We went home tired but happy.
You might also like
- Online groceries
(0.381198)
- Winter Celebration
(0.379784)
- Garden
(0.374326)
- At Mary's
(0.366465)
- #HappilyBenderAfter
(0.365532)
All
April 22, 2016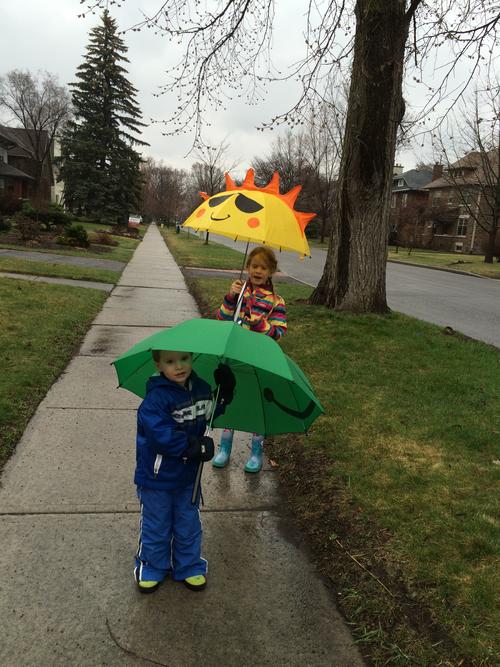 April showers bring May flowers, but this is looking to be one of Ottawa's driest Aprils on record (!) so we were happy to see the rain. Besides, then we get to use our umbrellas!
You might also like
- Full Black Belt
(0.253846)
- No place like home
(0.245455)
- Skate to church
(0.242718)
- Hail!
(0.240283)
- Mary Mary
(0.226519)
All
April 21, 2016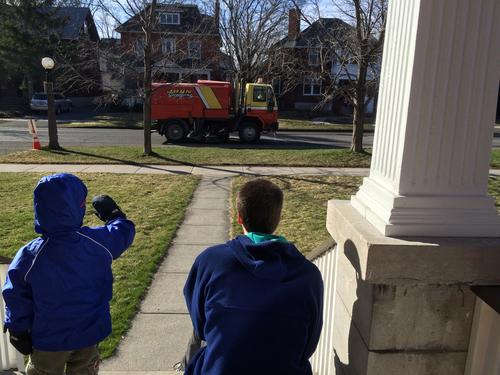 We know it's really spring because the street sweepers have arrived. A posse of a half dozen or so went up and down our street today, not including the sidewalk cleaners - they went by a few days ago. Matthew and Amelia watched, wide-eyed.
Finally broke down and went to the doctor after Janice got antibiotics for ear/chest. Besides, my ear has been very sore for at least a week & I can't hear out of it well. "The ear is the least of your problems. You must have a really high tolerance for chest infections", said nice nurse practitioner after listening to my chest. It's apparently spectacular. Double ear infection too. Matthew coughed so hard he threw up the other day and Amelia is purring. So I thought maybe we'd better get their chests and ears checked too. Sadly no pediatricians available but random walk-in guy has prescribed puffer + antibiotics for Matthew and antibiotics for Amelia.
You might also like
- We obviously need to eat more apples
(0.359599)
- Sickies
(0.346303)
- Smiley Face Pancakes
(0.340146)
- Mastitis
(0.331445)
- One week
(0.327543)
All
April 19, 2016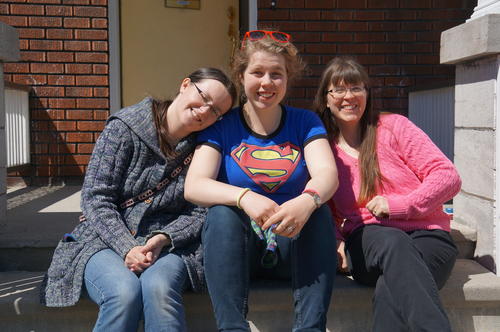 Lorianne is abandoning us all summer in order to work for a living...
Elizabeth was ecstatic that Lorianne got up to say goodbye AND walked with her to the bus stop. Amelia was not so sure about posing for a picture; she wanted to investigate the sidewalk!
I think that we photographed Lorianne's first experience with a wishbone - better luck next time!
You might also like
- Ice Cream
(0.288945)
- Photos in the snow
(0.284038)
- Matthew on the canal
(0.280742)
- Thanksgiving
(0.27665)
- Leftovers
(0.275325)
All
April 18, 2016
It's finally warm enough that the first flowers are poking their heads out to say hi and I'm excited to go to the park.
Matthew is spending all of his time at the park zoning out in the swing. Amelia quite enjoys the swing too - just not quite as long as her brother! Elizabeth doesn't get as much park time (cuz school), but it's amazing how many of her friends we randomly bump into at the park. One of her fellow piano students has regular gym time at our local park. I was amused that the teacher told her off for "talking to a stranger without permission". Friend was quite indignant: "That's NOT a stranger, that's Elizabeth's MOM". Another of Elizabeth's schoolmates and good friend lives next door to the park, which was quite convenient when Matthew urgently had to pee...
You might also like
- Matthew's christmas concert
(0.3488)
- Violin
(0.344887)
- Matthew and Elizabeth spectacle
(0.339552)
- Clean vs Dirty
(0.337143)
- Water baby in the pool
(0.336347)
All