May 24, 2016
Elizabeth decided that she wanted to do face painting and tattoos at the Great Glebe Garage sale this coming weekend in order to try to reach her Jump Rope for Heart fundraising target. She made some posters which we attached at the end of the street.
Then we stopped at a dollar store conveniently located next to her orthodontist and picked up a few supplies. Orthodontist says by the way that the teeth on the bottom are tight and the teeth on top are spaced because her bite is too deep. But nothing to be done right now, wait another year and come back. He is "interested to see what will develop" (!)
Once we got home our artist got to work. First she recruited her brother as "help" to do the tattoos (because she can't do both at once and some people might not have time to wait). He was happy to agree and I was relieved to determine that applying temporary tattoos was within a three-year-old's skill set.
Matthew wanted her to give him spider related drawings. I think she delivered. He seemed happy enough. I got an owl and a butterfly. Then I had to try a cat. I think I need practice.
You might also like:
-
Piano Recital
-
Like riding a bike
-
Great Glebe Garage Sale
-
Waterskiing, fish and clams
-
All Saints and GNAG Halloween Party
May 23, 2016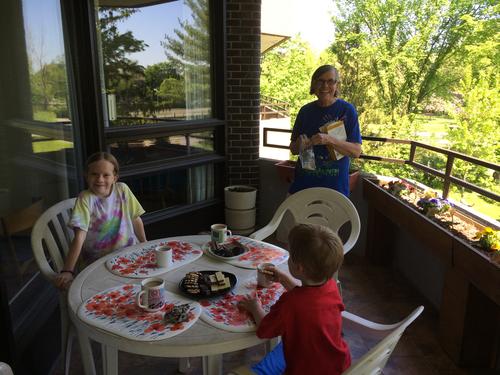 For Victoria day we went swimming at Grandma's. After swimming we always play with tinker toys, drink hot chocolate and eat copious quantities of cookies. Now that it's summer we got to watch the boats launch off the new dock at Patterson creek!
After swimming Brendan and I took the kids to the tulip festival to get an ice cream before Elizabeth's last music class of the year. But we might have forgotten to bring cash. So Daddy borrowed my bike to dash home for his wallet while I stood in a very long line for the ATM. I actually made it to the front of the line around the time that he made it back. Having seen the exorbitant fee they wanted I decided to wait.
But we didn't really have time to eat ice cream anymore so Elizabeth and I hopped onto our bikes and biked to music class while Daddy applied ice cream all over his son. Or so it appeared from the pictures that arrived during class! Elizabeth and I stopped at the ice cream truck on the way home but after MUCH debate she decided to get a slushie instead of ice cream because she didn't want to get dirty.
You might also like:
-
Strike Day
-
Sheep Shearing
-
Carleton Butterfly show 2016
-
Winterlude (Ice slides)
-
Happy Birthday Janice!
May 22, 2016
It was the annual sheep shearing festival so we headed to the farm with Grandma J! Sadly we arrived towards the end of the dog agility demonstrations (my favourite part!). Afterwards Elizabeth made a skipping rope out of yarn while the rest of the family went to watch the sheepdog herding. She was interested to see how they used to make rope, but even more interested to have a new skipping rope. In theory she's supposed to share with Matthew... After ropemaking we went to see the sheepdogs too but we've seen this demo several years in a row and it was extremely hot so after a few minutes Elizabeth was keen to go and look at some of the other demos. We made felt bracelets. The kids got a chance to try weaving and they watched a spinning demonstration.
Then we headed over to the very last sheep shearing demo of the day, where we met up with our neighbours. I would not want to watch sheep shearing all day, but I find my annual demo extremely amusing. Elizabeth insisted on bringing some of the wool home where it is waiting for mommy to have the energy to wash and card it.
Afterwards we played in the play structures for a bit, and visited the tractors and watched the cows go out to pasture for the first time since last fall. The cows were just a little excited. As soon as the gate opened they totally galloped around the corner and out of sight. Brendan says he didn't even know that cows a) could get excited or b) galloped!
You might also like:
-
First day of school
-
Ice Cream Festival
-
Dovercourt
-
First outings: Music, library, karate
-
Sheep Shearing Fest
May 21, 2016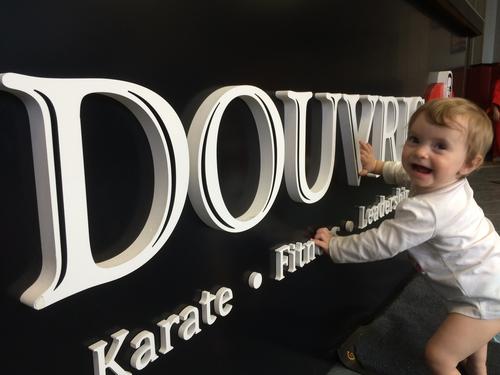 Elizabeth's dojo was participating in the karate nationals and Elizabeth was really keen to go and see the tournament. I think the last time I mentioned karate Elizabeth had just received her white yellow belt and graduated to the "big kids" class.
The transition from tykes to kids was kind of rough. The classes looked similar to me but apparently they are a little more serious and she was upset that "her" sensei was no longer there (that sensei teaches tykes). Then Adi got a stripe and Elizabeth didn't, despite going more often. So Elizabeth was discouraged and I spoke to the sensei about it and they gave her a pep talk which perked her up quite a bit. Then a couple of classes later she finally got her stripe and suddenly karate was okay again.
Anyway, classes were cancelled because of the nationals and Elizabeth pointed out that if we went to watch it wouldn't take any extra time because normally we go to karate anyway and it's FREE Mom! So, Brendan dropped me and the kids off at the hotel where it was taking place downtown and we went to see what it was all about.
It took me about thirty seconds to ascertain that perhaps bringing my highly impressionable young son to an event where people were kicking, punching and using weapons (!!!) was not my brightest move ever. But he was enthralled. They got bored approximately five minutes after we arrived and Matthew immediately started emulating his surroundings. "KARATE PUNCH!" he yelled. Everyone thought he was cute, except Elizabeth who was annoyed that he was stealing her thunder. But then Elizabeth's old sensei was competing and she got to watch her win a silver and that was pretty exciting!
Afterwards we took the bus home and I used my ninja skills to keep a slightly over-excited Matthew from punching everything in sight.
You might also like:
-
Skating
-
Karate Tournament
-
Nationals
-
Grading
-
Chateau Laurier
May 20, 2016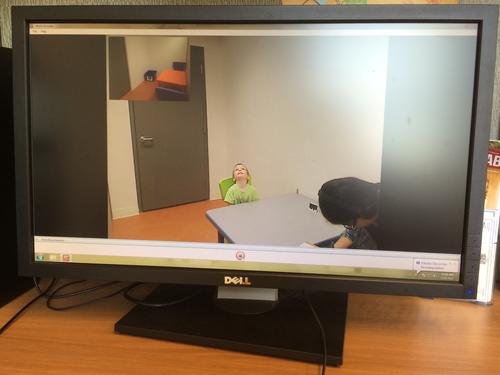 Matthew participated in a University of Ottawa study on how young kids make decisions about the future. You might remember Elizabeth's abortive attempt to participate in a language development study way back in the day - I'm happy to report that Matthew was considerably more cooperative for this one!
The researcher had Matthew play with some toys for a few minutes and showed him how mommy was going to be able to see and hear him all the time. Then she asked him to come play with her in the "tree room" and the "sun room". The tree room is the one with the orange table. Matthew sat across the table and the researcher announced that she had "some work to do for a few minutes" and he had to wait for the timer to go off. There was nothing to do but wait. Matthew being Matthew chattered away pretty unceasingly at the researcher, although he did subside for up to thirty seconds at a time when she reminded him that "she had to work". Then they went to the sun room, where she gave him candy to keep him occupied and she did more "work" for the same amount of time. They were in each room twice. In the tree room - no candy. In the sun room - there was candy (also note the hole beside the green chair. Apparently there was no hole at the start of the study and it has increased in size with every kid. Shockingly, Matthew did NOT pick at the wall. Probably he wasn't in there long enough....) At the end the researcher told Matthew that next time he came there would be extra candy and he could choose which room to put it in. He chose the "sun room", so that he could eat candy at both locations. Afterwards he seemed to think it had all been good fun and wanted to go back. He especially liked that he got to choose a prize at the end. He picked a bubble wand to match one that Elizabeth has. He used up his bubbles and filled the rest of it with sand the same day he got it. Meanwhile, Elizabeth received her bubbles two years ago and has kept it in pristine condition. Not that there is any difference at all between their personalities...
You might also like:
-
13 Months
-
Doors Open: Mutchmor
-
Language Development
-
First day of "preschool"
-
Flying Squirrel