June 15, 2016
Elizabeth's godparents all came for dinner and cake to celebrate Elizabeth's 7th (!) baptism birthday. Not sure what we were thinking scheduling all of the baptisms in June but June is clearly party month around here!
Since Amelia's early baptism birthday I had discovered a liturgy for celebrating baptism birthdays (yay!) so I printed it out complete with a suggested reading (we used Romans, chapter 6 verses 1-7). We lit her candle, we retraced the sign of the cross on her head and then we ate much cake.
It was just right, even if I DID forget to get our usual photo of Elizabeth with her godparents.
Elizabeth might have stolen Rachel's temporary engagement ring (her real one is getting resized), but she did give it back.
You might also like:
-
Baptism birthday
-
First Communion
-
1st birthday
-
A stuffy birthday
-
Baptism Anniversary
June 14, 2016
It was Elizabeth's end of year concert! They have made significant progress with their recorder music and the singing was quite nice. There's a lot of emphasis on singing the solfège notes which ties in nicely to what she's learning at piano.
Elizabeth has been having great fun in playing her pieces at home on the piano when she thinks we aren't listening.
You might also like:
-
Elizabeth end of year concert
-
Matthew and Elizabeth spectacle
-
School concert
-
MYC Graduate
-
Playdate
June 13, 2016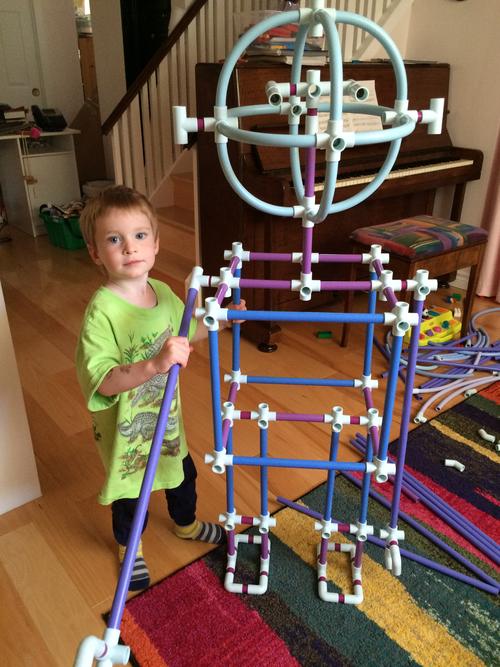 Here's a guest post from Matthew that he specifically asked me to put on "Mr Doodle" (aka Google) "Cept not the Mr Doodle that tells the car the right way but the other one" (ie the blog)
"This is a robot, and Daddy build it. Mommy never have to vacuum the floor anymore cuz the robot can clean the basement. Cept you actually have to vacuum the floor cuz this robot not real one. Hahahahaha."
You might also like:
-
Real signs of Spring
-
Olive and Chili and pumpkin carving
-
Yellow belt one stripe
-
13 months
-
Life skills
June 12, 2016
Elizabeth decided she wanted to participate in the karate tournament, so I took the younger two kids to church and Brendan took Elizabeth to karate Sunday morning. Elizabeth was super keen on doing the tournament - she bugged me for several weeks in advance until we finally agreed to pay the extra fee and allow her to skip most of church. I spent more time than I'm willing to admit chasing down the cash required...one of these days the rest of the world will join me in being cashless! I finally signed her up and paid the day before the tournament. So I was not amused when it was time to go and Elizabeth didn't want to put her uniform on. "But I don't waaaaaant to do the tournament" she wailed. "Why are you maaaaking me go?" "I don't even knoooooow what a tournament is!" We decided to ignore her fit of nerves and she relaxed once they got there. At the dojo Brendan was surprised by how many kids were involved. He thinks they may need a bigger facility! They kept it moving and the whole experience was encouraging for everyone regardless if they "won" or not. Only one kid burst into tears (not Elizabeth)! Brendan thought it was interesting to see the differences between kids - some were much more precise than others. He had wanted to see the more advanced kids compete but Elizabeth asked to go to church before they went.
Elizabeth has been saving up her various finds for the Trading Post so after church we dropped by the museum again to trade them in. She found half a blue eggshell on the way to the bus stop and immediately decided she needed to trade it in along with a dead cicada (8 points) and several cicada exuviates (4 points each). I only know what an exuviate is because of the trading post.
Anyway, she gets more points if she can figure out what she is trading and can talk a bit about it so we walked around the recently reopened bird exhibit looking for information about eggs. Turns out it was probably a blue jay egg. Lots of points despite having gotten smashed before we got it to the museum. In fact, she got so many points that she had enough to share some with Matthew. He's going to collect his own stuff now!
We zoomed around the dinosaurs again quickly with summer tenant Hayley but we couldn't stay because we scored free tickets for the Ottawa Chamber Orchestra! The kids loved most of it until the end when they were sad to discover that the concert had lasted "too long" and they couldn't go back to the dinosaurs because the museum was closing. Then there was much muttering and gnashing of teeth. It was a great concert though, aside from an overly long intermission. I would recommend going if you have a chance. Amelia stayed home with Daddy because we were concerned about disrupting others but as it was geared to kids it turned out she would have been okay. Next time she'll get to come too!
You might also like:
-
H1N1 Rock Concert
-
Farm Camp
-
Child Labour
-
Cousin sleepover
-
Family Day
June 11, 2016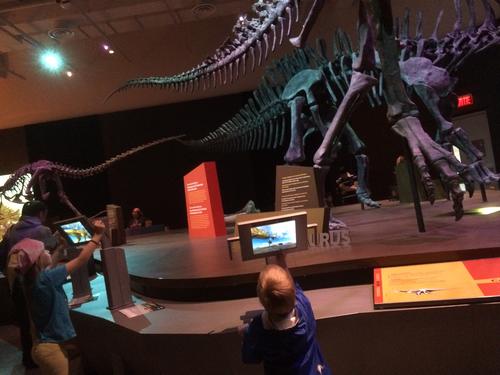 There's a new exhibit at the museum of Nature (Ultimate Dinosaurs). Auntie Janice saw it at the ROM a few years ago and loved it. Now we had a chance to go see it too. The kids very much approved. We were also quite pleased to discover that our favourite parts of the temporary bug exhibit have all made their way into the permanent bug exhibit. Matthew was especially happy to find his robotic microscope which he likes to move back and forth over the bugs. Elizabeth even managed to get him to stop long enough to examine the scales on the butterfly and the hairs on the bee (her favourite part).
They also got a chance to scratch away at a fossil. Elizabeth likes chipping out dinosaur bones better. Matthew thought it was fun to paint the rock with vinegar though.
Amelia was mostly interested in pushing the stroller "by self".
You might also like:
-
Angie 2015
-
Rachel
-
Bug Day
-
Smiley Face Pancakes
-
Face paint practice