June 21, 2016
Elizabeth had a "sortie" to Ferme Drouin today (bouncy castle! tractor ride! animals!) and it was supposed to be one of the coolest days of the week (read: not over 30C) so I decided it would be a good day to go to a farm of our own to pick strawberries.
Grandma J came over bright and early and Matthew, Amelia and I drove to Rideau Pines. We were able to borrow a little wagon to carry Amelia's car seat, which was very convenient. Matthew was thrilled to get a ride on the way to the strawberry fields, since the cart wasn't yet full of strawberries.
He was a surprisingly helpful strawberry picker and we soon filled our baskets without any serious complaints. Amelia slept through the entire picking time. She woke up just as we were leaving and was THRILLED to discover baskets of strawberries had materialized right beside her personal chariot. She refused to get out of her car seat, instead perched there helping herself all the way back to the marketplace.
You might also like
- Raspberries
(0.357775)
- Baby Sloth
(0.352593)
- Cottage Days: Support boat
(0.349105)
- Strike Day
(0.347087)
- Inhouse Tournament
(0.346509)
All
June 20, 2016
The big kids needed new shoes so we went to the store. Last time we went Elizabeth insisted on getting laced shoes, but apparently the novelty has worn off since this time she was looking for Velcro. She's now at the size where the options in Velcro are quite limited. She would have liked lights, but they only had light-up shoes in her size in a Frozen theme. And apparently Frozen is not cool anymore, or at least not those particular shoes since she "already had a pair exactly like that" and also "the pictures wear off".
After consultation with her brother, she decided to get Spiderman shoes so that she could match him. Sometimes this particular sibling pair is quite adorable.
"Lilbeth" Matthew recently asked. "When I 'tart going to school on da bus wif you, tan I sit next to you? On da bus?" "Yes" replied Elizabeth. "Oh dood" he exulted "Tuz I DO yike you Lilbeth. I yike you yots"
You might also like
- Siblings
(0.369205)
- Sleepover
(0.355818)
- First day of Maternelle
(0.346213)
- Piano Recital
(0.343704)
- Lac des Loups
(0.342636)
All
June 19, 2016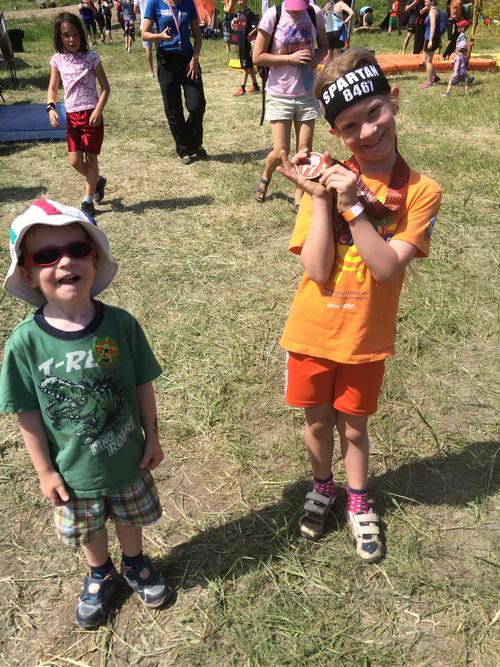 It's Father's day today. Usually we'd let Brendan sleep in before papering him with homemade cards made with much love and enthusiasm but it was mud race day. So we made him get up early instead.
Next door neighbours Noemie and Alex were doing the Junior Spartan race too, which was nice because I was able to follow Trevor to Edelweiss. He parked close to the race course, but I got waved on to the next parking lot which turned out to be far enough away to need a shuttle. Since we had wanted to stay together, as soon as I realized that was what was happening I turned around and went back to see if I couldn't possibly park near him. They gave me one of the last spots! Dianne was less lucky and they had to wait for the shuttles forever. Aidan and Caitlin ended up running in the heat behind Elizabeth and Alex so we had some extended cheering opportunities.
It was brutally hot - apparently all we need to have a really hot summer is to sign Elizabeth up for a race every weekend... Elizabeth had dozen blisters after doing too many monkey bars at Theo's birthday party but she still insisted on practising for the race climbing the rope at our neighbours and trying the monkey bar setup at Spartan. Of course she ripped her hands right open and needed some minor medical attention. Bandaids just sweated right off so the medics told her to come back after the race for more saline and new bandaids.
I was surprised by how steep the race course was. The kids took off running fast and then pretty much everyone walked up the first hill. Elizabeth did well - she kept running at a surprisingly steady pace. I might have to prepare myself more physically if I'm going to help Matthew with this one next year!
She and Alex stayed close together up until the first obstacle and after that he gradually pulled away. She did great on the running part but the obstacles slowed her down a great deal. She was very careful going over each part and lined up behind other kids to wait her turn, even at the tunnel when there were three empty ones! Oh well - she still did great and had fun but I did have to giggle at how polite she was. Her favourite obstacle was a bit like a spider web made of ropes. They don't time the kids so I have no idea how long it took her. Definitely less time than it would have taken her parents...
She didn't get very muddy at all because strangely they didn't have barbed wire in the kids version so the kids mostly just stood up into the net to avoid the mud. I told her next year she'll have to roll in the mud. She said she might, so she can give me a mud hug.
You might also like
- Karate Tournament, Birthday and ER Part 2
(0.44461)
- Big Baby Bed
(0.438978)
- Crazy Pickles
(0.429641)
- Canoe Camping
(0.428132)
- River Oak
(0.423432)
All
June 18, 2016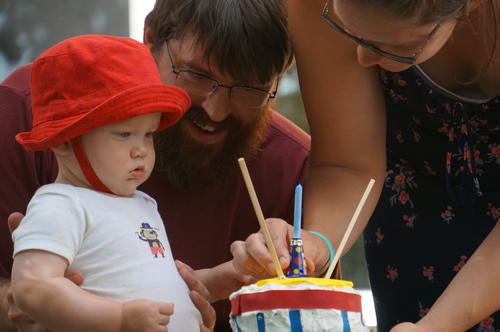 At one Theo is a SOLID little boy and it's a little hard to believe he's actually three weeks younger than Amelia. He weighs almost as much as my three year old!!!
Theo thrilled us all by taking his first steps recently. Amelia has been eyeing his prowess with awe. You can see the wheels turning as she watches him. He likes to follow her up the stairs but she's still working on teaching him how to go back down again. He seems to be a pretty contented little guy who is almost always up for a snuggle.
You might also like
- Amelia starts preschool
(0.30819)
- Six month checkup
(0.304348)
- 2 weeks old
(0.303905)
- Fish
(0.297683)
- End of the canal
(0.294559)
All
June 17, 2016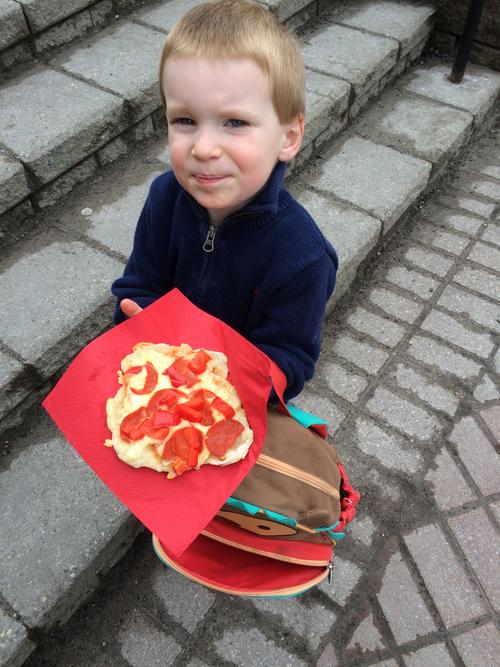 We signed Matthew up for a couple of afternoon drop off classes this year as he is an incredibly social little boy and has had a much harder time doing work time than Elizabeth ever did. So since his parents still need to get work done we thought he might enjoy bouncing around at the local community centre for "Sport" and "Tumbling Tots". We got off to a rough start with the tumbling class when Matthew flatly refused to go in. In fact, he screamed his head off and opted to go home and nap for two hours instead of the class. Which was discouraging. He did eventually make fast friends with "Miss Deanna" and Tumbling tots soon became the highlight of his week. He made especial friends with two little boys (Marshall and Lysander), and we heard a great deal about their antics week in and week out.
The sport class started out fairly promising with what looked like an attempt at actual hockey but quickly turned into mostly playing around and (weirdly) an animal show. Matthew was not into sport class. When pressed, he finally told me that the teacher was a "scary dragon with dangerous hair". Turned out she had a rather vivid dye job. I discretely let the teacher know that Matthew was afraid of her hair and got her to befriend him and after that he was okay. It helped that his friends took this class too.
As the seasons changed we all signed the kids up for more classes. Sport moved to Wednesdays but Marshall couldn't do Wednesdays so in the end we all registered for cooking class. Matthew was surprisingly psyched about cooking and whenever he was allowed he brought home something for Elizabeth to eat... Except he DID eat the gummy worms out of the "dirt pudding" and then tried to con me into buying some extra for Elizabeth. I was impressed he saved the pudding!
You might also like
- Je d'école
(0.404356)
- Social Distancing: Day 3
(0.403027)
- First day of "preschool"
(0.40257)
- Virtual School: Week 37
(0.401192)
- Christmas Cake and Leaves
(0.4)
All